Electrical brain stimulation of the parietal lobe impairs the perception of verticality
Dear Sirs,
The aim of the current case study was to determine the critical causative vestibular areas that manifest with vertigo and perceptual deficits of verticality using electrical brain stimulation.
A 29-year-old right-handed woman received 15 intracranial multicontact electrodes (12 depth and 3 subdural strips) for presurgical evaluation of a pharmacoresistant right focal epilepsy of unknown origin. The patient had suffered from versive seizures to the left, tonic seizures of the left arm, and generalized tonic–clonic seizures for 10 years. Invasive EEG monitoring showed a right frontal seizure onset (cortical contacts of electrodes A and D, Fig.
1
b). The neurological examination, including neurootological examination of the oculomotor and vestibular system, was normal.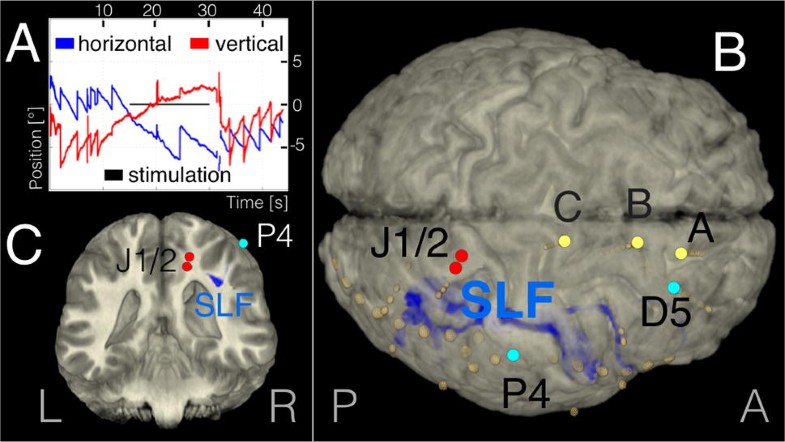 Notes
Acknowledgements
Partially funded by the Society for the Advancement of Science and Research at the Medical Faculty of the Ludwig-Maximilian University, Munich, the Graduate School of Systemic Neurosciences (GSN), the German Foundation for Neurology (DSN), and the German Federal Ministry of Education and Research (German Center for Vertigo and Balance Disorders, Grant code 01EO140). We thank C. Frenzel, F. Ihl and M. Klemm for assistance in orthoptic examinations and Katie Göttlinger for copyediting the manuscript.
Compliance with ethical standards
Conflicts of interests
S. Bardins is shareholder of EyeSeeTec GmbH, manufacturer of the eye-tracking equipment used in the study.
Ethical standards
The study was performed in accordance with the declaration of Helsinki
Informed consent
The patient gave her informed consent for the measurements.
Copyright information
© Springer-Verlag GmbH Germany, part of Springer Nature 2019