This is a preview of subscription content, log in to check access.
Access options
Buy single article
Instant unlimited access to the full article PDF.
US$ 39.95
Price includes VAT for USA
Subscribe to journal
Immediate online access to all issues from 2019. Subscription will auto renew annually.
US$ 199
This is the net price. Taxes to be calculated in checkout.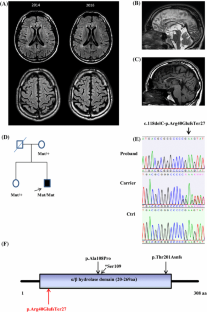 References
1.

Simpson MA, Cross H, Proukakis C, Pryde A, Hershberger R, Chatonnet A, Patton MA, Crosby AH (2003) Maspardin is mutated in mast syndrome, a complicated form of hereditary spastic paraplegia associated with dementia. Am J Hum Genet 73:1147–1156

2.

Ishiura H, Takahashi Y, Hayashi T, Saito K, Furuya H, Watanabe M, Murata M, Suzuki M, Sugiura A, Sawai S, Shibuya K, Ueda N, Ichikawa Y, Kanazawa I, Goto J, Tsuji S (2014) Molecular epidemiology and clinical spectrum of hereditary spastic paraplegia in the Japanese population based on comprehensive mutational analyses. J Hum Genet 59:163–172. doi:10.1038/jhg.2013.139

3.

Zeitlmann L, Sirim P, Kremmer E, Kolanus W (2001) Cloning of ACP33 as a novel intracellular ligand of CD4. J Biol Chem 276:9123–9132 (PubMed PMID: 11113139)

4.

Hanna MC, Blackstone C (2009) Interaction of the SPG21 protein ACP33/maspardin with the aldehyde dehydrogenase ALDH16A1. Neurogenetics 10(3):217–228. doi:10.1007/s10048-009-0172-6 (PubMed PMID: 19184135)

5.

Soderblom C, Stadler J, Jupille H, Blackstone C, Shupliakov O, Hanna MC (2010) Targeted disruption of the Mast syndrome gene SPG21 in mice impairs hind limb function and alters axon branching in cultured cortical neurons. Neurogenetics 11:369–378. doi:10.1007/s10048-010-0252-7

6.

Davenport A, Bivona A, Latson W, Lemanski LF, Cheriyath V (2016) Loss of maspardin attenuates the growth and maturation of mouse cortical neurons. Neurodegener Dis 16:260–272. doi:10.1159/000443666

7.

Panza E, Escamilla-Honrubia JM, Marco-Marín C, Gougeard N, De Michele G, Morra VB, Liguori R, Salviati L, Donati MA, Cusano R, Pippucci T, Ravazzolo R, Németh AH, Smithson S, Davies S, Hurst JA, Bordo D, Rubio V, Seri M (2016) ALDH18A1 gene mutations cause dominant spastic paraplegia SPG9: loss of function effect and plausibility of a dominant negative mechanism. Brain 139(Pt 1):e3. doi:10.1093/brain/awv247

8.

Coutelier M, Goizet C, Durr A, Habarou F, Morais S, Dionne-Laporte A, Tao F, Konop J, Stoll M, Charles P, Jacoupy M, Matusiak R, Alonso I, Tallaksen C, Mairey M, Kennerson M, Gaussen M, Schule R, Janin M, Morice-Picard F, Durand CM, Depienne C, Calvas P, Coutinho P, Saudubray JM, Rouleau G, Brice A, Nicholson G, Darios F, Loureiro JL, Zuchner S, Ottolenghi C, Mochel F, Stevanin G (2015) Alteration of ornithine metabolism leads to dominant and recessive hereditary spastic paraplegia. Brain 138(Pt 8):2191–2205. doi:10.1093/brain/awv143

9.

Agosta F, Scarlato M, Spinelli EG, Canu E, Benedetti S, Bassi MT, Casali C, Sessa M, Copetti M, Pagani E, Comi G, Ferrari M, Falini A, Filippi M (2015) Hereditary spastic paraplegia: beyond clinical phenotypes toward a unified pattern of central nervous system damage. Radiology 276:207–218. doi:10.1148/radiol.14141715
Acknowledgements
The Authors wish to thank the patient and his family for participating to the study. This work was supported by the Italian Ministry of health under the frame of E-Rare-2, the ERA-Net for Research on Rare Diseases Grant NEUROLIPID, by the 5XMille Funds and by Grant No. RC 2014-2017 to MTB.
Ethics declarations
Conflicts of interest
All authors declare not to have any conflict of interest with the study and manuscript.
Ethical standard
The study was conducted according to the ethical standards stated in the declaration of Helsinki.
Informed consent
Patients and patient's family were informed about the intention to publish the study and provided a written informed consent.
Electronic supplementary material
Below is the link to the electronic supplementary material.
Supplementary material 1 (MP4 18361 kb)
About this article
Cite this article
Scarlato, M., Citterio, A., Barbieri, A. et al. Exome sequencing reveals a novel homozygous mutation in ACP33 gene in the first Italian family with SPG21. J Neurol 264, 2021–2023 (2017). https://doi.org/10.1007/s00415-017-8558-0
Received:

Revised:

Accepted:

Published:

Issue Date: