Abstract
Even though dizziness is a common symptom of heat illness, comprehensive evaluation of the vestibular function has not been available in this potentially life-threatening disorder. Three patients developed vertigo about a week after heat exposure. Evaluation showed bilateral impairments of the vestibulo-ocular reflex during head impulses and the signs of vestibulocerebellar dysfunction that included spontaneous downbeat nystagmus, gaze-evoked nystagmus, and positional downbeat nystagmus. Exposure to excessive heat may give rise to delayed vestibulopathy by damaging the vestibulocerebellum.
This is a preview of subscription content, log in to check access.
Access options
Buy single article
Instant unlimited access to the full article PDF.
US$ 39.95
Price includes VAT for USA
Subscribe to journal
Immediate online access to all issues from 2019. Subscription will auto renew annually.
US$ 199
This is the net price. Taxes to be calculated in checkout.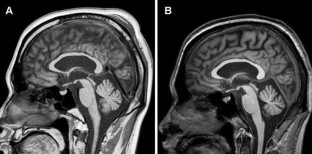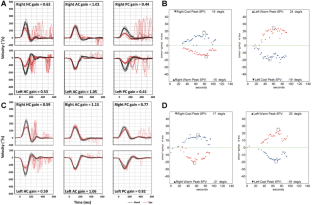 References
1.

Bouchama A, Knochel JP (2002) Heat stroke. N Engl J Med 346:1978–1988

2.

Becker JA, Stewart LK (2011) Heat-related illness. Am Fam Physician 83:1325–1330

3.

Bazille C, Megarbane B, Bensimhon D, Lavergne-Slove A, Baglin AC, Loirat P, Woimant F, Mikol J, Gray F (2005) Brain damage after heat stroke. J Neuropathol Exp Neurol 64:970–975

4.

Morimoto RI, Kroeger PE, Cotto JJ (1996) The transcriptional regulation of heat shock genes: a plethora of heat shock factors and regulatory conditions. EXS 77:139–163

5.

Wang ZZ, Wang CL, Wu TC, Pan HN, Wang SK, Jiang JD (2001) Autoantibody response to heat shock protein 70 in patients with heatstroke. Am J Med 111:654–657

6.

Yamada PM, Amorim FT, Moseley P, Robergs R, Schneider SM (2007) Effect of heat acclimation on heat shock protein 72 and interleukin-10 in humans. J Appl Physiol 103:1196–1204

7.

Mehta AC, Baker RN (1970) Persistent neurological deficits in heat stroke. Neurology 20:336–340

8.

Albukrek D, Bakon M, Moran DS, Faibel M, Epstein Y (1997) Heat-stroke-induced cerebellar atrophy: clinical course, CT and MRI findings. Neuroradiology 39:195–197

9.

Yee RD (1989) Downbeat nystagmus: characteristics and localization of lesions. Trans Am Ophthalmol Soc 87:984–1032

10.

Huh YE, Kim JS, Kim HJ, Park SH, Jeon BS, Kim JM, Cho JW, Zee DS (2015) Vestibular performance during high-acceleration stimuli correlates with clinical decline in SCA6. Cerebellum 14:284–291

11.

Park HK, Kim JS, Strupp M, Zee DS (2013) Isolated floccular infarction: impaired vestibular responses to horizontal head impulse. J Neurol 260:1576–1582

12.

Lee SU, Park SH, Park JJ, Kim HJ, Han MK, Bae HJ, Kim JS (2015) Dorsal medullary infarction: distinct syndrome of isolated central vestibulopathy. Stroke 46:3081–3087

13.

Walker MF, Zee DS (2005) Asymmetry of the pitch vestibulo-ocular reflex in patients with cerebellar disease. Ann N Y Acad Sci 1039:349–358

14.

Deleu D, El Siddig A, Kamran S, Kamha AA, Al Omary IY, Zalabany HA (2005) Downbeat nystagmus following classical heat stroke. Clin Neurol Neurosurg 108:102–104

15.

Jeong SH, Kim JS, Baek IC, Shin JW, Jo H, Lee AY, Kim JM (2013) Perverted head impulse test in cerebellar ataxia. Cerebellum 12:773–775

16.

Manto MU (1996) Isolated cerebellar dysarthria associated with a heat stroke. Clin Neurol Neurosurg 98:55–56

17.

Edwards MJ (1998) Apoptosis, the heat shock response, hyperthermia, birth defects, disease and cancer. Where are the common links? Cell Stress Chaperones 3:213–220

18.

Germain MA, Webster WS, Edwards MJ (1985) Hyperthermia as a teratogen: parameters determining hyperthermia-induced head defects in the rat. Teratology 31:265–272

19.

Chambers CA, Hopkins RO, Weaver LK, Key C (2008) Cognitive and affective outcomes of more severe compared to less severe carbon monoxide poisoning. Brain Inj 22:387–395

20.

Oh S, Choi SC (2015) Acute carbon monoxide poisoning and delayed neurological sequelae: a potential neuroprotection bundle therapy. Neural Regen Res 10:36–38

21.

Bauer I, Pannen BH (2009) Bench-to-bedside review: carbon monoxide–from mitochondrial poisoning to therapeutic use. Crit Care 13:220

22.

Allagui MS, Vincent C, El feki A, Gaubin Y, Croute F (2007) Lithium toxicity and expression of stress-related genes or proteins in A549 cells. Biochim Biophys Acta 1773:1107–1115
Acknowledgments
This study was supported by a grant of the Korea Healthcare Technology R&D Project, Ministry of Health and Welfare, Republic of Korea (HI10C2020).
Ethics declarations
Study ethics
All experiments followed the tenets of the Declaration of Helsinki and this study was approved by the Institutional Review Board of Seoul National University Bundang Hospital (B-B-1603-338-701).
Conflicts of interest
No conflicting relationship exists for the authors.
Disclosures
Drs. Jung, Choi, and H Kim report no disclosure. Dr. Ji-Soo Kim serves as an associate editor of Frontiers in Neuro-otology and on the editorial boards of the Journal of Korean Society of Clinical Neurophysiology, Journal of Clinical Neurology, Frontiers in Neuro-ophthalmology, Journal of Neuro-ophthalmology, Journal of Vestibular Research, Journal of Neurology, and Medicine.
Additional information
I. Jung and S.-Y. Choi equally contributed to this study.
Electronic supplementary material
Below is the link to the electronic supplementary material.
Supplementary material 1 Video 1 Ocular motor findings and ataxia in patient 1. Video shows spontaneous downbeat nystagmus and direction-changing horizontal gaze-evoked nystagmus with a side-pocket-like appearance during lateral gazes. HITs show corrective catch-up saccades during stimulation of horizontal and posterior semicircular canals on both sides with a perverted downward component when stimulating the horizontal canals. Truncal and limb ataxia are also evident (WMV 69513 kb)
Supplementary material 2 Video 2 Horizontal and vertical head impulse tests in patient 2. Video shows horizontal gaze-evoked nystagmus and corrective catch-up saccades during head impulse stimulation of the horizontal and posterior semicircular canals on both sides. Downward corrective saccades are prominent during stimulation of the horizontal canals (WMV 45950 kb)
About this article
Cite this article
Jung, I., Choi, S., Kim, H. et al. Delayed vestibulopathy after heat exposure. J Neurol 264, 49–53 (2017). https://doi.org/10.1007/s00415-016-8322-x
Received:

Revised:

Accepted:

Published:

Issue Date:
Keywords
Heat stroke

Heat illness

Vestibulo-ocular reflex

Cerebellum

Head impulse test