Abstract
Hemichorea–hemiballism (HCHB) was infrequently related to cortical lesions such as tumor or infarction. Although functional derangement of the basal ganglia (BG) or the thalamus (Th) was suggested, pathomechanism of HCHB secondary to cortical lesions remains uncertain. We recruited the patients with HCHB secondary to cerebrovascular diseases, excluding other causes such as hyperglycemia. All the patients were studied with brain magnetic resonance imaging/angiography (MRI/MRA) and single-photon emission computed tomography (SPECT). Those with only cortical abnormalities in neuroimaging studies were sorted out as the cases of cortical HCHB. Statistical parametric mapping (SPM) analysis of SPECT was performed to investigate the pathomechanism of cortical HCHB. Ten patients (three males and seven females) were included in our study. Six patients had acute BG lesions with SPECT abnormalities, and one had old BG lesions with abnormal SPECT. Three patients were classified as cortical HCHB with lesions only in the frontal and parietal cortices in MRI and SPECT. SPM analysis revealed additional hypoperfusion in frontal areas, leaving BG and Th free of any perfusion abnormalities. Although cortical HCHB was strictly defined by MRI and SPECT, cortical HCHB was not uncommon (30 %). Further analysis showed intertwined networks among the frontal and parietal lobes for cortical HCHB. Cortical dysfunction is important in the pathogenesis of cortical HCHB even without significant involvement of BG and Th.
This is a preview of subscription content, log in to check access.
Access options
Buy single article
Instant unlimited access to the full article PDF.
US$ 39.95
Price includes VAT for USA
Subscribe to journal
Immediate online access to all issues from 2019. Subscription will auto renew annually.
US$ 199
This is the net price. Taxes to be calculated in checkout.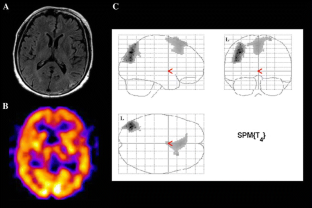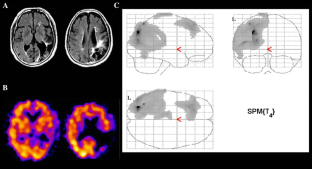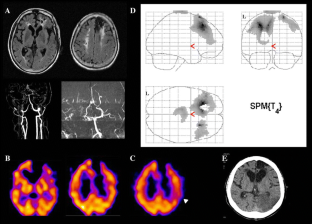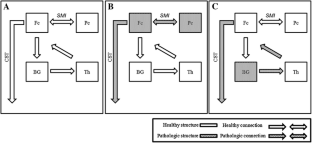 References
1.

Martin JP (1957) Hemichorea (hemiballismus) without lesions in the corpus Luysii. Brain 80(1):1–10

2.

Gilon D, Constantini S, Reches A (1990) Hemiballism as a presentation of a meningioma. Eur Neurol 30(5):277–278

3.

Mizushima N, Park-Matsumoto YC, Amakawa T, Hayashi H (1997) A case of hemichorea−hemiballism associated with parietal lobe infarction. Eur Neurol 37(1):65–66

4.

Lee MS, Lyoo CH, Lee HJ, Kim YD (2000) Hemichoreoathetosis following posterior parietal watershed infarction: was striatal hypoperfusion really to blame? Mov Disord 15(1):178–179

5.

Lyoo CH, Oh SH, Joo JY, Chung TS, Lee MS (2000) Hemidystonia and hemichoreoathetosis as an initial manifestation of moyamoya disease. Arch Neurol 57(10):1510–1512

6.

Al-Yacoub M, Friedman JH, Fernandez HH (2004) Hemiballismus from a parietal stroke in a Parkinson patient. Mov Disord 19(8):986–988

7.

Chung SJ, Im JH, Lee MC, Kim JS (2004) Hemichorea after stroke: clinical-radiological correlation. J Neurol 251(6):725–729

8.

Srivastava T, Singh S, Goyal V, Shukla G, Behari M (2006) Hemichorea−hemiballism associated with frontoparietal bleed. J Neurol 253(5):653–654

9.

Vidakovic A, Dragasevic N, Kostic VS (1994) Hemiballism: report of 25 cases. J Neurol Neurosurg Psychiatry 57(8):945–949

10.

Ghika-Schmid F, Ghika J, Regli F, Bogousslavsky J (1997) Hyperkinetic movement disorders during and after acute stroke: the Lausanne Stroke Registry. J Neurol Sci 146(2):109–116

11.

Postuma RB, Lang AE (2003) Hemiballism: revisiting a classic disorder. Lancet Neurol 2(11):661–668

12.

Fazekas F, Chawluk JB, Alavi A, Hurtig HI, Zimmerman RA (1987) MR signal abnormalities at 1.5 T in Alzheimer's dementia and normal aging. Am J Roentgenol 149(2):351–356

13.

Friston KJ, Holmes AP, Worsley KJ, Frith CD, Heather JD, Frackowiak RSJ (1995) Statistical parametric maps in functional images: a general linear approach. Hum Brain Mapp 2:180–210

14.

Friston KJ, Ashburner J, Poline J, Frith CD, Heather JD, Frackowiak RSJ (1995) Spatial realignment and normalization of images. Hum Brain Mapp 2:165–189

15.

Talairach J, Tournoux P (1988) Co-planar stereotactic atlas of the human brain. Thieme, Stuttgart

16.

Dewey RB, Jankovic J (1989) Hemiballism–hemichorea. Clinical and pharmacologic findings in 21 patients. Arch Neurol 46(8):862–867

17.

Ristic A, Marinkovic J, Dragasevic N, Stanisavljevic D, Kostic V (2002) Long-term prognosis of vascular hemiballismus. Stroke 33(8):2109–2111

18.

Rossetti AO, Ghika JA, Vingerhoets F, Novy J, Bogousslavsky J (2003) Neurogenic pain and abnormal movements contralateral to an anterior parietal artery stroke. Arch Neurol 60(7):1004–1006

19.

Filimon F (2010) Human cortical control of hand movements: parietofrontal networks for reaching, grasping, and pointing. Neuroscientist 16(4):388–407

20.

Bar-Gad I, Morris G, Bergman H (2003) Information processing, dimensionality reduction and reinforcement learning in the basal ganglia. Prog Neurobiol 71(6):439–473

21.

Kim JS, Lee KS, Lee KH, Kim YI, Kim BS, Chung YA, Chung SK (2002) Evidence of thalamic disinhibition in patients with hemichorea: semiquantitative analysis using SPECT. J Neurol Neurosurg Psychiatry 72(3):329–333
Conflicts of interest
The authors declare that they have no conflict of interest.
Electronic supplementary material
Below is the link to the electronic supplementary material.
Supplementary material 1 Her abnormal movements are jerky, of large amplitude and flinging movement, compatible with hemiballism. Her hemiballism suddenly started. She turns over at the request of us (at 27 s). Initial violent hemiballism subsides (at 45 s) and intermittent ballistic movements follow (MPG 10724 kb)
About this article
Cite this article
Hwang, K.J., Hong, I.K., Ahn, T. et al. Cortical hemichorea–hemiballism. J Neurol 260, 2986–2992 (2013) doi:10.1007/s00415-013-7096-7
Received:

Revised:

Accepted:

Published:

Issue Date:
Keywords
Hemichorea

Hemiballism

Single-photon emission computed tomography (SPECT)

Statistical parametric mapping (SPM)