This is a preview of subscription content, log in to check access.
Access options
Buy single article
Instant unlimited access to the full article PDF.
US$ 39.95
Price includes VAT for USA
Subscribe to journal
Immediate online access to all issues from 2019. Subscription will auto renew annually.
US$ 199
This is the net price. Taxes to be calculated in checkout.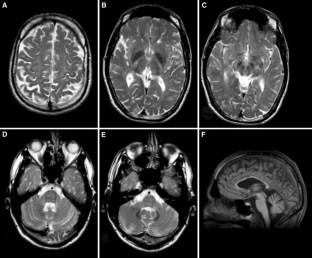 References
1.

Uhlenberg B, Schuelke M, Ruschendorf F et al (2004) Mutations in the gene encoding gap junction protein alpha 12 (connexin 46.6) cause Pelizaeus–Merzbacher-like disease. Am J Hum Genet 75:251–260

2.

Orthmann-Murphy JL, Salsano E, Abrams CK et al (2009) Hereditary spastic paraplegia is a novel phenotype for GJA12/GJC2 mutations. Brain 132:426–438

3.

Steenweg ME, Vanderver A, Blaser S et al (2010) Magnetic resonance imaging pattern recognition in hypomyelinating disorders. Brain 133:2971–2982

4.

Bugiani M, Al Shahwan S, Lamantea E et al (2006) GJA12 mutations in children with recessive hypomyelinating leukoencephalopathy. Neurology 67:273–279

5.

Wolf NI, Cundall M, Rutland P et al (2007) Frameshift mutation in GJA12 leading to nystagmus, spastic ataxia and CNS dys-/demyelination. Neurogenetics 8:39–44

6.

Henneke M, Combes P, Diekmann S et al (2008) GJA12 mutations are a rare cause of Pelizaeus–Merzbacher-like disease. Neurology 70:748–754
Conflicts of interest
The authors declare that they have no conflicts of interest.
Electronic supplementary material
Below is the link to the electronic supplementary material.
The patient has prominent right torticollis, left laterocollis, and shoulder elevation on the left. When holding his arms outstretched, he has mild dystonic posturing. Alternating hand movements are delayed, especially on the left. Finger-to-nose testing shows mild intention tremor. He has spasticity of the arms and legs with increased reflexes and a scissors-like gait. (MP4 7598 kb)
About this article
Cite this article
Zittel, S., Nickel, M., Wolf, N.I. et al. "Pelizaeus–Merzbacher-like disease" presenting as complicated hereditary spastic paraplegia. J Neurol 259, 2498–2500 (2012). https://doi.org/10.1007/s00415-012-6617-0
Received:

Revised:

Accepted:

Published:

Issue Date:
Keywords
Arylsulfatase

Hereditary Spastic Paraplegia

Elevated Creatine Kinase Level

Junction Protein Connexin

Segmental Dystonia