This is a preview of subscription content, log in to check access.
Access options
Buy single article
Instant unlimited access to the full article PDF.
US$ 39.95
Price includes VAT for USA
Subscribe to journal
Immediate online access to all issues from 2019. Subscription will auto renew annually.
US$ 199
This is the net price. Taxes to be calculated in checkout.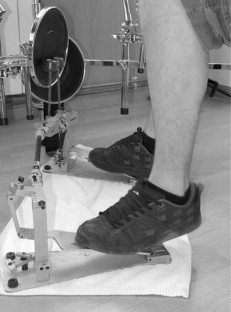 References
1.

Rosset-Llobet J, Fàbregas-Molas S (2010) A practical manual to understand and take care of the disorder that affect the ability to play music. Musician's Dystonia, Panamir

2.

Candia V, Schäfer T, Taub E et al (2002) Sensory motor retuning: a behavioral treatment for focal hand dystonia of pianists and guitarists. Arch Phys Med Rehabil 83:1342–1348

3.

García-Ruiz PJ, del Val J, Losada M, Campos JM (2011) Task-specific dystonia of the lower limb in a flamenco dancer. Parkinsonism Relat Disord 17:221–222

4.

McKeon A, Matsumoto JY, Bower JH, Ahlskog JE (2008) The spectrum of disorders presenting as adult-onset focal lower extremity dystonia. Parkinsonism Relat Disord 4:613–619

5.

Schneider SA, Edwards MJ, Grill SE et al (2006) Adult-onset primary lower limb dystonia. Mov Disord 21:767–771

6.

Lo SE, Frucht SJ (2007) Is focal task-specific dystonia limited to the hand and face? Mov Disord 22:1009–1011

7.

Wu LJ, Jankovic J (2006) Runner's dystonia. J Neurol Sci 251:73–76
Conflict of interest
No funding or grant was received for this study. Dr. Rosset-Llobet reports no disclosures. Ms. Fàbregas-Molas reports no disclosures. Dr. Pascual-Leone reports serving on the Medical Advisory Boards for Starlab Neuroscience, Nexstim, Neosync, Allied Minds, and Neuronix.
Electronic supplementary material
Below is the link to the electronic supplementary material.
Video clip of both described patients displaying the dystonic symptoms while drumming. Case 1. While there is no coordination problem when playing with the left foot,tension, movement bloking, and unintentioned double kick occur when playingwith the left foot. Case 2. At 100 beats/min the drummer experienced lack of fluency whenplaying the double bass pedal. As he increased kick speed, the problemworsened. At 110 beats/min, incoordination, loss of movement fluency,blocking, and inability to alternate feet kicking were noticed. During monopodelkicking problems were of less intensity. (MPG 31992 kb)
About this article
Cite this article
Rosset-Llobet, J., Fàbregas-Molas, S. & Pascual-Leone, Á. Drummer's lower limb dystonia. J Neurol 259, 1236–1237 (2012). https://doi.org/10.1007/s00415-011-6324-2
Received:

Revised:

Accepted:

Published:

Issue Date:
Keywords
Dystonia

Nerve Conduction Study

Anterior Tibial

Skilled Movement

Focal Dystonia