Abstract
Cell outgrowth and migration in the developing nervous system result from guidance cues, whose molecular bases and clinical correlates are only partly known. We describe a patient with brain stem malformation, paroxysmal left sided lacrimation when eating ("crocodile tears") and mirror movements in addition to Wildervanck's cervico-oculo-acusticus (COA) syndrome, which encompasses Klippel–Feil anomaly, congenital hearing loss and Duane's syndrome. The unique symptom constellation has not been reported in that combination before and can be discussed in the context of congenital disordered axonal migration based on dysfunction of signalling pathways. However, mutations in some recently discovered genes, associated with single findings also present in our patient, were not found. Therefore, we suppose that the disturbance of an as yet unknown regulatory factor may explain the congenital malformation syndrome of our patient. In general, only a few human disorders have yet been found to result from defects in axon guidance. Nevertheless, disorders of axon guidance can certainly be regarded as a new category of neurodevelopmental disorders.
This is a preview of subscription content, log in to check access.
Access options
Buy single article
Instant unlimited access to the full article PDF.
US$ 39.95
Price includes VAT for USA
Subscribe to journal
Immediate online access to all issues from 2019. Subscription will auto renew annually.
US$ 199
This is the net price. Taxes to be calculated in checkout.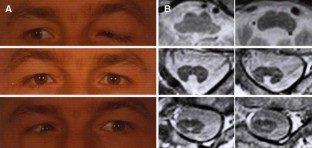 References
1.

Danek A (2006) The challenge of axonal path-finding. Strabismus 14:95–99

2.

Wildervanck LS (1978) The cervico-oculo-acusticus syndrome. In: Vinken PJ, Bruyn GW, Myrianthopoulous NC (eds) Congenital malformations of the spine and spinal cord. Handbook of clinical neurology, vol 32. North Holland Publishing Co, New York, pp 123–130

3.

Duane A (1996) Congenital deficiency of abduction, associated with impairment of adduction, retraction movements, contraction of the palpebral fissure and oblique movements of the eye. 1905. Arch Ophthalmol 114:1255–1256

4.

Ramsay J, Taylor D (1980) Congenital crocodile tears: a key to the aetiology of Duane's syndrome. Br J Ophthalmol 64:518–522

5.

Balci S, Oguz KK, Firat MM, Boduroglu K (2002) Cervical diastematomyelia in cervico-oculo-acoustic (Wildervanck) syndrome: MRI findings. Clin Dysmorphol 11:125–128

6.

Royal SA, Tubbs RS, D'Antonio MG, Rauzzino MJ, Oakes WJ (2002) Investigations into the association between cervicomedullary neuroschisis and mirror movements in patients with Klippel–Feil syndrome. AJNR Am J Neuroradiol 23:724–729

7.

Engle EC (2010) Human genetic disorders of axon guidance. Cold Spring Harb Perspect Biol 2:a001784

8.

Jen JC, Chan WM, Bosley TM et al (2004) Mutations in a human ROBO gene disrupt hindbrain axon pathway crossing and morphogenesis. Science 304:1509–1513

9.

Miyake N, Chilton J, Psatha M et al (2008) Human CHN1 mutations hyperactivate alpha2-chimaerin and cause Duane's retraction syndrome. Science 321:839–843

10.

Tischfield MA, Bosley TM, Salih MAM et al (2005) Homozygous HOXA1 mutations disrupt human brainstem, inner ear, cardiovascular and cognitive development. Nat Genet 37:1035–1037

11.

Srour M, Riviere JB, Pham JMT et al (2010) Mutations in DCC cause congenital mirror movements. Science 328:592

12.

Tassabehji M, Fang ZM, Hilton EN et al (2008) Mutations in GDF6 are associated with vertebral segmentation defects in Klippel–Feil syndrome. Hum Mutat 29:1017–1027
Acknowledgement
We thank Michael Mayer for his initial involvement in this investigation.
Conflict of interest
The authors declare that they have no conflict of interest.
Electronic supplementary material
Below is the link to the electronic supplementary material.
Supplementary material 1 (MPG 21099 kb). Video length 2 min 3 s (7.83 MB). Translation of the spoken German text in the video: "Please look at the camera, please look right and keep your eyes there and look straight ahead again. Please look to the left and straight ahead. Please look to the right and straight ahead. Please clench and unclench only your right fist. Please clench and unclench only your left fist. Please move your fingers only of the right hand. Please move your fingers only of the left hand. Please touch your first with your second finger of your right hand, then first and third, then first and fourth and then first and fifth. Please repeat the same movements only with your left hand. Please clench and unclench only your right fist. Please clench and unclench only your left fist. Please lift and move only your right foot. Please move only your left foot."
About this article
Cite this article
Högen, T., Chan, W., Riedel, E. et al. Wildervanck's syndrome and mirror movements: a congenital disorder of axon migration?. J Neurol 259, 761–763 (2012). https://doi.org/10.1007/s00415-011-6239-y
Received:

Accepted:

Published:

Issue Date:
Keywords
Wildervanck's syndrome

Mirror movements

Duane syndrome

Klippel–Feil syndrome

Axonal disorder