This is a preview of subscription content, log in to check access.
Access options
Buy single article
Instant unlimited access to the full article PDF.
US$ 39.95
Price includes VAT for USA
Subscribe to journal
Immediate online access to all issues from 2019. Subscription will auto renew annually.
US$ 199
This is the net price. Taxes to be calculated in checkout.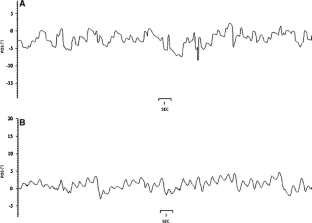 References
1.

Averbuch-Heller L, Zivotofsky AZ, Das VE et al (1995) Investigations of the pathogenesis of acquired pendular nystagmus. Brain 118(2):369–378

2.

Gresty MA, Ell JJ, Findley LJ (1982) Acquired pendular nystagmus: its characteristics, localising value and pathophysiology. J Neurol Neurosurg Psychiatry 45:431–439

3.

Samuel M, Torun N, Tuite PJ, Sharpe JA, Lang AE (2004) Progressive ataxia and palatal tremor (PAPT): clinical and MRI assessment with review of palatal tremors. Brain 127(6):1252–1268

4.

Kim JS, Moon SY, Choi KD, Kim JH, Sharpe JA (2007) Patterns of ocular oscillation in oculopalatal tremor: imaging correlations. Neurology 68:1128–1135

5.

Pareyson D, Fancellu R, Mariotti C, Romano S, Salmaggi A, Carella F, Girotti F, Gattellaro G, Carriero MR, Farina L, Ceccherini I, Savoiardo M (2008) Adult-onset Alexander disease: a series of eleven unrelated cases with review of the literature Brain 131(9):2321–2331

6.

Schwankhaus JD, Parisi JE, Gulledge WR, Chin L, Currier RD (1995) Hereditary adult-onset Alexander disease with palatal myoclonus, spastic paraparesis and cerebellar ataxia. Neurology 45:2266–2271

7.

Knight MA, Gardner RJ, Bahlo M, Matsuura T, Dixon JA, Forrest SM, Storey E (2004) Dominantly inherited ataxia and dysphonia with dentate calcification: spinocerebellar ataxia type 20. Brain 127(5):1172–1181

8.

Farmer J, Hoyt CS (1984) Monocular nystagmus in infancy and early childhood. Am J Ophtalmol 98:504–509

9.

Aschoff JC, Conrad B, Kornhuber HH (1974) Acquired pendular nystagmus with oscillopsia in multiple sclerosis: a sign of cerebellar nuclei disease. J Neurol Neurosurg Psychiatry 37:570

10.

Kori A, Robin N, Jacobs J, Erchul D, Zaidat O, Remler B, Averbuch-Heller L, Dell'Osso L, Leigh R, Zinn A (1998) Pendular nystagmus in patients with peroxisomal assembly disorder. Arch Neurol 55:554–558

11.

Moon SY, Park SH, Hwang JM, Kim JS (2003) Oculopalatal tremor after pontine hemorrhage. Neurology 61:1621

12.

Leigh RJ, Zee DS (2006) The neurology of eye movements. Oxford University Press, Oxford

13.

Lopez LI, Bronstein AM, Gresty MA et al (1996) Clinical and MRI correlates in 27 patients with acquired pendular nystagmus. Brain 119(2):465–472

14.

Ruigrok TJ, de Zeeuw CI, Voogd J (1990) Hypertrophy of inferior olivary neurons: a degenerative regenerative or plasticity phenomenon. Eur J Morphol 28:224–239

15.

Shaikh AG, Hong S, Liao K, Tian J, Solomon D, Zee DS, Optican LM (2010) Oculopalatal tremor explained by a model of inferior olivary hypertrophy and cerebellar plasticity. Brain 133(3):923–940
Acknowledgments
The authors thank Dr. Erik Ulmer for his technical advice and the patient for his willing collaboration and sympathy.
Conflict of interest
None reported.
Electronic supplementary material
Below is the link to the electronic supplementary material.
Video 1 The video demonstrates the presence of marked disequilibrium both in the static tests as the Single Leg Stance and in the dynamic tests as in Tandem Walking. (MPG 13090 kb)
Video 2 The video presents the principal cerebellar coordination tests to the superior and inferior limbs. The coordination tests are basically unimpaired in this patient. (MPG 4130 kb)
Video 3 The ocular oscillations are barely recognizable at clinical examination (part 1), while the nystagmus is clearly demonstrated through the infrared video-oculography. The nystagmus develops preferentially in the vertical plane. A secondary rotational counter-clockwise component can be identified (part 2). The palatal tremor is symmetrical, although it is occasionally lateralized to the left side (part 3). (MPG 3510 kb)
About this article
Cite this article
Bassani, R., Mariotti, C., Nanetti, L. et al. Pendular nystagmus in progressive ataxia and palatal tremor. J Neurol 258, 1877–1879 (2011). https://doi.org/10.1007/s00415-011-6007-z
Received:

Revised:

Accepted:

Published:

Issue Date:
Keywords
Spinocerebellar Ataxia

Inferior Olive

Superior Cerebellar Peduncle

Friedreich Ataxia

Progressive Ataxia