Abstract
The aim of this work was to characterise three non-toxic ammunition (NTA) from the GECO and Fiocchi brands, which are available in the Italian market. Characterisation was carried out by considering both the elemental chemical composition and morphology, using scanning electron microscopy coupled with energy-dispersive X-ray analysis (SEM-EDS). Particles were collected from both the cartridge cases and the shooters' hands after shooting tests. Six volunteers fired two shots for each ammunition. Several elements, such as aluminium, potassium, silicon, sulphur, titanium and zinc were found in gunshot residue (GSR) particles from different ammunition. We also studied the persistence of these types of GSR on the hands of the shooters in a range between 1 and 6 h after shooting. The GSR particles from the three NTA tested were found on the hands of shooters until 6 h after the shots. The characterisations undertaken in this work will be useful for specialists in forensic science and legal medicine to evaluate trace evidence from these new NTA in casework, as such formulations are in growth.
This is a preview of subscription content, log in to check access.
We're sorry, something doesn't seem to be working properly.
Please try refreshing the page. If that doesn't work, please contact support so we can address the problem.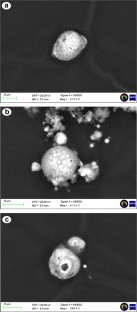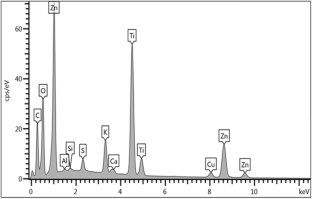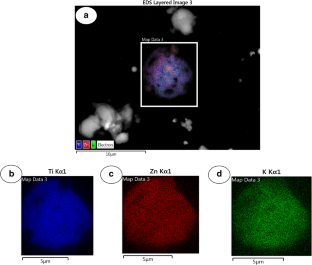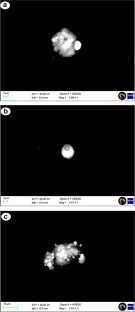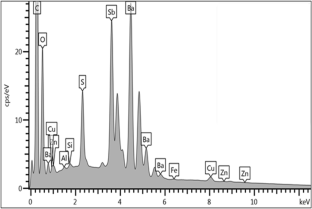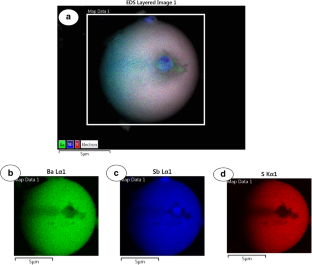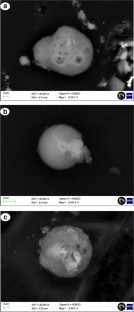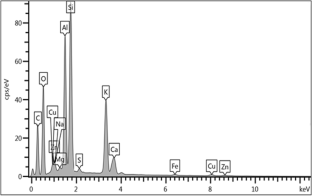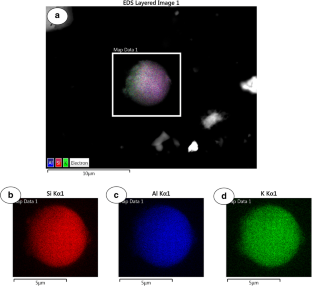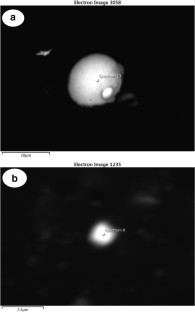 References
1.

Karger B, Stehmann B, Hohoff C, Brinkmann B (2011) Trajectory reconstruction from trace evidence on spent bullets. II. Are tissue deposits eliminated by subsequent impacts? Int J Legal Med 114(6):343–345

2.

Rutty GN, Boyce P, Robinson CE, Jeffery AJ, Morgan B (2008) The role of computed tomography in terminal ballistic analysis. Int J Legal Med 122(1):1–5

3.

De Giorgio F, Rainio J (2007) Two entrances, one exit—an atypical shotgun injury: a case report. Med Sci Law 47(4):353–356

4.

Ditrich H (2012) Distribution of gunshot residues—the influence of weapon type. Forensic Sci Int 220(1–3):85–90

5.

ASTM Standard E1588–17 (2018) Standard guide for gunshot residue analysis by scanning electron microscopy/energy dispersive X-ray spectrometry

6.

Shaw A (2019) The role of the gunshot residue expert in case review—a case study. Forensic Sci Int 300:28–31

7.

Dalby O, Butler D, Birkett JW (2010) Analysis of gunshot residue and associated materials—a review. J Forens Sci 55:938–940

8.

Basu S (1982) Formation of gunshot residues. J Forensic Sci 27(1):72–91

9.

Romolo FS, Margot P (2001) Identification of gunshot residue: a critical review. Forensic Sci Int 119(2):195–211

10.

Gunaratnam L, Himberg K (1994) The identification of gunshot residue particles from lead-free Sintox ammunition. J Forensic Sci 39(2):532–536. https://doi.org/10.1520/JFS13626J ISSN 0022-1198

11.

Oommen Z, Pierce SM (2006) Lead-free primer residues: a qualitative characterization of Winchester WinClean, Remington/UMC LeadLess, federal BallistiClean, and Speer lawman CleanFire handgun ammunition. J Forensic Sci 51(3):509–519

12.

Martiny A, Campos AP, Sader MS, Pinto AL (2008) SEM/EDS analysis and characterization of gunshot residues from Brazilian lead-free ammunition. Forensic Sci Int 177(1):9–17

13.

Brożek-Mucha Z (2015) Chemical and physical characterisation of welding fume particles for distinguishing from gunshot residue. Forensic Sci Int 254:51–58. https://doi.org/10.1016/j.forsciint.2015.06.033

14.

Romolo FS, Christopher ME, Donghi M, Ripani L, Jeynes C, Webb RP, Ward NI (2013) Integrated ion beam analysis (IBA) in gunshot residue (GSR) characterisation. Forensic Sci Int 231:219–228

15.

Costa RA, Motta LC, Destefani CA, Rodrigues RRT, Do Espírito Santo KS, Aquije GMFV, Boldrini R, Athayde GPB, Carneiro MTWD, Romão W (2016) Gunshot residues (GSR) analysis of clean range ammunition using SEM/EDX, colorimetric test and ICP-MS: a comparative approach between the analytical techniques. Microchem J 129:339–347

16.

Terry M, Fookes B, Bridge CM (2017) Determining the effect of cartridge case coatings on GSR using post-fire priming cup residue. Forensic Sci Int 276:51–63. https://doi.org/10.1016/j.forsciint.2017.04.015

17.

Fambro LA, Vandenbos DD, Rosenberg MB, Dockery CR (2017) Laser-induced breakdown spectroscopy for the rapid characterization of lead-free gunshot residues. Appl Spectrosc 71(4):699–708. https://doi.org/10.1177/0003702816689099

18.

Hogg SR, Hunter BC, Waddell Smith R (2016) Elemental characterization and discrimination of nontoxic ammunition using scanning electron microscopy with energy dispersive X-ray analysis and principal components analysis. J Forensic Sci 61(1):35–42. https://doi.org/10.1111/1556-4029.12881

19.

Donghi M, Mason K, Romolo FS (2019) Detecting gunshot residue from Sellier & Bellot nontox heavy metal-free primer by in situ cathodoluminescence. J Forensic Sci 64:1658–1667. https://doi.org/10.1111/1556-4029.14110

20.

Abrego Z, Grijalba N, Unceta N, Maguregui M, Sanchez A, Fernández-Isla A, Goicolea MA, Barrio RJ (2014) A novel method for the identification of inorganic and organic gunshot residue particles of lead-free ammunitions from the hands of shooters using scanning laser ablation-ICPMS and Raman micro-spectroscopy. Analyst 139(23):6232–6241. https://doi.org/10.1039/c4an01051e

21.

Steffen S, Otto M, Niewoehner L, Barth M, Brożek-Mucha Z, Biegstraaten J, Horváth R (2007) Chemometric classification of gunshot residues based on energy dispersive X-ray microanalysis and inductively coupled plasma analysis with mass-spectrometric detection. Spectrochim Acta B At Spectrosc 62(9):1028–1036

22.

Maitre M, Kirkbride KP, Horder M, Roux C, Beavis A (2017) Current perspectives in the interpretation of gunshot residues in forensic science: a review. Forensic Sci Int 270:1–11. https://doi.org/10.1016/j.forsciint.2016.09.003

23.

Kilty JW (1995) Activity after shooting and its effect on the retention of primer residue. J Forensic Sci 20(2):219–230

24.

Andrasko J, Maehly AC (1977) Detection of gunshot residue on hands by scanning electron microscopy. J Forensic Sci 22:279–287

25.

Nesbitt RS, Wessel JE, Jones PF (1976) Detection of gunshot residue by use of the scanning electron microscope. J Forensic Sci 21:595–610

26.

Tillman L (1987) Automated gunshot residue particle search and characterization. J Forensic Sci 32:62–71

27.

Jalanti T, Henchoz P, Gallusser A, Bonfanti MS (1999) The persistence of gunshot residue on shooters' hands. Sci Justice 39(1):48–52

28.

Brożek-Mucha Z (2011) Chemical and morphological study of gunshot residue persisting on the shooter by means of scanning electron microscopy and energy dispersive X-ray spectrometry. Microsc Microanal 17(6):972–982. https://doi.org/10.1017/S1431927611012141

29.

Cardinetti B, Ciampini C, Abate S, Marchetti C, Ferrari F, Di Tullio D, D'Onofrio C, Orlando G, Gravina L, Torresi L, Saporita G (2006) A proposal for statistical evaluation of the detection of gunshot residues on a suspect. Scanning 28:142–147

30.

Lauren S, Blakey B, George P, Kal S, Chana GRSC, Biekett JW (2017) Fate and behavior of gunshot residue—a review. J Forensic Sci 63(1):9–19

31.

Cardinetti B, Ciampini C, D'Onofrio C, Orlando G, Gravina L, Ferrari F, Di Tullio D, Torresi L (2004) X-ray mapping technique: a preliminary study in discriminating gunshot residue particles from aggregates of environmental occupational origin. Forensic Sci Int 143(1):1–19

32.

Wallace JS, McQuillan J (1984) Discharge residues from cartridge-operated industrial tools. J Forensic Sci Soc 24(5):495–508

33.

Rijnders MR, Stamouli A, Bolck A (2010) Comparison of GSR composition occurring at different locations around the firing position. J Forensic Sci 55(3):616–623. https://doi.org/10.1111/j.1556-4029.2009.01292.x

34.

Charles S, Nys B, Geusens N (2011) Primer composition and memory effect of weapons—some trends from a systematic approach in casework. Forensic Sci Int 212(1–3):22–26. https://doi.org/10.1016/j.forsciint.2011.05.001
Acknowledgements
The authors would like to thank Ten. Col. Abate, all "shooter's people" and all employed at Italian Scientific Investigation Department (Carabinieri RIS) (Rome 00191), Italy, for the scientific collaboration. The authors thank Fiocchi and Geco brands for providing cartridges.
Ethics declarations
Complete anonymity was achieved in all cases.
Informed consent was obtained from all individual participants included in the study.
Conflict of interest
The authors declare that they have no conflict of interest.
Additional information
Publisher's note
Springer Nature remains neutral with regard to jurisdictional claims in published maps and institutional affiliations.
Electronic supplementary material
About this article
Cite this article
Romanò, S., De-Giorgio, F., D'Onofrio, C. et al. Characterisation of gunshot residues from non-toxic ammunition and their persistence on the shooter's hands. Int J Legal Med (2020). https://doi.org/10.1007/s00414-020-02261-9
Received:

Accepted:

Published:
Keywords
Firearms discharge residue (FDR)

Forensic science

Gunshot residue (GSR)

Heavy metal free ammunitions (HMF)

Lead-free ammunitions, non-toxic ammunitions (NTA)

Scanning electron microscope (SEM)

Energy-dispersive X-ray analysis (EDX)