Abstract
Some insect taxa can be of critical importance for criminal investigations because they can be used to assist with a time since death determination. Blow flies (Diptera: Calliphoridae) often are the initial colonizers of a carcass, usually arriving within minutes to hours after carcass exposure during the day. Other insects, such as coleopterans and hymenopterans, can arrive to a carcass during early colonization and affect blow fly development. However, the extent of these interactions remains unclear. This study analyzed the initial 6 h after a piglet carcass was placed out in two locations (rural and urban) in diurnal and nocturnal conditions with continuous video recording and hourly observations. Four piglets were placed out every 2 weeks over the summer of 2014. Initial blow fly arrivals to the carcasses were only recorded during diurnal conditions, and a checklist of orders associated with each environment (time and location) was created. During diurnal conditions, initial blow fly arrival times in rural environments were significantly faster than those in urban, arriving as quickly as 23 s after exposure. These observations also included a novel interaction with Vespidae, which to the best of our knowledge has not been seen in the literature before. This experiment provides baseline data on early insect colonization in two environments in New Jersey, and lends insight into insect interactions that could affect initial colonization.
This is a preview of subscription content, log in to check access.
Access options
Buy single article
Instant unlimited access to the full article PDF.
US$ 39.95
Price includes VAT for USA
Subscribe to journal
Immediate online access to all issues from 2019. Subscription will auto renew annually.
US$ 199
This is the net price. Taxes to be calculated in checkout.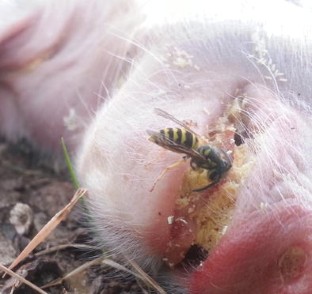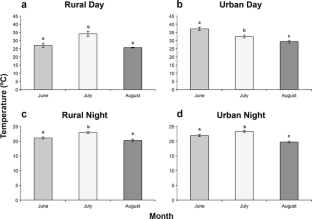 References
1.

Anderson GS, VanLaerhoven SL (1996) Initial studies on insect succession on carrion in southwestern British Columbia. J Forensic Sci 41:617–625

2.

Stamper T, DeBry RW (2007) The nocturnal oviposition behavior of carrion flies in rural and urban environments: methodological problems and forensic implications. J Can Soc Forensic Sci 40:173–182. doi:10.1080/00085030.2007.10757158

3.

Greenberg, B. (1991). Flies as forensic indicators. J. Med. Entomol. 28: 565–577. doi:10.1093/jmedent/28.5.565

4.

Grassberger, M. and C. Frank. (2004). Initial study of arthropod succession on pig carrion in central European urban habitat. J. Med. Entomol. 41: 511–523. doi:10.1603/0022-2585-41.3.511

5.

Amendt J, Krettek R, Zehner R (2004) Forensic entomology. Naturwissenschaften 91:51–65. doi:10.1007/s00114-003-0493-5

6.

Greenberg, B. (1990). Nocturnal oviposition behavior of blow flies (Diptera: Calliphoridae). J. Med. Entomol. 27: 807–810. doi:10.1093/jmedent/27.5.807

7.

Baldridge RS, Wallace SG, Kirkpatrick R (2006) Investigations of nocturnal oviposition by necrophilous flies in central Texas. J Forensic Sci 51:125–126. doi:10.1111/j.1556-4029.2005.00022.x

8.

Zurawski, K.N., M.E. Benbow, J.R. Miller, and R.W. Merritt. (2009). Examination of nocturnal blow fly (Diptera: Calliphoridae) oviposition on pig carcasses in mid-Michigan. J. Med. Entomol. 46: 671–679. doi:10.1603/033.046.0335

9.

Singh D, Bharti M (2001) Further observations on the nocturnal oviposition behavior of blow flies (Diptera: Calliphoridae). Forensic Sci Int 120:124–126. doi:10.1016/S0379-0738(01)00419-4

10.

Gomes, L., G. Gomes, H. Gutierrez Oliveira, J. J. Morlin Junior, I. C. Desuo, M. M. C. Queiroz, E. Giannotti, and C.J. Von Zuben. (2007). Occurrence of Hymenoptera on Sus scrofa carcasses during summer and winter seasons in southeastern Brazil. Revista Brasileira de Entomologia, 51: 394–396 doi:10.1590/S0085-56262007000300019

11.

Campobasso CP, Marchetti D, Introna F, Colonna MF (2009) Postmortem artifacts made by ants and the effect of ant activity on decompositional rates. The American Journal of Forensic Medicine and Pathology 30:84–87. doi:10.1097/PAF.0b013e318187371f

12.

Dekeirsschieter J, Frederick C, Verheggen FJ, Drugmand D, Haubruge E (2013) Diversity of forensic rove beetles (Coleoptera, Staphylinidae) associated with decaying pig carcass in a forest biotope. J Forensic Sci 58:1032–1040. doi:10.1111/1556-4029.12095

13.

Mądra A, Konwerski S, Matuszewski S (2014) Necrophilous Staphylininae (Coleoptera: Staphylinidae) as indicators of death and corpse relocation. Forensic Sci Int 242:32–37. doi:10.1016/j.forsciint.2014.06.011

14.

Pechal JL, Benbow ME, Tomberlin JK, Crippen TL, Tarone AM, Singh B, Lenhart PA (2015) Field documentation of unusual post-mortem arthropod activity on human remains. J Med Entomol 52:105–108

15.

Lindgren NK, Sisson MS, Archameault AD, Rahlwes BC, Willet JR, Bucheli SR (2015) Four forensic entomology case studies: records and behavioural observations on seldom reported cadaver fauna with notes on relevant previous occurrences and ecology. J Med Entomol 52:143–150

16.

R Development Core Team R (2014) A language and environment for statistical computing. R Foundation for Statistical Computing, Vienna, Austria, Retrieved from http://www.R-project.org

17.

Isiche J, Hillerton JE, Nowell F (1992) Colonization of the mouse cadaver by flies in southern England. Med Vet Entomol 6:168–170

18.

Anderson GS (2000) Minimum and maximum development rates of some forensically important Calliphoridae (Diptera). J Forensic Sci 45:824–832

19.

Hwang C, Turner BD (2005) Spatial and temporal variability of necrophagous Diptera from urban to rural areas. Med Vet Entomol 19:379–391

20.

Brundage A, Bros S, Honda JY (2011) Seasonal and habitat abundance and distribution of some forensically important blow flies (Diptera: Calliphoridae) in Central California. Forensic Sci Int 212:115–120. doi:10.1016/j.forsciint.2011.05.023
Acknowledgments
We thank Jessamine Orlino and Erentsen Enkeev for their assistance in conducting this experiment. We would also like to thank Changlu Wang for confirming the Formicidae identifications, and Jeffery Tomberlin, David Jennings, and two anonymous reviewers for providing comments to improve this manuscript.
Ethics declarations
Conflict of interest
The authors declare that they have no conflict of interest.
Electronic supplementary material
Below is the link to the electronic supplementary material.
Potential adult Calliphoridae crawling onto piglet carcass (MP4 20772 kb)
Vespula sp. gathering blow fly eggs into a ball-like structure (MP4 24848 kb)
Potential adult Calliphoridae crawling onto piglet carcass (MP4 20772 kb)
Vespula sp. gathering blow fly eggs into a ball-like structure (MP4 24848 kb)
About this article
Cite this article
Weidner, L.M., Monzon, M.A. & Hamilton, G.C. Death eaters respond to the dark mark of decomposition day and night: observations of initial insect activity on piglet carcasses. Int J Legal Med 130, 1633–1637 (2016). https://doi.org/10.1007/s00414-016-1371-y
Received:

Accepted:

Published:

Issue Date:
Keywords
Calliphoridae

Hymenoptera

Blow flies

Colonization

Vespidae