Abstract
Purpose
To evaluate the effects of transcutaneous electrical nerve stimulation (TENS) compared to placebo TENS and a control group on pain, pulmonary function, respiratory muscle strength, and analgesic medications in the postoperative period of thoracotomy in an Intensive care unit (ICU).
Methods
Patients who had undergone posterolateral thoracotomy were randomly allocated to receive TENS during ICU stay, or placebo TENS, or into the control group. All groups received conventional physiotherapy. We analysed the intensity of pain, pulmonary function, respiratory muscle strength, and use of analgesia medications. Outcomes were evaluated before surgery, immediately after, 24 and 48 h after ICU admission.
Results
Forty-five patients were included. Regarding pain perception, there was no difference between groups (p = 0.172), but there was a significant reduction in pain intensity for patients receiving TENS after first physiotherapy session compared to baseline (4.7 ± 3.2 vs 3.3 ± 2.6; p < 0.05). All groups had a decrease in forced vital capacity (FVC) after surgery (p < 0.001). There was no difference between the groups regarding the use of analgesic medications, but a higher intake of morphine and acetaminophen were observed for the control (p = 0.037) and placebo group (p = 0.035), respectively.
Conclusion
The use of TENS provides a little benefit of pain (in the first 12 h) but failed to demonstrate any improvement in the recovery of ICU patients after 48 h of posterolateral thoracotomy.
Trial Registration
NCT02438241.
This is a preview of subscription content, log in to check access.
Access options
Buy single article
Instant access to the full article PDF.
US$ 39.95
Price includes VAT for USA
Subscribe to journal
Immediate online access to all issues from 2019. Subscription will auto renew annually.
US$ 99
This is the net price. Taxes to be calculated in checkout.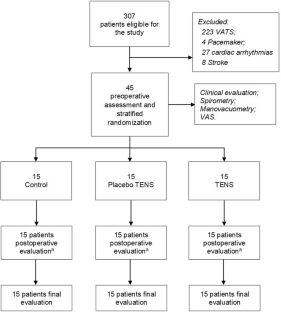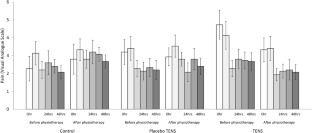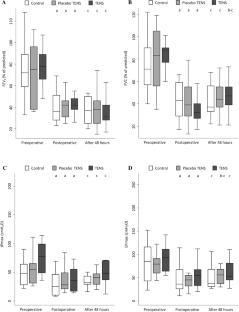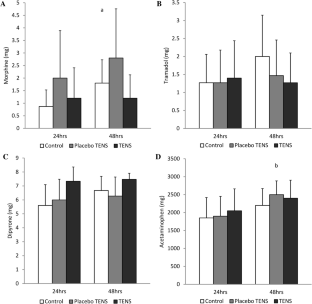 Abbreviations
TENS:

Transcutaneous electrical nerve stimulation

ICU:

Intensive care unit

FVC:

Forced vital capacity

RCT:

Randomized control trials

MAP:

Mean arterial pressure

RASS:

Richmond agitation-sedation scale

IG:

Intervention group

PG:

Placebo group

CG:

Control group

VAS:

Visual analogue scale

PFT:

Pulmonary function tests

FEV 1:

Forced expiratory volume in 1 second

FVC:

Forced vital capacity

IPmax:

Maximum inspiratory pressures

EPmax:

Maximum expiratory pressures

PC:

Epidural catheter

PVC:

Paravertebral catheter
References
1.

Savage C, McQuitty C, Wang D, Zwischenberger JB (2002) Postthoracotomy pain management. Chest Surg Clin N Am 12(2):251–263

2.

Landreneau RJ, Pigula F, Luketich JD, Keenan RJ, Bartley S, Fetterman LS et al (1996) Acute and chronic morbidity differences between muscle-sparing and standard lateral thoracotomies. J Thorac Cardiovasc Surg. 112(5):1346–1350; discussion 50-1

3.

Kavanagh BP, Katz J, Sandler AN (1994) Pain control after thoracic surgery. A review of current techniques. Anesthesiology 81(3):737–759

4.

Boisseau N, Rabary O, Padovani B, Staccini P, Mouroux J, Grimaud D et al (2001) Improvement of 'dynamic analgesia' does not decrease atelectasis after thoracotomy. Br J Anaesth 87(4):564–569

5.

Benedetti F, Amanzio M, Casadio C, Cavallo A, Cianci R, Giobbe R et al (1997) Control of postoperative pain by transcutaneous electrical nerve stimulation after thoracic operations. Ann Thorac Surg 63(3):773–776

6.

Yegin A, Erdogan A, Kayacan N, Karsli B (2003) Early postoperative pain management after thoracic surgery; pre- and postoperative versus postoperative epidural analgesia: a randomised study. Eur J Cardiothorac Surg 24(3):420–424

7.

Grant RP (1999) Con: every postthoracotomy patient does not deserve thoracic epidural analgesia. J Cardiothorac Vasc Anesth 13(3):355–357

8.

Baidya DK, Khanna P, Maitra S (2014) Analgesic efficacy and safety of thoracic paravertebral and epidural analgesia for thoracic surgery: a systematic review and meta-analysis. Interact Cardiovasc Thorac Surg 18(5):626–635

9.

Melzack R, Wall PD (1965) Pain mechanisms: a new theory. Science 150(3699):971–979

10.

Sbruzzi G, Silveira SA, Silva DV, Coronel CC, Plentz RD (2012) Transcutaneous electrical nerve stimulation after thoracic surgery: systematic review and meta-analysis of 11 randomized trials. Rev Bras Cir Cardiovasc 27(1):75–87

11.

Schulz KF, Altman DG, Moher D (2010) CONSORT 2010 statement: updated guidelines for reporting parallel group randomised trials. J Pharmacol Pharmacother 1(2):100–107

12.

Rakel B, Cooper N, Adams HJ et al (2010) New transient sham TENS device allows for investigator blinding while delivering a true placebo treatment. J Pain 11:230–238

13.

Miller MR, Hankinson J, Brusasco V, Burgos F, Casaburi R, Coates A et al (2005) Standardisation of spirometry. Eur Respir J 26(2):319–338

14.

Erdogan M, Erdogan A, Erbil N, Karakaya HK, Demircan A (2005) Prospective, randomized, placebo-controlled study of the effect of TENS on postthoracotomy pain and pulmonary function. World J Surg 29(12):1563–1570

15.

Baki ED, Oz G, Kokulu S, Ulasli AM, Ela Y, Sivaci RG et al (2015) Comparison of transcutaneous electrical nerve stimulation and paravertebral block for postthoracotomy pain relief. Thorac Cardiovasc Surg 63(6):514–518

16.

Fiorelli A, Morgillo F, Milione R, Pace MC, Passavanti MB, Laperuta P et al (2012) Control of post-thoracotomy pain by transcutaneous electrical nerve stimulation: effect on serum cytokine levels, visual analogue scale, pulmonary function and medication. Eur J Cardiothorac Surg. 41(4):861–868; discussion

17.

Liu YC, Liao WS, Lien IN (1985) Effect of transcutaneous electrical nerve stimulation for post-thoracotomic pain. Taiwan Yi Xue Hui Za Zhi J Formosan Med Assoc 84(7):801–809

18.

Warfield CA, Stein JM, Frank HA (1985) The effect of transcutaneous electrical nerve stimulation on pain after thoracotomy. Ann Thorac Surg 39(5):462–465

19.

Erden S, Senol CS (2015) The effect of transcutaneous electrical nerve stimulation on post-thoracotomy pain. Contemp Nurse 51(2–3):163–170

20.

Solak O, Turna A, Pekcolaklar A, Metin M, Sayar A, Solak O et al (2007) Transcutaneous electric nerve stimulation for the treatment of postthoracotomy pain: a randomized prospective study. Thorac Cardiovasc Surg 55(3):182–185

21.

Chandra A, Banavaliker JN, Das PK, Hasti S (2010) Use of transcutaneous electrical nerve stimulation as an adjunctive to epidural analgesia in the management of acute thoracotomy pain. Indian J Anaesth 54(2):116–120

22.

Ferreira FC, Issy AM, Sakata RK (2011) Assessing the effects of transcutaneous electrical nerve stimulation (TENS) in post-thoracotomy analgesia. Rev Bras Anestesiol 61(5):561–7, 308–10

23.

Varela G, Brunelli A, Rocco G, Marasco R, Jiménez MF, Sciarra V, Aranda JL, Gatani T (2006) Predicted versus observed FEV1 in the immediate postoperative period after pulmonary lobectomy. Eur J Cardiothorac Surg 30(4):644–648

24.

Attri JPKR, Kaur H, Makhni R (2016) Post thoracotomy pain management: a review of current available modalities. Northern J ISA 1:7–10
Ethics declarations
Conflict of interest
The authors declare that they have no conflict of interest.
Informed Consent
Informed consent was obtained from all individual participants included in the study.
Additional information
Publisher's Note
Springer Nature remains neutral with regard to jurisdictional claims in published maps and institutional affiliations.
About this article
Cite this article
Husch, H.H., Watte, G., Zanon, M. et al. Effects of Transcutaneous Electrical Nerve Stimulation on Pain, Pulmonary Function, and Respiratory Muscle Strength After Posterolateral Thoracotomy: A Randomized Controlled Trial. Lung (2020). https://doi.org/10.1007/s00408-020-00335-4
Received:

Accepted:

Published:
Keywords
Pain management

Pulmonary function

Thoracotomy

Transcutaneous electric nerve stimulation