Abstract
Purpose
This study aimed to investigate whether patients with chronic obstructive pulmonary disease (COPD) presenting asthma overlap (ACO) benefit similarly in comparison to patients with only COPD after a 12-week high-intensity exercise training (ET) program.
Methods
Subjects with a diagnosis of COPD alone or ACO were evaluated and compared before and after a high-intensity ET program composed of walking and cycling plus strengthening exercises of the upper and lower limbs (3 days/week, 3 months, 36 sessions). Assessments included spirometry, bioelectrical impedance, 6-min walk test (6MWT), London Chest Activity of Daily Living Scale (LCADL), Hospital anxiety and depression Scale, modified Medical Research Council Scale (mMRC), Saint George Respiratory Questionnaire (SGRQ), and respiratory and peripheral muscle strength [manovacuometry and 1-repetition maximum test (quadriceps femoris, biceps and triceps brachialis), respectively]. ACO was defined according to Sin et al. (Eur Respir J 48(3):664-673, 2016).
Results
The sample was composed of 74 subjects (57% male, age 67 ± 8 years, BMI 26 (21–32) kg/m2, FEV1 47 ± 17%predicted), and 12 (16%) of them were classified as presenting ACO. Both groups improved pulmonary function, 6MWT, peripheral and inspiratory muscle strength, LCADL, and SGRQ after ET (p < 0.005 for all). There were no significant interactions between ACO and COPD on ET effects (p > 0.05 for all). Likewise, there was no difference in the proportion of patients achieving the minimum clinical important difference for 6MWT and mMRC.
Conclusion
High-intensity exercise training generates similar benefits in patients with COPD regardless of whether presenting asthma overlap or not.
This is a preview of subscription content, log in to check access.
Access options
Buy single article
Instant access to the full article PDF.
US$ 39.95
Price includes VAT for USA
Subscribe to journal
Immediate online access to all issues from 2019. Subscription will auto renew annually.
US$ 99
This is the net price. Taxes to be calculated in checkout.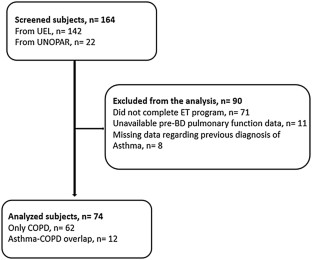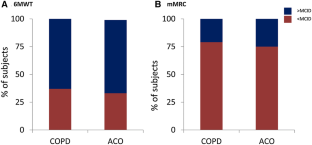 Abbreviations
1RM:

One-repetition maximum test

6MWT:

6-Min walk test

ACO:

Asthma-chronic obstructive pulmonary disease overlap

BDR:

Bronchodilator response

COPD:

Chronic obstructive pulmonary disease

ET:

Exercise training

FEV1/FVC:

Forced expiratory volume in the first second per forced vital capacity

FEV1 :

Forced expiratory volume in the first second

FVC:

Forced vital capacity

GINA:

Global Initiative for Asthma Management and Prevention

GOLD:

Global Initiative for Chronic Obstructive Pulmonary Disease

HADS:

Hospital Anxiety and Depression Scale

IQR:

25–75 Interquartile range

Kg:

Kilogram

LCADL:

London Chest Activity of Daily Living Scale

MCID:

Minimal clinical important difference

MEP:

Maximum expiratory pressure

MIP:

Maximum inspiratory pressure

mMRC:

Modified Medical Research Council Scale

PR:

Pulmonary rehabilitation

SD:

Standard deviation

SGRQ:

St. George's Respiratory Questionnaire

UEL:

Londrina State University

UNOPAR:

University of Northern Parana
References
1.

Nici L, Donner C, Wouters E, Zuwallack R, Ambrosino N, Bourbeau J, Carone M, Celli B, Engelen M, Fahy B et al (2006) American Thoracic Society/European Respiratory Society statement on pulmonary rehabilitation. Am J Respir Crit Care Med 173(12):1390–1413

2.

Troosters T, Blondeel A, Janssens W, Demeyer H (2019) The past, present and future of pulmonary rehabilitation. Respirology 24(9):830–837

3.

McCarthy B, Casey D, Devane D, Murphy K, Murphy E, Lacasse Y (2015) Pulmonary rehabilitation for chronic obstructive pulmonary disease. Cochrane Database Syst Rev 2:CD003793

4.

Lacasse Y, Cates CJ, McCarthy B, Welsh EJ (2015) This cochrane review is closed: deciding what constitutes enough research and where next for pulmonary rehabilitation in COPD. Cochrane Database Syst Rev 11:ED000107

5.

Spruit MA, Singh SJ, Garvey C, ZusWallack R, Nici L, Rochester C, Hill K, Holland AE, Lareau SC, Man WD et al (2013) An official American Thoracic Society/European Respiratory Society statement: key concepts and advances in pulmonary rehabilitation. Am J Respir Crit Care Med 188(8):e13–64

6.

Schols AM, Soeters PB, Mostert R, Pluymers RJ, Wouters EF (1995) Physiologic effects of nutritional support and anabolic steroids in patients with chronic obstructive pulmonary disease. A placebo-controlled randomized trial. Am J Respir Crit Care Med 152(4 Pt 1):1268–1274

7.

E.D. Bateman, S.S. Hurd, P.J. Barnes, J. Bousquet, J.M. Drazen, J.M. FitzGerald, P. Gibson, K. Ohta, P. O'Byrne, S.E. Pedersen, E. Pizzichini, S.D. Sullivan, S.E. Wenzel, H.J. Zar (2008) Global strategy for asthma management and prevention: GINA executive summary. Eur Respir J 31: 143–178. Eur Respir J 2018, 51(2).

8.

Alshabanat A, Zafari Z, Albanyan O, Dairi M, FitzGerald JM (2015) Asthma and COPD overlap syndrome (ACOS): a systematic review and meta analysis. PLoS ONE 10(9):e0136065

9.

Tan WC, Bourbeau J, Aaron SD, Zhou G, Maltais F, Hernandez P, Fitzgerald JM, Marciniuk DD, Walker BL, Sin DD (2018) Global initiative for chronic obstructive lung disease 2017 classification and lung function decline in chronic obstructive pulmonary disease. Am J Respir Crit Care Med 197(5):670–673

10.

Hanania NA, Celli BR, Donohue JF, Martin UJ (2011) Bronchodilator reversibility in COPD. Chest 140(4):1055–1063

11.

Sin DD, Miravitlles M, Mannino DM, Soriano JB, Price D, Celli BR, Leung JM, Nakano Y, Park HY, Wark PA et al (2016) What is asthma-COPD overlap syndrome? Towards a consensus definition from a round table discussion. Eur Respir J 48(3):664–673

12.

Barnes PJ (2016) Inflammatory mechanisms in patients with chronic obstructive pulmonary disease. J Allergy Clin Immunol 138(1):16–27

13.

Leung JM, Sin DD (2017) Asthma-COPD overlap syndrome: pathogenesis, clinical features, and therapeutic targets. BMJ 358:j3772

14.

Maselli DJ, Hardin M, Christenson SA, Hanania NA, Hersh CP, Adams SG, Anzueto A, Peters JI, Han MK, Martinez FJ (2019) Clinical approach to the therapy of asthma-COPD Overlap. Chest 155(1):168–177

15.

Cambach W, Chadwick-Straver RV, Wagenaar RC, van Keimpema AR, Kemper HC (1997) The effects of a community-based pulmonary rehabilitation programme on exercise tolerance and quality of life: a randomized controlled trial. Eur Respir J 10(1):104–113

16.

Turner S, Eastwood P, Cook A, Jenkins S (2011) Improvements in symptoms and quality of life following exercise training in older adults with moderate/severe persistent asthma. Respiration 81(4):302–310

17.

Foglio K, Bianchi L, Bruletti G, Battista L, Pagani M, Ambrosino N (1999) Long-term effectiveness of pulmonary rehabilitation in patients with chronic airway obstruction. Eur Respir J 13(1):125–132

18.

Miller MR, Hankinson J, Brusasco V, Burgos F, Casaburi R, Coates A, Crapo R, Enright P, van der Grinten CP, Gustafsson P et al (2005) Standardisation of spirometry. Eur Respir J 26(2):319–338

19.

Pereira CA, Sato T, Rodrigues SC (2007) New reference values for forced spirometry in white adults in Brazil. J Bras Pneumol 33(4):397–406

20.

Holland AE, Spruit MA, Troosters T, Puhan MA, Pepin V, Saey D, McCormack MC, Carlin BW, Sciurba FC, Pitta F et al (2014) An official European Respiratory Society/American Thoracic Society technical standard: field walking tests in chronic respiratory disease. Eur Respir J 44(6):1428–1446

21.

Britto RR, Probst VS, de Andrade AF, Samora GA, Hernandes NA, Marinho PE, Karsten M, Pitta F, Parreira VF (2013) Reference equations for the six-minute walk distance based on a Brazilian Multicenter Study. Braz J Phys Ther 17(6):556–563

22.

Kovelis D, Segretti NO, Probst VS, Lareau SC, Brunetto AF, Pitta F (2008) Validation of the modified pulmonary functional status and Dyspnea Questionnaire and the Medical Research Council Scale for use in Brazilian patients with chronic obstructive pulmonary disease. J Bras Pneumol 34(12):1008–1018

23.

Camelier A, Rosa FW, Salim C, Nascimento OA, Cardoso F, Jardim JR (2006) Using the Saint George's Respiratory Questionnaire to evaluate quality of life in patients with chronic obstructive pulmonary disease: validating a new version for use in Brazil. J Bras Pneumol 32(2):114–122

24.

Kyle UG, Pichard C, Rochat T, Slosman DO, Fitting JW, Thiebaud D (1998) New bioelectrical impedance formula for patients with respiratory insufficiency: comparison to dual-energy X-ray absorptiometry. Eur Respir J 12(4):960–966

25.

Nyberg A, Saey D, Maltais F (2015) Why and how limb muscle mass and function should be measured in patients with chronic obstructive pulmonary disease. Ann Am Thorac Soc 12(9):1269–1277

26.

Black LF, Hyatt RE (1969) Maximal respiratory pressures: normal values and relationship to age and sex. Am Rev Respir Dis 99(5):696–702

27.

Neder JA, Andreoni S, Lerario MC, Nery LE (1999) Reference values for lung function tests. II. Maximal respiratory pressures and voluntary ventilation. Braz J Med Biol Res 32(6):719–727

28.

Rodrigues A, Di Martino M, Nellessen AG, Hernandes NA, Neder JA, Pitta F (2016) Is the six-minute walk test a useful tool to prescribe high-intensity exercise in patients with chronic obstructive pulmonary disease? Heart Lung 45(6):550–556

29.

Probst VS, Kovelis D, Hernandes NA, Camillo CA, Cavalheri V, Pitta F (2011) Effects of 2 exercise training programs on physical activity in daily life in patients with COPD. Respir Care 56(11):1799–1807

30.

Pitta F, Troosters T, Probst VS, Langer D, Decramer M, Gosselink R (2008) Are patients with COPD more active after pulmonary rehabilitation? Chest 134(2):273–280

31.

de Torres JP, Pinto-Plata V, Ingenito E, Bagley P, Gray A, Berger R, Celli B (2002) Power of outcome measurements to detect clinically significant changes in pulmonary rehabilitation of patients with COPD. Chest 121(4):1092–1098

32.

Vogiatzis I, Terzis G, Stratakos G, Cherouveim E, Athanasopoulos D, Spetsioti S, Nasis I, Manta P, Roussos C, Zakynthinos S (2011) Effect of pulmonary rehabilitation on peripheral muscle fiber remodeling in patients with COPD in GOLD stages II to IV. Chest 140(3):744–752

33.

Camillo CA, Langer D, Osadnik CR, Pancini L, Demeyer H, Burtin C, Gosselink R, Decramer M, Janssens W, Troosters T (2016) Survival after pulmonary rehabilitation in patients with COPD: impact of functional exercise capacity and its changes. Int J Chronic Obstr Pulm Dis 11:2671–2679

34.

Dolmage TE, Goldstein RS (2008) Effects of one-legged exercise training of patients with COPD. Chest 133(2):370–376

35.

Klijn P, van Keimpema A, Legemaat M, Gosselink R, van Stel H (2013) Nonlinear exercise training in advanced chronic obstructive pulmonary disease is superior to traditional exercise training. A randomized trial. Am J Respir Crit Care Med 188(2):193–200

36.

Sedgwick P (2015) Confidence intervals, P values, and statistical significance. BMJ 350:h1113

37.

Sullivan GM, Feinn R (2012) Using Effect Size-or why the P value is not enough. J Grad Med Educ 4(3):279–282
Acknowledgements
Coordination for the Improvement of Higher Education Personnel (CAPES), Brazil. National Council of Technological and Scientific Development (CNPq), Brazil.
Funding
Antenor Rodrigues, Joice Mara de Oliveira, Felipe Vilaça Cavallari Machado, Letícia Fernandes Belo, Lorena Paltanin Schneider, Andrea Akemi Morita, Ana Carolina Andrelo, Jéssica Fonseca, Igor Lopes Brito, and Thaís Paes were supported by the Coordination for the improvement of Higher Education Personnel (CAPES), Brazil. Karina Couto Furlanetto is supported by Fundação Nacional do Desenvolvimento do Ensino Superior Particular (FUNADESP), Grant Number 5301164. Fabio Pitta is supported by the National Council of Technological and Scientific Development (CNPq), Brazil.
Ethics declarations
Conflict of interest
All authors declare that they have no conflict of interest in relation to this work.
Ethical Approval
This study was approved by the institutional ethics committee (Number: UEL n. 123/09 and UNOPAR n. 0377/10), and all subjects gave informed consent.
Informed Consent
Informed consent was obtained from all subjects included in the study.
Additional information
Publisher's Note
Springer Nature remains neutral with regard to jurisdictional claims in published maps and institutional affiliations.
About this article
Cite this article
Rodrigues, A., de Oliveira, J.M., Furlanetto, K.C. et al. Are the Effects of High-Intensity Exercise Training Different in Patients with COPD Versus COPD+Asthma Overlap?. Lung 198, 135–141 (2020). https://doi.org/10.1007/s00408-019-00311-7
Received:

Accepted:

Published:

Issue Date:
Keywords
Pulmonary disease

Chronic obstructive

Asthma

Pulmonary rehabilitation