Abstract
In preschool children with cystic fibrosis (CF), lung clearance index (LCI) is a sensitive test to detect early lung disease. Some children with CF screen positive, inconclusive diagnosis (CFSPID) may in time develop clinical features of CF. LCI has not been studied in CFSPID children. LCI and spirometry were performed in preschool age children with CF, CFSPID, and non-CF healthy controls (HCs) during two visits. Fifty-four preschool age children (HC n = 18, CFSPID n = 17, and CF n = 19) were tested. Mean LCI from the CFSPID group was not statistically different from HC (p = 0.49), but significantly different when compared to CF (p = 0.04). LCI was abnormal in 2 CFSPID children who carried potentially deleterious CFTR variants. Mean forced expiratory volume in 1 s (FEV1) was not statistically different between CFSPID and CF (p = 0.26). LCI can potentially detect early lung disease in CFSPID individuals as part of assessing their risk for reclassification to CF diagnosis.
This is a preview of subscription content, log in to check access.
Access options
Buy single article
Instant access to the full article PDF.
US$ 39.95
Price includes VAT for USA
Subscribe to journal
Immediate online access to all issues from 2019. Subscription will auto renew annually.
US$ 99
This is the net price. Taxes to be calculated in checkout.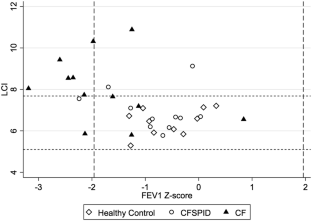 Notes
1.

Newborn screening for CF in California uses a 3-step model: (1) measuring immunoreactive trypsinogen in all dried blood spot specimens, (2) testing of 40 pre-selected CFTR mutations in specimens with immunoreactive trypsinogen values ≥ 62 ng/mL (top 1.6%), and (3) performing CFTR-DNA sequencing on specimens found to have only 1 mutation in step 2. Infants with ≥ 2 mutations/variants are screen positive and referred to CF care centers for diagnostic evaluation and follow-up [23].
References
1.

Subbarao P, Milla C, Aurora P et al (2015) Multiple-breath washout as a lung function test in cystic fibrosis. A Cystic Fibrosis Foundation Workshop Report. Ann Am Thorac Soc 12(6):932–939

2.

Ellemunter H, Fuchs SI, Unsinn KM et al (2010) Sensitivity of Lung Clearance Index and chest computed tomography in early CF lung disease. Respir Med 104(12):1834–1842

3.

Lahiri T, Hempstead SE, Brady C et al (2016) Clinical practice guidelines from the Cystic Fibrosis Foundation for preschoolers with cystic fibrosis. Pediatrics 137(4):e20151784

4.

Aurora P, Stanojevic S, Wade A et al (2011) Lung clearance index at 4 years predicts subsequent lung function in children with cystic fibrosis. Am J Respir Crit Care Med 183(6):752–758

5.

Jensen R, Stanojevic S, Klingel M et al (2016) A systematic approach to multiple breath nitrogen washout test quality. PLoS ONE 11(6):e0157523

6.

Subbarao P, Stanojevic S, Brown M et al (2013) Lung clearance index as an outcome measure for clinical trials in young children with cystic fibrosis. A pilot study using inhaled hypertonic saline. Am J Respir Crit Care Med 188(4):456–460

7.

Ren CL, Borowitz DS, Gonska T et al (2017) Cystic fibrosis transmembrane conductance regulator-related metabolic syndrome and cystic fibrosis screen positive, inconclusive diagnosis. J Pediatr 181S:S45–S51.e1

8.

Robinson PD, Latzin P, Verbanck S et al (2013) Consensus statement for inert gas washout measurement using multiple- and single-breath tests. Eur Respir J 41(3):507–522

9.

Robinson PD, Latzin P, Ramsey KA et al (2018) Preschool multiple-breath washout testing. An Official American Thoracic Society Technical Statement. Am J Respir Crit Care Med 197(5):e1–e19

10.

Beydon N, Davis SD, Lombardi E et al (2007) An official American Thoracic Society/European Respiratory Society statement: pulmonary function testing in preschool children. Am J Respir Crit Care Med 175(12):1304–1345

11.

Behar DM, Inbar O, Shteinberg M et al (2017) Nationwide genetic analysis for molecularly unresolved cystic fibrosis patients in a multiethnic society: implications for preconception carrier screening. Mol Genet Genomic Med 5(3):223–236

12.

Keiles S, Kammesheidt A (2006) Identification of CFTR, PRSS1, and SPINK1 mutations in 381 patients with pancreatitis. Pancreas 33(3):221–227

13.

Salinas DB, Azen C, Young S, Keens TG, Kharrazi M, Parad RB (2016) Phenotypes of California CF newborn screen-positive children with CFTR 5T allele by TG repeat length. Genet Test Mol Biomark 20(9):496–503

14.

Groman JD, Hefferon TW, Casals T et al (2004) Variation in a repeat sequence determines whether a common variant of the cystic fibrosis transmembrane conductance regulator gene is pathogenic or benign. Am J Hum Genet 74(1):176–179

15.

Vilozni D, Bentur L, Efrati O et al (2007) Spirometry in early childhood in cystic fibrosis patients. Chest 131(2):356–361

16.

Marostica PJ, Weist AD, Eigen H et al (2002) Spirometry in 3- to 6-year-old children with cystic fibrosis. Am J Respir Crit Care Med 166(1):67–71

17.

Simon MR, Chinchilli VM, Phillips BR et al (2010) Forced expiratory flow between 25% and 75% of vital capacity and FEV1/forced vital capacity ratio in relation to clinical and physiological parameters in asthmatic children with normal FEV1 values. J Allergy Clin Immunol 126(3):527–534.e1-8

18.

Culver BH, Graham BL, Coates AL et al (2017) Recommendations for a Standardized Pulmonary Function Report. An Official American Thoracic Society Technical Statement. Am J Respir Crit Care Med 196(11):1463–1472

19.

Quanjer PH, Weiner DJ, Pretto JJ et al (2014) Measurement of FEF25–75% and FEF75% does not contribute to clinical decision making. Eur Respir J 43(4):1051–1058

20.

Aurora P, Bush A, Gustafsson P et al (2005) Multiple-breath washout as a marker of lung disease in preschool children with cystic fibrosis. Am J Respir Crit Care Med 171(3):249–256

21.

Mayer OH, Jawad AF, McDonough J, Allen J (2008) Lung function in 3–5-year-old children with cystic fibrosis. Pediatr Pulmonol 43(12):1214–1223

22.

Eigen H, Bieler H, Grant D et al (2001) Spirometric pulmonary function in healthy preschool children. Am J Respir Crit Care Med 163(3 Pt 1):619–623

23.

Kharrazi M, Yang J, Bishop T et al (2015) Newborn screening for cystic fibrosis in California. Pediatrics 136(6):1062–1072
Acknowledgements
The authors thank Dr. Sally L. Davidson Ward and the Cystic Fibrosis Team at Children's Hospital Los Angeles for supporting this study. The authors thank Whitney Gore, Cynthia Leyva, Monique Margetis, Alejandra Franquez, Amy Deblaise-Kasai, Maria Carmen Reyes, and Cathleen Salata for their help with patient recruitment. They also thank the children and families who participated in this study.
Funding
This project was supported by the Webb Family and National Institute of Health (NIH)/National Center for Research Resources Southern California Clinical and Translational Science Institute (NCRR SC-CTSI), Grant Number UL1 TR000130. Its contents are solely the responsibility of the authors and do not necessarily represent the official views of the NIH.
Ethics declarations
Conflict of interest
The authors declare that they have no conflict of interest.
Additional information
Publisher's Note
Springer Nature remains neutral with regard to jurisdictional claims in published maps and institutional affiliations.
About this article
Cite this article
Kasi, A.S., Wee, C.P., Keens, T.G. et al. Abnormal Lung Clearance Index in Cystic Fibrosis Screen Positive, Inconclusive Diagnosis (CFSPID) Children with Otherwise Normal FEV1. Lung 198, 163–167 (2020). https://doi.org/10.1007/s00408-019-00307-3
Received:

Accepted:

Published:

Issue Date:
Keywords
Cystic fibrosis

CFTR-related metabolic syndrome

CRMS

CFSPID

Lung clearance index

Early lung disease