Abstract
Electronic cigarettes, pens, cartridges and other devices were developed as nicotine delivery systems not requiring combustion of tobacco leaves. This technology was subsequently employed to deliver the cannabis component tetrahydrocannabinol (THC) via products often manufactured without adequate quality oversight and sold illegally. Recently, five patients presenting within a 2-month period with acute respiratory failure due to acute lipoid pneumonia after inhaling THC-containing concentrates or oils have been described. We report a 28-year-old previously healthy man who presented in acute respiratory failure 2 weeks after initiating use of a street-purchased THC-containing vape cartridge. Bronchoalveolar lavage cytology with oil red O staining confirmed the diagnosis of acute lipoid pneumonia. Diffuse alveolar hemorrhage and eosinophilic pneumonia were excluded. Evolving evidence supports a clinical entity of acute respiratory failure due to acute, exogenous lipoid pneumonia induced by THC-containing concentrates or oils inhaled through a variety of vaping products. All six patients reported to date received intravenous corticosteroids and survived to hospital discharge.
This is a preview of subscription content, log in to check access.
Access options
Buy single article
Instant access to the full article PDF.
US$ 39.95
Price includes VAT for USA
Subscribe to journal
Immediate online access to all issues from 2019. Subscription will auto renew annually.
US$ 99
This is the net price. Taxes to be calculated in checkout.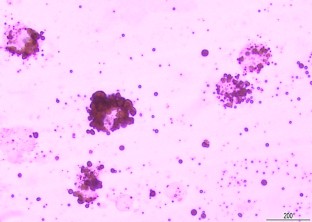 References
1.

Davidson K, Brancato A, Heetderks P, Mansour W, Matheis E, Nario M et al (2019) Outbreak of electronic-cigarette-associated acute lipoid pneumonia—North Carolina, July–August 2019. MMWR Morb Mortal Wkly Rep 68(36):784–786. https://doi.org/10.15585/mmwr.mm6836e1

2.

CDC (2019) Health advisory: severe pulmonary disease associated with use of e-cigarette products. US Department of Health and Human Services, CDC, Atlanta. https://emergency.cdc.gov/han/han00421.asp

3.

Hadda V, Khilnani GC (2010) Lipoid pneumonia: an overview. Expert Rev Respir Med 4(6):799–807

4.

Marchiore E, Zanetti G, Mano CM, Hochhegger B (2011) Exogenous lipoid pneumonia. Clinical and radiological manifestations. Respir Med 105(5):659–666

5.

Viswam D, Trotter S, Burge PS, Walters GI (2018) Respiratory failure caused by lipoid pneumonia from vaping e-cigarettes. BMJ Case Rep. https://doi.org/10.1136/bcr-2018-224350

6.

Itoh M, Aoshiba K, Herai Y, Nakamura H, Takemura T (2017) Lung injury associated with electronic cigarettes inhalation diagnosed by transbronchial lung biopsy. Respir Case Rep 6(1):e00282

7.

McCauley L, Markin C, Hosmer D (2012) An unexpected consequence of electronic cigarette use. Chest 141(4):1110–1113

8.

Arter ZL, Wiggins A, Hudspath C, Kisling A, Hostler DC, Hostler JM (2019) Acute eosinophilic pneumonia following electronic cigarette use. Respir Med Case Rep 18(27):100825

9.

Agustin M, Yamamoto M, Cabrera F, Eusebio R (2018) Diffuse alveolar hemorrhage induced by vaping. Case Rep Pulmonol 2018:9724530

10.

Sommerfeld CG, Weiner DJ, Nowalk A, Larkin A (2018) Hypersensitivity pneumonitis and acute respiratory distress syndrome from e-cigarette use. Pediatrics 141(6):e20163927

11.

Khan MS, Khateeb F, Akhtar J, Khan Z, Lal A, Kholodovych V et al (2018) Organizing pneumonia related to electronic cigarette use: a case report and review of literature. Clin Respir J 12(3):1295–1299
Ethics declarations
Conflicts of interest
All authors declare that they have no conflict of interest.
Additional information
Publisher's Note
Springer Nature remains neutral with regard to jurisdictional claims in published maps and institutional affiliations.
About this article
Cite this article
Dicpinigaitis, P.V., Trachuk, P., Fakier, F. et al. Vaping-Associated Acute Respiratory Failure Due to Acute Lipoid Pneumonia. Lung 198, 31–33 (2020). https://doi.org/10.1007/s00408-019-00277-6
Received:

Accepted:

Published:

Issue Date:
Keywords
Vaping

Electronic cigarette

Tetrahydrocannabinol (THC)

Lipoid pneumonia

Acute respiratory failure

Nicotine