Abstract
Purpose
The prognosis of anaplastic thyroid cancer (ATC) is poor. Despite various attempts to modify common treatment modalities, including surgery, external beam radiation (EBRT) and chemotherapy (CTX), no standardized treatment is yet established. This study aimed to analyze the changing trends of treatment concepts and associated overall survival (OS) over the last two decades.
Methods
A retrospective analysis was conducted on 42 patients with histologically confirmed ATC. The outcome measures included the evaluation of clinical characteristics and treatments performed with regard to OS.
Results
Median OS for all tumor stages was 6 (range 1 week–79) months, 6.5 months for stage IVA/B and 4 months for stage IVC carcinoma patients. Twenty-one patients with stage IVA/B carcinomas underwent curative treatment, including thyroidectomy with lymphadenectomy (TTX plus LAD, n = 11) or multimodal treatment with TTX plus LAD and EBRT plus/minus CTX (n = 10). The median OS of patients with stage IVA/B carcinomas was significantly prolonged after multimodal treatment than after surgery alone (25 vs. 3 months, p = 0.04). Fifteen of 18 patients with stage IVC carcinomas received palliative, 3 patients multimodal treatment. The median OS of stage IVC patients after trimodal therapy was not significantly longer than after debulking procedures (6 vs. 7 months, p = 0.25). In the time period 1999–2009, only 4 (21%) patients received multimodal treatment compared to 9 (39%) in the period from 2009 to 2019, but this did not result in a significantly prolonged survival in the latter period (8.5 vs. 15 months, p = 0.61).
Conclusion
Concurrent radio- and/or chemotherapy in combination with surgery seems to result in improved survival in stage IVA/B ATC, whereas this is not the case in patients with stage IVC tumors. Novel treatment regimens are urgently needed to improve the dismal prognosis of ATC.
This is a preview of subscription content, log in to check access.
Access options
Buy single article
Instant access to the full article PDF.
US$ 39.95
Price includes VAT for USA
Subscribe to journal
Immediate online access to all issues from 2019. Subscription will auto renew annually.
US$ 199
This is the net price. Taxes to be calculated in checkout.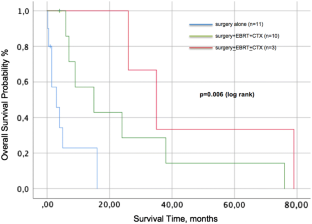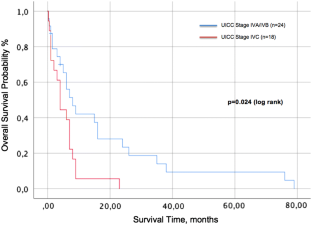 References
1.

Gilliland FD, Hunt WC, Morris DM, Key CR (1997) Prognostic factors for thyroid carcinoma. A population-based study of 15,698 cases from the Surveillance, Epidemiology and End Results (SEER) program 1973–1991. Cancer 79(3):564–573

2.

Kebebew E, Greenspan FS, Clark OH, Woeber KA, McMillan A (2005) Anaplastic thyroid carcinoma. Treatment outcome and prognostic factors. Cancer 103(7):1330–1335

3.

Dal Maso L et al (2017) Survival of 86,690 patients with thyroid cancer: A population-based study in 29 European countries from EUROCARE-5. Eur J Cancer 77:140–152

4.

Cabanillas ME, Zafereo M, Gunn GB, Ferrarotto R (2016) Anaplastic thyroid carcinoma: treatment in the age of molecular targeted therapy. J Oncol Pract 12(6):511–518

5.

Sykorova V et al (2015) Search for new genetic biomarkers in poorly differentiated and anaplastic thyroid carcinomas using next generation sequencing. Anticancer Res 35(4):2029–2036

6.

Nagaiah G, Hossain A, Mooney CJ, Parmentier J, Remick SC (2011) Anaplastic thyroid cancer: a review of epidemiology, pathogenesis, and treatment. J Oncol 2011:542358

7.

Kwon J, Kim BH, Jung H-W, Besic N, Sugitani I, Wu H-G (2016) The prognostic impacts of postoperative radiotherapy in the patients with resected anaplastic thyroid carcinoma: A systematic review and meta-analysis. Eur J Cancer 59:34–45

8.

Pierie J-PEN, Muzikansky A, Gaz RD, Faquin WC, Ott MJ (2002) The effect of surgery and radiotherapy on outcome of anaplastic thyroid carcinoma. Ann Surg Oncol 9(1):57–64

9.

Godbert Y et al (2015) remarkable response to crizotinib in woman with anaplastic lymphoma kinase-rearranged anaplastic thyroid carcinoma. J Clin Oncol 33(20):e84–e87

10.

Rosove MH, Peddi PF, Glaspy JA (2013) BRAF V600E inhibition in anaplastic thyroid cancer. N Engl J Med 368(7):684–685

11.

Savvides P et al (2013) Phase II trial of sorafenib in patients with advanced anaplastic carcinoma of the thyroid. Thyroid 23(5):600–604

12.

Bible KC et al (2012) A multiinstitutional phase 2 trial of pazopanib monotherapy in advanced anaplastic thyroid cancer. J Clin Endocrinol Metab 97(9):3179–3184

13.

Lang BH-H, Lo C-Y (2007) Surgical options in undifferentiated thyroid carcinoma. World J Surg 31(5):969–977

14.

Granata R, Locati L, Licitra L (2013) Therapeutic strategies in the management of patients with metastatic anaplastic thyroid cancer: review of the current literature. Curr Opin Oncol 25(3):224–228

15.

Smallridge RC, Marlow LA, Copland JA (2009) Anaplastic thyroid cancer: molecular pathogenesis and emerging therapies. Endocr Relat Cancer 16(1):17–44

16.

Haymart MR, Banerjee M, Yin H, Worden F, Griggs JJ (2013) Marginal treatment benefit in anaplastic thyroid cancer. Cancer 119(17):3133–3139

17.

Schlumberger M, Parmentier C, Delisle MJ, Couette JE, Droz JP, Sarrazin D (1991) Combination therapy for anaplastic giant cell thyroid carcinoma. Cancer 67(3):564–566

18.

Voutilainen PE, Multanen M, Haapiainen RK, Leppäniemi AK, Sivula AH (1999) Anaplastic thyroid carcinoma survival. World J Surg 23(9):975–989

19.

Lin B et al (2019) The incidence and survival analysis for anaplastic thyroid cancer: a SEER database analysis. Am J Transl Res 11(9):5888–5896

20.

Passler C et al (1999) Anaplastic (undifferentiated) thyroid carcinoma (ATC). A retrospective analysis. Langenbeck's Arch Surg 384(3):284–293

21.

Goffredo P, Thomas SM, Adam MA, Sosa JA, Roman SA (2015) Impact of timeliness of resection and thyroidectomy margin status on survival for patients with anaplastic thyroid cancer: an analysis of 335 cases. Ann Surg Oncol 22(13):4166–4174

22.

Smallridge RC et al (2012) American Thyroid Association Guidelines for management of patients with anaplastic thyroid cancer. Thyroid 22(11):1104–1139

23.

Tiedje V, Stuschke M, Weber F, Dralle H, Moss L, Führer D (2018) Anaplastic thyroid carcinoma: review of treatment protocols. Endocr Relat Cancer 25(3):R153–R161

24.

Wendler J et al (2016) Clinical presentation, treatment and outcome of anaplastic thyroid carcinoma: results of a multicenter study in Germany. Eur J Endocrinol 175(6):521–529

25.

Liu T-R et al (2016) Treatment and prognosis of anaplastic thyroid carcinoma: a clinical study of 50 cases. PLoS ONE 11(10):e0164840
Ethics declarations
Conflict of interest
The authors declare that they have no conflict of interest.
Ethical approval
The study protocol was approved by the institutional ethics committee of the University Hospital of Marburg (reference number: ek_mr_110118_waechter).
Informed consent
Informed consent was obtained from all individual participants included in this study, who are still alive. Due to the retrospective nature of this study and the fact that except of two patients all patients were dead at the evaluation point in august 2019, no informed consent was obtained from the other 40 patients. Furthermore this study does not contain any identifying information about participants.
Additional information
Publisher's Note
Springer Nature remains neutral with regard to jurisdictional claims in published maps and institutional affiliations.
About this article
Cite this article
Wächter, S., Vorländer, C., Schabram, J. et al. Anaplastic thyroid carcinoma: changing trends of treatment strategies and associated overall survival. Eur Arch Otorhinolaryngol (2020). https://doi.org/10.1007/s00405-020-05853-8
Received:

Accepted:

Published:
Keywords
Anaplastic thyroid carcinoma

Multimodal treatment strategies

Survival

Novel therapies

Prognosis