Abstract
Purpose
Bleeding is one of the most challenging issues for surgeons performing endoscopic stapedotomy. During creation and elevation of the tympanomeatal flap (TMF) prevention or control of bleeding greatly facilitates the safety and comfort in the next steps of the surgery. The aim of this study was to compare the effects of cautery versus cold instrumentation during creation of TMF at endoscopic stapedotomy surgery.
Methods
We investigated 15 patients TMF created with cautery and 14 patients with cold instrument, and compared bleeding scores, operation time, postoperative hearing, pain and complications between groups.
Results
The mean bleeding score was significantly lower in cautery incised patients compared to cold instrument patients (1.2 ± 0.9 vs. 2.3 ± 1, p = 0.005). Mean duration of surgery was also significantly shorter in cautery used patients (35.3 ± 6.8 vs. 48.8 ± 9.2 min, p < 0.001). There was no significant difference between postoperative pain, complications, wound healing, and auditory outcomes.
Conclusions
Cautery may be a better choice for the creation of TMF in endoscopic stapedotomy surgery due to reduced bleeding, shorter operation time and increased comfort without causing any complications.
This is a preview of subscription content, log in to check access.
Access options
Buy single article
Instant access to the full article PDF.
US$ 39.95
Price includes VAT for USA
Subscribe to journal
Immediate online access to all issues from 2019. Subscription will auto renew annually.
US$ 199
This is the net price. Taxes to be calculated in checkout.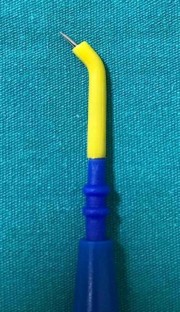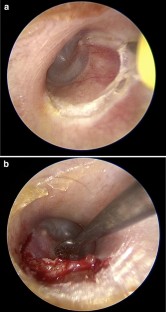 References
1.

Kuo CW, Wu HM (2018) Fully endoscopic laser stapedotomy: is it comparable with microscopic surgery? Acta Otolaryngol 138:871–876

2.

Poe DS (2000) Laser-assisted endoscopic stapedectomy: a prospective study. Laryngoscope 110:1–37

3.

Nogueira Junior JF, Martins MJ, Aguiar CV et al (2011) Fully endoscopic stapes surgery (stapedotomy): technique and preliminary results. Braz J Otorhinolaryngol 77:721–727

4.

Surmelioglu O, Ozdemir S, Tarkan O et al (2017) Endoscopic versus microscopic stapes surgery. Auris Nasus Larynx 44:253–257

5.

Migirov L, Wolf M (2013) Endoscopic transcanal stapedotomy: how I do it. Eur Arch Otorhinolaryngol 270:1547–1549

6.

Anschuetz L, Bonali M, Guarino P et al (2017) Management of bleeding in exclusive endoscopic ear surgery: pilot clinical experience. Otolaryngol Head Neck Surg 157:700–706

7.

Cornejo-Suarez A, Chavez-Delgado ME, Perez-Ramirez R et al (2019) A modified method of local infiltration for endoscopic stapes surgery: how I do it. Eur Arch Otorhinolaryngol 276:357–365

8.

Fisch U (1994) Tympanoplasty, mastoidectomy, and stapes surgery. Thieme Medical Publishers, New York

9.

Boezaart AP, van der Merwe J, Coetzee A (1995) Comparison of sodium nitroprusside- and esmolol-induced controlled hypotension for functional endoscopic sinus surgery. Can J Anaesth 42:373–376

10.

Liu T, Qin M, Li W et al (2016) Effects of a single dose dexmedetomidine on surgical field visibility during middle ear microsurgery: a randomized study. Otol Neurotol 37:680–684

11.

Iannella G, Magliulo G (2016) Endoscopic versus microscopic approach in stapes surgery: are operative times and learning curve important for making the choice? Otol Neurotol 37:1350–1357

12.

Committee on Hearing and Equilibrium Guidelines for the Evaluation of Results of Treatment of Conductive Hearing Loss (1995) American Academy of Otolaryngology-Head and Neck Surgery Foundation I. Otolaryngol Head Neck Surg 113:186–187

13.

Vincent R, Sperling NM, Oates J et al (2006) Surgical findings and long-term hearing results in 3,050 stapedotomies for primary otosclerosis: a prospective study with the otology-neurotology database. Otol Neurotol 27:25–47

14.

Liang S, Irwin MG (2010) Review of anesthesia for middle ear surgery. Anesthesiol Clin 28:519–528

15.

Kojima H, Komori M, Chikazawa S et al (2014) Comparison between endoscopic and microscopic stapes surgery. Laryngoscope 124:266–271
Ethics declarations
Conflict of interest
All authors confirm that no conflict of interest.
Research involving human participants
Yes [the study was conducted in accordance with the ethical standards stated in the 'Declaration of Helsinki', and was approved by the local ethics committee (protocol number: 2019/147)].
Informed consent
None, because this study is retrospective and there are only file scanned.
Additional information
Publisher's Note
Springer Nature remains neutral with regard to jurisdictional claims in published maps and institutional affiliations.
About this article
Cite this article
Demir, E., Çeliker, M., Balaban, G.A. et al. Tympanomeatal flap creation in endoscopic stapedotomy: cautery vs. cold instrumentation. Eur Arch Otorhinolaryngol (2020). https://doi.org/10.1007/s00405-020-05847-6
Received:

Accepted:

Published:
Keywords
Endoscopic stapedotomy

Bleeding

Cautery

Cold instrument