Abstract
Purpose
Abacus involves remembering multiple numbers and calculations, and thus auditory working memory is getting trained. Hence, auditory working memory could be enhanced in children who practice working memory. In the present study, it is attempted to examine the difference in the auditory working memory of the children with abacus training and children without abacus training.
Methods
The study was carried out to compare the score and reaction time for digit forward test, digit backward, ascending digit span and descending digit span test in individuals with and without abacus training and to correlate the level of abacus training with the scores and reaction time for all the tests in individuals with abacus training. The participants were divided based on those with and without abacus training between the age of 9–13 years. The children with the abacus training group were taking intensive abacus training in the range of 2–4 years.
Results
The results of the study revealed that children with abacus training had significantly better reaction time and scores than children without abacus training with effect size between 0.73 and 0.91 which suggests a strong difference. The results also showed moderate to strong correlation (r = 0.53–0.84) between the abacus levels and scores and reaction time for the auditory working memory tests.
Conclusions
The results agree with previous studies, which also report superior auditory performance and enhanced auditory working memory in children with abacus training.
This is a preview of subscription content, log in to check access.
Access options
Buy single article
Instant access to the full article PDF.
US$ 39.95
Price includes VAT for USA
Subscribe to journal
Immediate online access to all issues from 2019. Subscription will auto renew annually.
US$ 199
This is the net price. Taxes to be calculated in checkout.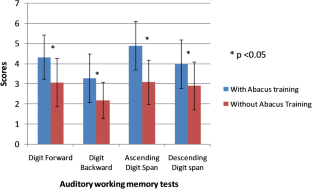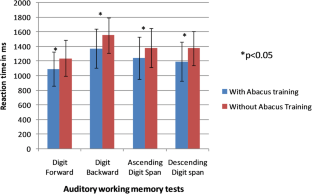 References
1.

Yathiraj A, Priyadarsini K (2009) Effect of training on dichotic CV and dichotic digit scores. J Indian Speech Hear Assoc 23:74–80

2.

Musiek FE, Chermak GD (eds) (2013) Handbook of central auditory processing disorder, volume I: auditory neuroscience and diagnosis. Plural Publishing, San Diego

3.

Bhavya M, Kuriakose T, Priyadarshini S, Suresh N (2016) Evaluation of auditory working memory in abacus trained children using auditory N back test. Int J Sci Res 5(11):180–182

4.

Kumar AU, Sandeep M (2013) Auditory cognitive training module. ARF funded departmental project submitted to All India Institute of Speech and Hearing, Mysore

5.

Baddeley A (2010) Working memory. Curr Biol 20(4):R136–R140

6.

Bhaskaran MY, Sengottaiyan A, Madhu SA, Ranganathan VA (2006) Evaluation of memory in abacus learners. Indian J Physiol Pharmacol 50(3):225

7.

Sokol SM, McCloskey M, Cohen NJ, Aliminosa D (1991) Cognitive representations and processes in arithmetic: inferences from the performance of brain-damaged subjects. J Exp Psychol Learn Mem Cogn 17(3):355

8.

Altiparmak K (2016) The teachers views on Soroban abacus training. Int J Res Educ Sci 2(1):172–178

9.

Elbert T, Pantev C, Wienbruch C, Rockstroh B, Taub E (1995) Increased cortical representation of the fingers of the left hand in string players. Science 270(5234):305–307
Acknowledgements
The authors acknowledge with gratitude Prof. M Pushpavathi, Director, All India Institute of Speech and Hearing, Mysore, for permitting to conduct the study at the institute. The authors also like to acknowledge the participant for co-operation.
Funding
There is no funding by any agency for the manuscript.
Ethics declarations
Conflict of interest
The authors report no conflicts of interest. The authors alone are responsible for the content and writing of the paper.
Ethical approval
Ethical approval was obtained from the All India Institute of Speech and Hearing (AIISH) Ethical Review board for carrying out the study. The manuscript adheres to the ethical standards according to the Declartion of Helsinki.
Informed consent
Informed consent was obtained from the patient to participate in the study.
Additional information
Publisher's Note
Springer Nature remains neutral with regard to jurisdictional claims in published maps and institutional affiliations.
About this article
Cite this article
Roy, M.S., Swarna, K. & Prabhu, P. Assessment of auditory working memory in children with abacus training. Eur Arch Otorhinolaryngol (2020). https://doi.org/10.1007/s00405-020-05840-z
Received:

Accepted:

Published:
Keywords
Abacus training

Neuroplasticity

Working memory

Children