Abstract
Background
We aimed to investigate the effect of platelet-rich fibrin (PRF) on olfactory function and pain score in patients who underwent septoplasty.
Methods
This prospective randomized observational study was performed between 2018 January and 2019 April with 148 patients who had septoplasty operation. Patients were divided two groups and 74 patients were placed in group 1 to which PRF was applied after the completion of septoplasty whereas 67 patients were put in group 2 which did not undergo PRF. Sniffin' Sticks test was applied to all patients at pre-op, post-op 1-week, 6-week, and 6-month. Pain scores of patients were measured with visual analogue scale at 1 and 3 week.
Results
The distribution of patients according to pre-op olfactory function (normo-hypo-anosmia), there was no significant differences statistically (p > 0.05). When we compared the 1-week post-op results of Sniffin' Sticks test of patients, we found differences between the groups (p < 0.05). It was observed in the early postoperative period that according to the Sniffin' Sticks test scores, the results of the PRF group were better than those of the non-PRF group. At 6-week and 6-month, between the groups; there was no differences in terms of olfactory function. When we looked at the pain score of patients at 1 and 3 week after septoplasty; significant differences were obtained between groups.
Conclusion
The application of PRF to the mucosal surface after the completion of septoplasty, has positive effect on olfactory function and pain especially in the early postoperative period. During the healing process, it was observed that prf maintained better odor functions. It is a minimally invasive technique with low risks and satisfactory clinical results.
This is a preview of subscription content, log in to check access.
Access options
Buy single article
Instant access to the full article PDF.
US$ 39.95
Price includes VAT for USA
Subscribe to journal
Immediate online access to all issues from 2019. Subscription will auto renew annually.
US$ 199
This is the net price. Taxes to be calculated in checkout.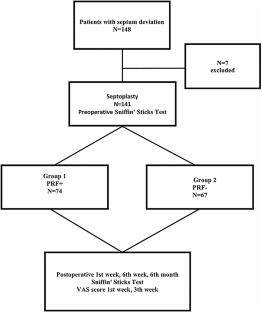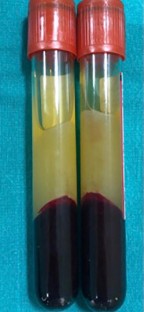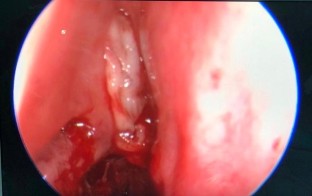 References
1.

Moran DT, Rowley JC 3rd, Jafek BW (1982) Electron microscopy of human olfactory epithelium reveals a new cell type: the microvillar cell. Brain Res 253(1–2):39–46 PubMed PMID: 7150975

2.

Kimmelman CP (1994) The risk to olfaction from nasal surgery. Laryngoscope 104(8 Pt 1):981–988 (Review. PubMed PMID: 8052084)

3.

Kilicaslan A, Acar GO, Tekin M, Ozdamar OI (2016) Assessment the long-term effects of septoplasty surgery on olfactory function. Acta Otolaryngol 136(10):1079–1084. https://doi.org/10.1080/00016489.2016.1183168(Epub 2016 May 26 PubMed PMID: 27228388)

4.

Haytoğlu S, Dengiz R, Muluk NB, Kuran G, Arikan OK (2017) Effects of septoplasty on olfactory function evaluated by the brief smell identification test: a study of 116 patients. Ear Nose Throat J 96(10–11):433–438 (PubMed PMID: 29121376)

5.

Stavrakas M, Karkos PD, Markou K, Grigoriadis N (2016) Platelet-rich plasma in otolaryngology. J Laryngol Otol 130:1098–1102. https://doi.org/10.1017/S0022215116009403

6.

Karimi K, Rockwell H (2019) The benefits of platelet-rich fibrin. Facial Plast Surg Clin N Am 27(3):331–340. https://doi.org/10.1016/j.fsc.2019.03.005(Review. PubMed PMID: 31280847)

7.

Mellert TK, Getchell ML, Sparks L, Getchell TV (1992) Characterization of the immune barrier in human olfactory mucosa. Otolaryngol Head Neck Surg 106(2):181–188 (PubMed PMID: 1738551)

8.

Cortese A, Pantaleo G, Borri A, Caggiano M, Amato M (2016) Platelet-rich fibrin (PRF) in implant dentistry in combination with new bone regenerative technique in elderly patients. Int J Surg Case Rep 28:52–56. https://doi.org/10.1016/j.ijscr.2016.09.022(Epub 2016 Sep 22. PubMed PMID: 27689517; PubMed Central PMCID: PMC5043401)

9.

Dohan DM, Choukroun J, Diss A, Dohan SL, Dohan AJ, Mouhyi J, Gogly B (2006) Platelet-rich fibrin (PRF): a second-generation platelet concentrate. Part II: platelet-related biologic features. Oral Surg Oral Med Oral Pathol Oral Radiol Endod 101(3):e45–e50 (Epub 2006 Jan 10. PubMed PMID: 16504850)

10.

Göral A, Aslan C, Küçükzeybek B, Işık D, Hoşnuter M, Durgun M (2016) Platelet-rich fibrin improves the viability of diced cartilage grafts in a rabbit model. Aesthet Surg J 36(4):NP153–NP162. https://doi.org/10.1093/asj/sjv193(PubMed PMID: 26961991)

11.

Şimşek G, Ciftci O, Karadag N, Karatas E, Kizilay A (2014) Effects of topical phenytoin on nasal wound healing after mechanical trauma: an experimental study. Laryngoscope 124(12):E449–E454. https://doi.org/10.1002/lary.24811(Epub 2014 Jun 30 PubMed PMID: 24978057)

12.

Valsamidis K, Printza A, Titelis K, Constantinidis J, Triaridis S (2019) Olfaction and quality of life in patients with nasal septal deviation treated with septoplasty. Am J Otolaryngol 40(5):747–754. https://doi.org/10.1016/j.amjoto.2019.07.008(Epub 2019 Jul 16. PubMed PMID: 31345588)

13.

Alpan AL, Cin GT (2019) PRF improves wound healing and postoperative discomfort after harvesting subepithelial connective tissue graft from palate: a randomized controlled trial. Clin Oral Investig. https://doi.org/10.1007/s00784-019-02934-9(Epub ahead of print PubMed PMID: 31104113)

14.

Paul S, Choudhury R, Kumari N, Rastogi S, Sharma A, Singh V, Laskar S, Dubey T (2019) Is treatment with platelet-rich fibrin better than zinc oxide eugenol in cases of established dry socket for controlling pain, reducing inflammation, and improving wound healing? J Korean Assoc Oral Maxillofac Surg 45(2):76–82. https://doi.org/10.5125/jkaoms.2019.45.2.76(Epub 2019 Apr 29)

15.

Ensari N, Gür ÖE, Öztürk MT, Süren D, Selçuk ÖT, Osma Ü (2017) The effect of platelet-rich fibrin membrane on the repair of perforated tympanic membrane: an experimental study. Acta Otolaryngol 137(7):695–699. https://doi.org/10.1080/00016489.2017.1282169(Epub 2017 Feb 22 PubMed PMID: 28498077)

16.

Karaman E, Gungor G, Alimoglu Y, Kilic E, Tarakci E, Bozkurt P, Enver O (2011) The effect of lidocaine, bupivacaine and ropivacaine in nasal packs on pain and hemorrhage after septoplasty. Eur Arch Otorhinolaryngol 268(5):685–689. https://doi.org/10.1007/s00405-010-1432-7(Epub 2010 Dec 1 PubMed PMID: 21120661)

17.

Bateman ND, Woolford TJ (2003) Informed consent for septal surgery: the evidence-base. J Laryngol Otol 117(3):186–189 (Review. PubMed PMID: 12648373)

18.

Philpott CM, Banerjee AR (2005) Is there a role for more day-case septal surgery? J Laryngol Otol 119(4):280–283 (PubMed PMID: 15949081)
Funding
The authors have no other funding financial relationships.
Ethics declarations
Conflict of interest
The authors declare that they have no conflict of interest.
Ethical approval
The study was approved by Local ethic commitee (Okmeydanı training and research hospital 25.04.2017—48670771-514.10/646).
Informed consent
The study design was prospective study and this research was performed with human participants. All patients were signed written informed consent.
Additional information
Publisher's Note
Springer Nature remains neutral with regard to jurisdictional claims in published maps and institutional affiliations.
About this article
Cite this article
Tutar, B., Ekincioglu, E., Karaketir, S. et al. The impact of platelet-rich fibrin (PRF) on olfactory function and pain after septoplasty operations. Eur Arch Otorhinolaryngol (2020). https://doi.org/10.1007/s00405-020-05839-6
Received:

Accepted:

Published:
Keywords
Septoplasty

Platelet rich fibrin

Anosmia

Visual anolog scale