Abstract
Purpose
Bilateral vestibulopathy (BV) is an uncommon disorder and the etiology remained idiopathic in most cases. Delayed 3D-FLAIR sequences have provided new insights into various inner ear diseases, allowing the evaluation of the endolymphatic space and the permeability of the blood–labyrinthine barrier (BLB). The aim of this study was to assess both the morphology of the endolymphatic space and the permeability of the BLB in patients with BV as evaluated by delayed 3D-FLAIR sequences.
Methods
In this retrospective study, we performed 3D-FLAIR sequences 4 h after administering contrast media to 42 patients with BV. Two radiologists independently evaluated the morphology of the endolymphatic space (either vestibular atelectasis or endolymphatic hydrops) and the permeability of the BLB.
Results
Morphologic anomalies of the endolymphatic space and vestibular blood–labyrinthine barrier impairment were observed in 59.6% of patients with BV. Bilateral vestibular atelectasis (VA) was found in 21 patients (50%), involving only the utricle and all three ampullas while the saccule was always observed with no sign of collapse: idiopathic BV (n = 19), aminoglycoside administration (n = 1) and few days following abdominal surgery (n = 1). One patient had bilateral vestibular malformation. BLB impairment was observed in five patients (11.9%): paraneoplastic (n = 1), lymphoma (n = 1), autoimmune (n = 1), and vestibular "neuritis" (n = 2). Seventeen patients (40.4%) had normal MRI with no endolymphatic space anomaly or BLB impairment.
Conclusion
Patients with BV presented with morphologic anomalies of the endolymphatic space or BLB impairment in 59.6% of patients.
This is a preview of subscription content, log in to check access.
Access options
Buy single article
Instant access to the full article PDF.
US$ 39.95
Price includes VAT for USA
Subscribe to journal
Immediate online access to all issues from 2019. Subscription will auto renew annually.
US$ 199
This is the net price. Taxes to be calculated in checkout.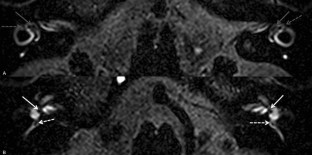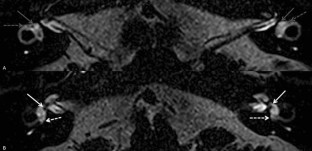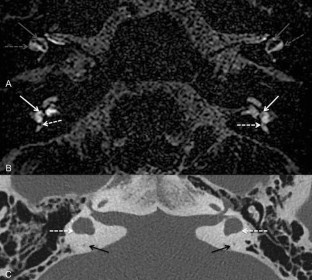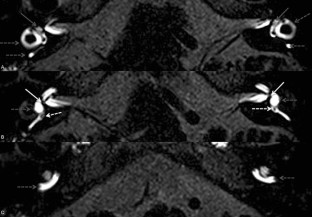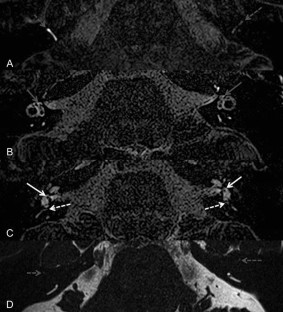 References
1.

Dandy WE (1941) The surgical treatment of Meniere's disease. Surg Gynecol Obstet 72:421–425

2.

Syms CA 3rd, House JW (1997) Idiopathic Dandy's syndrome. Otolaryngol Head Neck Surg 116:75–78

3.

Strupp M, Kim JS, Murofushi T et al (2017) Bilateral vestibulopathy: diagnostic criteria consensus document of the classification committee of the Barany society. Vestib Res 27(4):177–189. https://doi.org/10.3233/VES-170619

4.

Ward BK, Agrawal Y, Hoffman HJ, Carey JP, Della Santina CC (2013) Prevalence and impact of bilateral vestibular hypofunction: results from the 2008 US National Health Interview Survey. JAMA Otolaryngol Head Neck Surg 139(8):803–810

5.

Guinand N, Boselie F, Guyot JP, Kingma H (2012) Quality of life of patients with bilateral vestibulopathy. Ann Otol Rhinol Laryngol 121(7):471–477

6.

Lucieer F, Vonk P, Guinand N, Stokroos R, Kingma H, van de Berg R (2016) Bilateral vestibular hypofunction: insights in etiologies, clinical subtypes, and diagnostics. Front Neurol 4(7):26. https://doi.org/10.3389/fneur.2016.00026

7.

Kattah JC (2018) Clinical characteristics of bilateral vestibular loss in a cohort from central Illinois. Front Neurol. https://doi.org/10.3389/fneur.2018.00046

8.

Zingler VC, Weintz E, Jahn K et al (2009) Causative factors, epidemiology, and follow-up of bilateral vestibulopathy. Ann N Y Acad Sci 1164:505–508. https://doi.org/10.1111/j.1749-6632.2009.03765.x

9.

Attyé A, Eliezer M, Boudiaf N et al (2017) MRI of endolymphatic hydrops in patients with Meniere's disease: a case-controlled study with a simplified classification based on saccular morphology. Eur Radiol 27(8):3138–3146

10.

Attyé A, Eliezer M, Galloux A et al (2017) Endolymphatic hydrops imaging: differential diagnosis in patients with Meniere disease symptoms. Diagn Interv Imaging 98(10):699–706

11.

Attyé A, Eliezer M, Medici M et al (2018) In vivo imaging of saccular hydrops in humans reflects sensorineural hearing loss rather than Meniere's disease symptoms. Eur Radiol 28(7):2916–2922

12.

Eliezer M, Gillibert A, Tropres I, Krainik A, Attyé A (2017) Influence of inversion time on endolymphatic hydrops evaluation in 3D-FLAIR imaging. J Neuroradiol J Neuroradiol 44(5):339–343

13.

Eliezer M, Attyé A, Guichard JP et al (2019) Vestibular atelectasis: myth or reality? Laryngoscope. https://doi.org/10.1002/lary.27793

14.

Eliezer M, Maquet C, Horion J et al (2018) Detection of intralabyrinthine abnormalities using post-contrast delayed 3D-FLAIR sequences in patients with acute vestibular syndrome. Eur Radiol. https://doi.org/10.1007/s00330-018-5825-0

15.

Pakdaman MN, Ishiyama G, Ishiyama A et al (2016) Blood-labyrinth barrier permeability in Menière disease and idiopathic sudden sensorineural hearing loss: findings on delayed postcontrast 3D-FLAIR MRI. Am J Neuroradiol 37(10):1903–1908

16.

Naganawa S, Kawai H, Taoka T et al (2016) Cochlear lymph fluid signal increase in patients with otosclerosis after intravenous administration of gadodiamide. Magn Reson Med Sci 15(3):308–315

17.

Eliezer M, Poillon G, Gillibert A et al (2018) Comparison of enhancement of the vestibular perilymph between gadoterate meglumine and gadobutrol at 3-Tesla in Meniere's disease. Diagn Interv Imaging 99(5):271–277

18.

Merchant S, Nadol J (eds) (2010) Schuknecht's pathology of the ear, 3rd edn. McGraw-Hill Education (UK), London, (ISBN 978 1 60795 030 1)

19.

Lane JI, Witte RJ, Bolster B et al (2008) State of the art: 3T imaging of the membranous labyrinth. Am J Neuroradiol 29:1436–1440

20.

Portney LG, Watkins MP (2000) Foundations of clinical research: applications to practice. Prentice Hall, New Jersey

21.

Wester JL, Ishiyama A, Ishiyama G (2017) Recurrent vestibular migraine vertigo attacks associated with the development of profound bilateral vestibulopathy: a case series. Otol Neurotol 38:1145–1148

22.

Viana LM, Salviz M, Rauch SD, Nadol JB (2013) Otopathology in idiopathic Dandy's syndrome. Otol Neurotol 34(6):1099–1103. https://doi.org/10.1097/MAO.0b013e3182814e74

23.

Kawaguchi S, Hultcrantz M, Jin Z, Ulfendahl M, Suzuki M (2010) Vestibular morphology in the German Waltzing guinea pig. J Otolaryngol Head Neck Surg 39(2):115–121

24.

Wenzel A, Ward BK, Schubert MC et al (2014) Patients with vestibular loss, Tullio phenomenon, and pressure-induced nystagmus: vestibular atelectasis? Otol Neurotol 35(5):866–872

25.

Finn S, Dietzek M, Karvouniari P, Klingner CM, Neumann R, Guntinas-Lichius O et al (2018) Bilateral vestibulopathy with positive Tullio phenomenon. Laryngoscope 128(5):1223–1225

26.

Kaski D, Bronstein AM (2016) Patients with vestibular loss, Tullio phenomenon, and pressure-induced nystagmus: vestibular atelectasis? Otol Neurotol 37(1):115–116

27.

Maslovara S, Butkovic-Soldo S, Pajic-Matic I, Sestak A (2018) Vestibular atelectasis: decoding pressure and sound-induced nystagmus with bilateral vestibulopathy. Larynqoscope. https://doi.org/10.1002/lary.27724

28.

Merchant SN, Schuknecht HF (1988) Vestibular atelectasis. Ann Otol Rhinol Laryngol 97(6 Pt 1):565–576

29.

Hibino H, Kurachi Y (2006) Molecular and physiological bases of the K+ circulation in the mammalian inner ear. Physiology 21:336–345

30.

Ray S (2015) Side effects of drugs annual, Volume 37. Elsevier, Hoboken . https://doi.org/10.1016/bs.seda.2015.07.003(ISBN 9780444639486)

31.

Kim HJ, Lee JO, Koo JW, Ban J, Kim JS (2013) Gentamicin-induced bilateral vestibulopathy in rabbits: vestibular dysfunction and histopathology. Laryngoscope. https://doi.org/10.1002/lary.24106

32.

Brandt T (2000) Bilateral vestibulopathy. In: Brandt T (ed) Vertigo. Its multisensory syndrome. Springer, London, pp 83–98

33.

Naganawa S, Kawai H, Sone M, Ikeda M (2015) Ratio of vestibular endolymph in patients with isolated lateral semicircular canal dysplasia. Magn Reson Med Sci. https://doi.org/10.2463/mrms.2014-0112

34.

Ohtani I, Kano M, Sagawa Y, Ogawa H, Suzuki C (2001) Temporal bone histopathology in trisomy 22. Int J Pediatr Otorhinolaryngol 59:137–141

35.

Elmaleh-Bergès M, Baumann C, Noel-Pétroff N et al (2013) Spectrum of temporal bone abnormalities in patients with Waardenburg syndrome and sox10 mutations. Am J Neuroradiol 34:1257–1263

36.

Udut EV, Schetinin PP, Rudenko T et al (2018) Pathogenic role of endothelial dyfunction in idiopathic vestibulopathy. Bull Exp Biol Med 164:726–729

37.

Zibelman M, Pollak N, Olszanski AJ (2016) Autoimmune inner ear disease in a melanoma patient treated with pembrolizumab. Immunother cancer 16:4–8

38.

Greene JJ, Keefe MW, Harris JP, Matsuoka AJ (2015) Paraneoplastic syndrome: a masquerade of autoimmune inner ear disease. Otol Neurotol 36(1):3–10

39.

Van Rompaey V, Del Belder F, Parizel P, Van de Heyning P (2016) Semicircular canal fibrosis as a biomarker for lateral semicircular canal function loss. Front Neurol 23(7):43

40.

Lee SY, Lee DH, Bae YJ, Song JJ, Kim JS, Koo JW (2018) Bilateral vestibulopathy in superficial siderosis. Front Neurol 9:422

41.

Jacob A, Brightman RP, Welling DB (2007) Bilateral cerebellopontine angle metastatic melanoma: a case report. Ear Nose Throat J 86:388–390

42.

Hegemann SCA, Wenzel A (2017) Diagnosis and treatment of vestibular neuritis/neuronitis or peripheral vestibulopathy (PVP)? Open questions and possible answers. Otol Neurotol 38:626–631

43.

Eliezer M, Toupet M, Vitaux H, Guichard JP, Kania R, Houdart E, Hautefort C (2019) MRI evidence of vestibular atelectasis in bilateral vestibulopathy and Tullio phenomenon. Otol Neurotol 40(9):944–946

44.

Van de Berg R, Guinand N, Ranieri M et al (2017) The vestibular implant input interacts with residual natural function. Front Neurol 8:644
Acknowledgements
We thank Pamela Haylock (Lariboisiere University Hospital) for critically editing the manuscript.
Ethics declarations
Conflict of interest
The authors declare that they have no conflict of interest statement.
Ethical approval
None.
Informed consent
Not applicable.
Additional information
Publisher's Note
Springer Nature remains neutral with regard to jurisdictional claims in published maps and institutional affiliations.
About this article
Cite this article
Eliezer, M., Hautefort, C., Van Nechel, C. et al. Electrophysiological and inner ear MRI findings in patients with bilateral vestibulopathy. Eur Arch Otorhinolaryngol (2020). https://doi.org/10.1007/s00405-020-05829-8
Received:

Accepted:

Published:
Keywords
MRI

Vestibular atelectasis

Vestibular neuritis

Bilateral vestibulopathy

Inner ear