Larynx during exercise: the unexplored bottleneck of the airways
Open Access
Review Article
Abstract
Exercise-induced shortness of breath is not uncommon in otherwise healthy young people. Based on the presenting symptoms alone, it is challenging to distinguish exercise-induced asthma (EIA) from exercise-induced obstruction of central airways, sometimes leading to diagnostic errors and inadequate treatment. Central airway obstruction usually presents with exercise-induced inspiratory symptoms (EIIS) during ongoing exercise. EIIS tends to peak towards the end of an exercise session or immediately after its completion, contradicting symptoms of EIA typically peaking 3–15 min after the exercise has stopped. EIIS is usually associated with some form of laryngeal obstruction. Transnasal flexible laryngoscopy performed continuously throughout an incremental exercise test from rest to exhaustion or to intolerable symptoms is usually diagnostic, and also provides information that is important for further handling and treatment. Reflecting the complex anatomy and functional features of the larynx, exercise-induced laryngeal obstruction (EILO) appears to be a heterogeneous condition. Contradicting previous beliefs, recent literature suggests that laryngeal adduction in a majority of cases starts in supraglottic structures and that vocal cord adduction (VCD) most often occurs as a secondary phenomenon. However, EILO is poorly understood and more and better research is needed to unravel causal mechanisms. The evidence base for treatment of EILO is weak. Speech therapy, psychotherapy, biofeedback, muscle training, anticholinergic aerosols have all been applied, as has laser supraglottoplasty. Randomized controlled trials with well-defined and verifiable inclusion and success criteria are required to establish evidence-based treatment schemes.
Keywords
Larynx 
Exercise capacity 
Exercise-induced asthma 
Exercise-induced laryngeal obstruction 
Vocal cord dysfunction 
Exercise testing 
Respiratory measurement 
Abbreviations
CLE test

Continuous laryngoscopy exercise test

EIA

Exercise-induced asthma

EIIS

Exercise-induced inspiratory symptoms

EILO

Exercise-induced laryngeal obstruction

FEF50/FIF50

The ratio between forced expiratory flow at 50 % of forced expiratory vital capacity and the forced inspiratory flow at 50 % of forced inspiratory vital capacity

FEV1

Forced expiratory flow in the first second

FVL

Flow volume loop

GERD

Gastroesophageal reflux disease

IMT

Inspiratory muscle strength training

LPR

Laryngopharyngeal reflux

MIF50/MEF50

The ratio between maximal inspiratory flow at 50 % of forced inspiratory vital capacity and the maximal expiratory flow at 50 % of forced expiratory vital capacity

PCA-muscle

Posterior cricoarytenoideus muscle

PFT

Pulmonary function test

PPI

Proton pump inhibitor

PVCM

Paradoxical vocal cord motion

RSI

Reflux symptom index

VCD

Vocal cord dysfunction
Background
Ideally, ventilation should not limit exercise capacity in young and otherwise healthy individuals [1]. However, various forms of airway obstruction do occur, increasing the work of breathing and producing exercise-induced respiratory symptoms. Thus, exercise-induced shortness of breath is not uncommon, and a scenario most physicians must be prepared to encounter. Principally, airway obstruction inside the thoracic cage produces expiratory symptoms (as in asthma), while obstruction outside the thoracic cage produces inspiratory symptoms. The purpose of this article is to provide state-of-the-art knowledge on diagnostics and treatment modalities of central airway obstruction in patients presenting with exercise-induced inspiratory symptoms (EIIS). The article focuses primarily on the role played by the larynx, representing the "entrance valve" and the narrowest passage of the airway tree.
Authors have related EIIS to distinct diagnoses, conditions or dysfunctionalities in specific structures, most often the vocal folds. Hence, the term vocal cord dysfunction (VCD) has become widely used. However, the proposal that the vocal folds are causally involved in EIIS is based on weak evidence and often not verified by objective methods [2, 3]. A plethora of diagnostic terms has been used in the literature to label relatively similar clinical entities, and vice versa, similar labels are given to conditions that may very well represent different diseases [4]. There is no agreement on important issues like diagnostic work-up, etiology, and treatment. This unfortunate situation may be related to heterogeneities within the patient populations, so far not properly acknowledged. Thus, patients presenting symptoms in different situations (e.g., exercise vs. non exercise) have been lumped together in studies, somehow assuming a similar etiology [5]. Moreover, patients referred to third level specialized otorhinolaryngology clinics most certainly differ from patients seen at clinics dealing mainly with respiratory diseases. As research groups will interpret symptoms and findings within the context of their own experience and expertise, there may in fact be no genuine disagreements, only genuine attempts to interpret a heterogeneous reality.
In this article, we will use the term exercise-induced laryngeal obstruction (EILO) to describe laryngeal airflow obstruction during exercise in patients with no obvious laryngeal pathology at rest (Fig. 
1
). By nature, laryngeal obstruction can occur through a reduction in the size of the supraglottic space (supraglottic EILO) by anteromedial rotation of the cuneiform tubercles, medial movements of the aryepiglottic folds or retroreflective positioning or movements of the epiglottis. Laryngeal obstruction can also occur by reduction of the space between the vocal folds (glottic EILO or VCD). Considering the complex nature of the larynx, combinations of these scenarios seem plausible.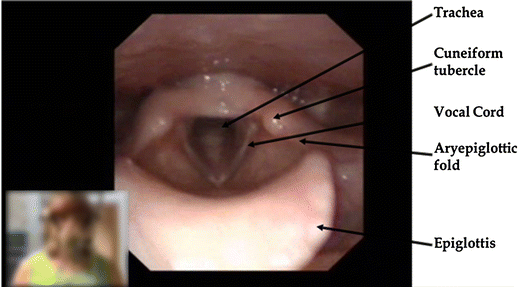 Methods
We searched PubMed for "exercise" combined with: vocal cord dysfunction, paradoxical vocal fold motion, laryngomalacia, laryngeal obstruction, and laryngeal dysfunction. The search was quality checked by scrutinizing the reference lists of included studies. Systematic assessment of relevance, design and quality was complicated by large variations (or lack of statements) regarding diagnostic methods, patient inclusion, evaluation and treatment. Particularly, studies tended to mix patients with exercised-induced symptoms and those with symptoms presenting primarily at rest, two conditions that are likely to represent different disease domains. Stating clearly in the text when doing so, we have allowed ourselves to express personal opinions, based on articles published by our group and a cumulative experience from more than 700 patients with EIIS, examined endoscopically during exercise in the past 15 years. Thus, the article does not fully comply with all requirements for a systematic review, and is biased by the authors' experience and access to large numbers of high-quality videos of patients presenting with EIIS, suffering from EILO [6].
Diagnosing EILO
Exercise-induced inspiratory stridor is often confused with symptoms of exercise-induced asthma (EIA) [7, 8]. The prevalence of EIA has been estimated to 8–10 % in unselected childhood populations and approximately 35 % in children with untreated asthma [9]. The incidence of EILO was reported to be as high as 7.5 % in unselected young people in Copenhagen [10]. Treatment with asthma medication is common in patients with EIIS, often with little or no effect [11, 12]. In our own study [13], 85 % of patients with EIIS had received asthma treatment prior to being diagnosed with EILO, with no effect on exercise-related symptoms in 64 %. However, it is important to bear in mind that EIA and EILO may coexist [2, 3, 11, 12, 14].
Three main criteria have been proposed as essential to the diagnosis EILO): (1) Clinical symptoms of EIIS. (2) Confirmatory pulmonary function findings and (3) Laryngeal obstruction, verified laryngoscopically [2, 3, 15, 16, 17, 18].
Potential casual aspects of EILO
Prognosis of EILO
It has been suggested that laryngeal growth and maturation during puberty should make the larynx more robust to inward forces at high minute ventilation [61]. In a 2- to 5-year follow-up study, Maat et al. [41] were unable to show that growth by itself could cure EILO. Patients reported less symptoms but also lower levels of activity, suggesting changes to a lifestyle not challenged by laryngeal airflow limitations. Most patients reported that to be assigned a diagnosis and to actually see what took place in their larynx was important for a perception of safety in relation to exercise and to maintain a reasonable level of physical activity. Among those who had been treated surgically, nearly all were entirely cured [41].
Treatment of EILO
Inclusion to studies aiming to address treatment of EILO (or exercise-induced VCD) was, in the majority of articles, based on symptoms presented by the patients. The same applied to outcome measures; i.e., in most studies inclusion as well as success rates was based on subjective patient reports. Moreover, in most studies patients with EIIS were treated as if they were all suffering from one defined disease entity, often labeled exercise-induced VCD. Few studies have based inclusion and treatment strategies on verifiable findings or created a targeted strategy to deal with this. Given the heterogeneity of laryngeal findings that has been reported in patients with relatively similar symptoms [13, 18, 39], it seems that conclusions should be interpreted very cautiously. Another complicating factor is the role played by placebo effects in studies utilizing open label designs and methods such as psychotherapy or speech therapy [2, 5, 7, 11, 15, 26, 62, 63, 64, 65]. Inhaled ipratropium bromide applied locally prior to activity has been reported to prevent exercise-induced VCD [66]. Different forms of biofeedback techniques have been proposed [67], as has inspiratory muscle training (IMT) [68, 69, 70, 71]. Surgical supraglottoplasty has been used to treat patients with severe supraglottic EILO and positive effects have been reported by several [29, 37, 39, 40, 72, 73, 74]. Selection of patients for surgical treatment should be performed with great care, particularly avoiding those with a primary glottic EILO [40, 41] and potential gains must be weighed against the risk of potential complications. The place for surgery in the treatment of EILO has not been settled.
Video-recorded verification of laryngeal obstruction may be of value not only as a diagnostic tool, but also as a therapeutic measure. Simply observing their own malfunctioning larynx is of help in a majority of patients with mild or moderate disease. The video recordings are also highly educational in the process of providing advice regarding what is a rational respiratory pattern during exercise. However, these are clinical observations, not substantiated scientifically. In conclusion, there is a need for randomized controlled trials with inclusion as well as outcome assessment performed with objective measures.
Concluding remarks
Obstructions of central airways are important causes of exercise-induced inspiratory symptoms (EIIS) in young and otherwise healthy individuals. This is a large, heterogeneous and vastly understudied group of patients. The symptoms are too often confused with those of asthma. Laryngoscopy performed as symptoms evolve during increasing exercise is pivotal, since larynx plays an important role in a majority. Abnormalities vary between patients, and laryngoscopic findings are of value for treatment and further handling. Causal mechanisms are generally poorly understood. The evidence base for most treatment options is weak, but most patients seem to benefit from individualized information and guidance. Surgical treatment may be indicated in well-defined and severe cases. A systematized clinical approach, more and better research utilizing objective methodology as well as randomized controlled treatment trials are of utmost importance in this field of respiratory medicine.
Notes
Acknowledgments
Major funding institutions: Haukeland University Hospital and University of Bergen.
Conflict of interest
There are no financial or other conflicts of interest related to the present paper for any of the authors. Particularly, the patent protecting the commercial rights of the CLE test (US patent # 1/134551) is owned by the hospital and clearly not by the authors.
Supplementary material
Supplementary material 1 (WMV 2434 kb)
Supplementary material 2 (WMV 7379 kb)
Supplementary material 3 (WMV 24146 kb)
Copyright information
© The Author(s) 2014
Open AccessThis article is distributed under the terms of the Creative Commons Attribution License which permits any use, distribution, and reproduction in any medium, provided the original author(s) and the source are credited.