Abstract
High-speed thermal imaging enables visualization of heating of the vestibule during laser-assisted stapedotomy, comparing KTP, CO2, and Thulium laser light. Perforation of the stapes footplate with laser bears the risk of heating of the inner ear fluids. The amount of heating depends on absorption of the laser light and subsequent tissue ablation. The ablation of the footplate is driven by strong water absorption for the CO2 and Thulium laser. For the KTP laser wavelength, ablation is driven by carbonization of the footplate and it might penetrate deep into the inner ear without absorption in water. The thermal effects were visualized in an inner ear model, using two new techniques: (1) high-speed Schlieren imaging shows relative dynamic changes of temperatures up to 2 ms resolution in the perilymph. (2) Thermo imaging provides absolute temperature measurements around the footplate up to 40 ms resolution. The high-speed Schlieren imaging showed minimal heating using the KTP laser. Both CO2 and Thulium laser showed heating below the footplate. Thulium laser wavelength generated heating up to 0.6 mm depth. This was confirmed with thermal imaging, showing a rise of temperature of 4.7 (±3.5) °C for KTP and 9.4 (±6.9) for Thulium in the area of 2 mm below the footplate. For stapedotomy, the Thulium and CO2 laser show more extended thermal effects compared to KTP. High-speed Schlieren imaging and thermal imaging are complimentary techniques to study lasers thermal effects in tissue.
This is a preview of subscription content, log in to check access.
Access options
Buy single article
Instant unlimited access to the full article PDF.
US$ 39.95
Price includes VAT for USA
Subscribe to journal
Immediate online access to all issues from 2019. Subscription will auto renew annually.
US$ 199
This is the net price. Taxes to be calculated in checkout.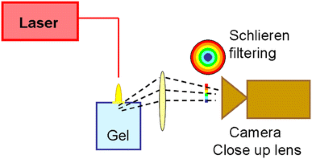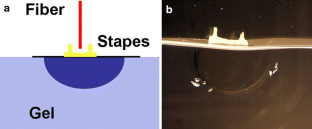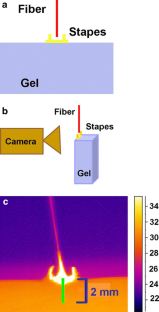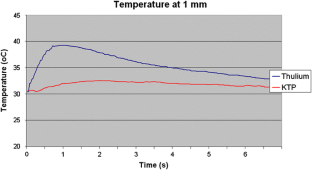 References
1.

Hausler R (2007) General history of stapedectomy. Adv Otorhinolaryngol 65:1–5

2.

Perkins RC (1980) Laser stepedotomy for otosclerosis. Laryngoscope 90:228–240

3.

Hausler R, Schar PJ, Pratisto H, Weber HP, Frenz M (1999) Advantages and dangers of erbium laser application in stapedotomy. Acta Otolaryngol 119:207–213

4.

Gardner G, Robertson JH, Tomoda K, Clark WC (1984) CO2 laser stapedotomy: is it practical? Am J Otolaryngol 5:108–117

5.

Wong BJ, Neev J, van Gemert MJ (1997) Surface temperature distributions in carbon dioxide, argon, and KTP (Nd:YAG) laser ablated otic capsule and calvarial bone. Am J Otol 18:766–772

6.

Verdaasdonk RM, van Swol CF, Grimbergen MC, Rem AI (2006) Imaging techniques for research and education of thermal and mechanical interactions of lasers with biological and model tissues. J Biomed Opt 11:041110

7.

Noyes WS, McCaffrey TV, Fabry DA, Robinette MS, Suman VJ (1996) Effect of temperature elevation on rabbit cochlear function as measured by distortion-product otoacoustic emissions. Otolaryngol Head Neck Surg 115:548–552

8.

Barnett SB (1980) The influence of ultrasound and temperature on the cochlear microphonic response following a round window irradiation. Acta Otolaryngol 90:32–39

9.

Lesinski SG, Palmer A (1989) Lasers for otosclerosis: CO2 vs. Argon and KTP-532. Laryngoscope 99:1–8

10.

Gherini S, Horn KL, Causse JB, McArthur GR (1993) Fiberoptic argon laser stapedotomy: is it safe? Am J Otol 14:283–289

11.

Kodali S, Harvey SA, Prieto TE (1997) Thermal effects of laser stapedectomy in an animal model: CO2 versus KTP. Laryngoscope 107:1445–1450
Acknowledgments
Some of the laser equipment used for this study was provided by Omniguide, Cambridge, MA, USA and Biolase, Irvine, Ca, USA.
Conflict of interest
None.
Electronic supplementary material
Below is the link to the electronic supplementary material.
Supplementary material 4 (MPG 1669 kb)
Supplementary material 5 (MPG 2094 kb)
About this article
Cite this article
Kamalski, D.M.A., Verdaasdonk, R.M., de Boorder, T. et al. Comparison of KTP, Thulium, and CO2 laser in stapedotomy using specialized visualization techniques: thermal effects. Eur Arch Otorhinolaryngol 271, 1477–1483 (2014). https://doi.org/10.1007/s00405-013-2624-8
Received:

Accepted:

Published:

Issue Date:
Keywords
Otosclerosis

Laser

Stapedotomy

KTP

CO2

Thulium