Abstract
Purpose
In this study, the prognostic value of serum HE4 was investigated in patients with advanced ovarian, fallopian tube, and peritoneal carcinoma.
Methods
Serum HE4 and CA125 levels were measured in both patients and controls, and the response of treatment and the detection of recurrence were evaluated by serum HE4 and CA125 levels in the patients.
Results
The results showed that the levels of serum HE4 and CA125 were significantly higher in advanced patients than those seen in benign disease controls (p < 0.001). Compared with CA125, HE4 had higher specificity, but lower sensitivity. Furthermore, serum HE4 was closely associated with the response of treatment and recurrence, the effective response rate for therapy treatment showed by HE4 was higher than CA125, and a serum HE4 level was correlated with a sensitivity of 82.8% and a specificity of 99%, a positive predictive value (PPV) of 97.7%, and a negative predictive value (NPV) of 77.9% to show the presence of recurrence; the accuracy of HE4 for recurrence prediction after treatment was 88.6%.
Conclusions
Our study indicated that serum HE4 levels are effective for diagnosis, evaluating the response of treatment and predicting recurrence in patients with advanced ovarian, fallopian tube, and peritoneal carcinoma.
This is a preview of subscription content, log in to check access.
Access options
Buy single article
Instant access to the full article PDF.
US$ 39.95
Price includes VAT for USA
Subscribe to journal
Immediate online access to all issues from 2019. Subscription will auto renew annually.
US$ 199
This is the net price. Taxes to be calculated in checkout.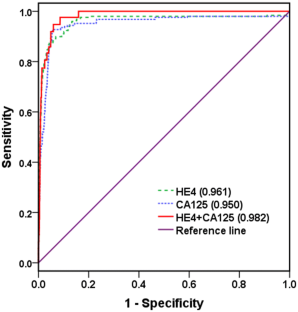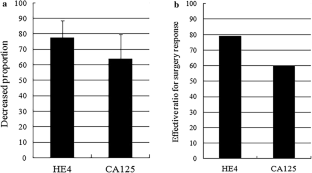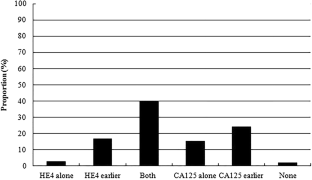 References
1.

Jemal A, Siegel R, Ward E, Hao Y, Xu J, Thun MJ (2009) Cancer statistics, 2009. CA Cancer J Clin 59:225–249

2.

Mitra R, Chen X, Greenawalt EJ, Maulik U, Jiang W, Zhao Z et al (2017) Decoding critical long non-coding RNA in ovarian cancer epithelial-to-mesenchymal transition. Nat Commun 8:1604

3.

Jemal A, Siegel R, Ward E, Hao Y, Xu J, Murray T et al (2008) Cancer statistics, 2008. CA Cancer J Clin 58:71–96

4.

Levanon K, Crum C, Drapkin R (2008) New insights into the pathogenesis of serous ovarian cancer and its clinical impact. J Clin Oncol 26:5284–5293

5.

Carlson JW, Miron A, Jarboe EA, Parast MM, Hirsch MS, Lee Y et al (2008) Serous tubal intraepithelial carcinoma: its potential role in primary peritoneal serous carcinoma and serous cancer prevention. J Clin Oncol 26:4160–4165

6.

Kindelberger DW, Lee Y, Miron A, Hirsch MS, Feltmate C, Medeiros F et al (2007) Intraepithelial carcinoma of the fimbria and pelvic serous carcinoma: evidence for a causal relationship. Am J Surg Pathol 31:161–169

7.

Dubeau L, Drapkin R (2013) Coming into focus: the nonovarian origins of ovarian cancer. Ann Oncol 24:28–35

8.

Fader AN, Rose PG (2007) Role of surgery in ovarian carcinoma. J Clin Oncol 25:2873–2883

9.

Gu P, Pan LL, Wu SQ, Sun L, Huang G (2009) CA 125, PET alone, PET-CT, CT and MRI in diagnosing recurrent ovarian carcinoma: a systematic review and meta-analysis. Eur J Radiol 71:164–174

10.

Levy T, Weiser R, Boaz M, Ben Shem E, Golan A, Menczer J (2013) The significance of the pattern of serum CA125 level ascent to above the normal range in epithelial ovarian, primary peritoneal and tubal carcinoma patients. Gynecol Oncol 129:165–168

11.

Miralles C, Orea M, Espana P, Provencio M, Sánchez A, Cantos B et al (2003) Cancer antigen 125 associated with multiple benign and malignant pathologies. Ann Surg Oncol 10:150–154

12.

Havrilesky LJ, Whitehead CM, Rubatt JM, Cheek RL, Groelke J, He Q et al (2008) Evaluation of biomarker panels for early stage ovarian cancer detection and monitoring for disease recurrence. Gynecol Oncol 110:374–382

13.

Karlsen MA, Sandhu N, Høgdall C, Christensen IJ, Nedergaard L, Lundvall L et al (2012) Evaluation of HE4, CA125, risk of ovarian malignancy algorithm (ROMA) and risk of malignancy index (RMI) as diagnostic tools of epithelial ovarian cancer in patients with a pelvic mass. Gynecol Oncol 127:379–383

14.

Scaletta G, Plotti F, Luvero D, Capriglione S, Montera R, Miranda A et al (2017) The role of novel biomarker HE4 in the diagnosis, prognosis and follow-up of ovarian cancer: a systematic review. Expert Rev Anticancer Ther 17:827–839

15.

Knific T, Osredkar J, Smrkolj Š, Tonin I, Vouk K, Blejec A et al (2017) Novel algorithm including CA-125, HE4 and body mass index in the diagnosis of endometrial cancer. Gynecol Oncol 147:126–132

16.

Qu W, Gao Q, Chen H, Tang Z, Zhu X, Jiang SW (2017) HE4-test of urine and body fluids for diagnosis of gynecologic cancer. Expert Rev Mol Diagn 17:239–244

17.

Mi D, Zhang YX, Wang CJ, Feng Q, Qi P, Chen SQ (2016) Diagnostic and prognostic value of serum human epididymis protein 4 in patients with primary fallopian tube carcinoma. J Obstet Gynaecol Res 42:1326–1335

18.

Mi D, Zhang Y (2018) Diagnostic and prognostic value of HE4 in female patients with primary peritoneal carcinoma. Int J Bio Markers 33:395–400

19.

Rustin GJ, Vergote I, Eisenhauer E, Pujade-Lauraine E, Quinn M, Thigpen T et al (2011) Definitions for response and progression in ovarian cancer clinical trials incorporating RECIST 11 and CA 125 agreed by the Gynecological Cancer Intergroup (GCIG). Int J Gynecol Cancer 21:419–423

20.

DeLong ER, DeLong DM, Clarke-Pearson DL (1988) Comparing the areas under two or more correlated receiver operating characteristic curves: a nonparametric approach. Biometrics 44:837–845

21.

Romagnolo C, Leon AE, Fabricio AS, Taborelli M, Polesel J, Del Pup L et al (2016) HE4, CA125 and risk of ovarian malignancy algorithm (ROMA) as diagnostic tools for ovarian cancer in patients with a pelvic mass: an Italian multicenter study. Gynecol Oncol 141:303–311

22.

Chudecka-Głaz A, Rzepka-Go´rska I, Wojciechowska I (2012) Human epididymal protein 4 (HE4) is a novel biomarker and promising prognostic factor in ovarian cancer patients. Eur J Gynaecol Oncol 33:382–390

23.

Capriglione S, Luvero D, Plotti F, Terranova C, Montera R, Scaletta G (2017) Ovarian cancer recurrence and early detection: may HE4 play a key role in this open challenge? A systematic review of literature. Med Oncol 34:164

24.

Vallius T, Hynninen J, Auranen A, Carpen O, Matomaki J, Oksa S et al (2014) Serum HE4 and CA 125 as predictors of response and outcome during neoadjuvant chemotherapy of advanced high-grade serous ovarian cancer. Tumor Biol 35:12389–12395

25.

Ferraro S, Robbiano C, Tosca N, Panzeri A, Paganoni AM, Panteghini M (2018) Serum human epididymis protein 4 vs carbohydrate antigen 125 in ovarian cancer follow-up. Clin biochem 60:84–90

26.

Manganaro L, Michienzi S, Vinci V, Falzarano R, Saldari M, Granato T et al (2013) Serum HE4 levels combined with CE CT imaging improve the management of monitoring women affected by epithelial ovarian cancer. Oncol Rep 30:2481–2487

27.

Trudel D, Tetu B, Gregoire J, Plante M, Renaud MC, Bacharov D et al (2012) Human epididymis protein 4 (HE4) and ovarian cancer prognosis. Gynecol Oncol 127:511–515

28.

Steffensen KD, Waldstrom M, Brandslund I, Petzold M, Jakobsen A (2012) The prognostic and predictive value of combined HE4 and CA 125 in ovarian cancer patients. Int J Gynecol Cancer 22:1474–1482

29.

Braicu EI, Chekerov R, Richter R, Pop C, Nassir M, Loefgren H et al (2014) HE4 expression in plasma correlates with surgical outcome and overall survival in patients with first ovarian cancer relapse. Ann Surg Oncol 21:955–962

30.

Steffensen KD, Waldstrøm M, Brandslund I, Lund B, Sørensen SM, Petzold M et al (2016) Identification of high-risk patients by human epididymis protein 4 levels during follow-up of ovarian cancer. Oncol Lett 11:3967–3974

31.

Yang Z, Luo Z, Zhang W, Zhang J, Li Z, Li L (2013) Diagnosis and preoperative value of serum HE4 concentrations for optimal debulking in epithelial ovarian cancer. Oncol Lett 6:28–34
Acknowledgements
Authors thank the women participated in our study.
Ethics declarations
Conflict of interest
We declare that we have no conflict of interest.
Ethical approval
All procedures performed in studies involving human participants were in accordance with the ethical standards of the national research committee and with the 1964 Helsinki declaration and its later amendments or comparable ethical standards.
Informed consent
Informed consent was obtained from all individual participants included in the study.
Additional information
Publisher's Note
Springer Nature remains neutral with regard to jurisdictional claims in published maps and institutional affiliations.
About this article
Cite this article
Mi, D., Zhang, Y. Prognostic value of serum HE4 in patients with advanced ovarian, fallopian tube, and peritoneal carcinoma. Arch Gynecol Obstet (2020). https://doi.org/10.1007/s00404-020-05447-z
Received:

Accepted:

Published:
Keywords
Human epididymis protein 4

CA125

Diagnosis

Prognosis

Treatment response

Recurrence