Abstract
Purpose
To investigate the prevalence of type 2 diabetes mellitus (T2DM) at the 5-year follow-up after polycystic ovarian syndrome (PCOS) diagnosis compared between lean and overweight/obese groups.
Methods
This retrospective cohort study included 400 prediabetes PCOS women who attended our clinic. Participants were divided into either the lean group (body mass index [BMI]: < 23 kg/m2) or the overweight/obese group (BMI: ≥ 23 kg/m2). Patient demographic, clinical characteristics, metabolic profiles, and laboratory values were collected and compared between groups at baseline and during follow-up for 5 years.
Results
At the end of the follow-up, overweight/obese group had a higher risk for developing T2DM than lean group (11.5% vs. 0.5%, p < 0.001). Lean group had a lower incidence of hypertension (3% vs. 38.5%, p < 0.001) and dyslipidemia (35% vs. 53.5%, p < 0.001) than overweight/obese group. The factors found to be independently associated with increased risk for developing T2DM were BMI ≥ 23 kg/m2 (odds ratio [OR]: 1.075, p = 0.047), non-use of oral combined contraceptive pills (OR: 0.312, p = 0.028), and impaired fasting glucose at baseline (OR: 38.167, p < 0.001).
Conclusions
Overweight/obese PCOS patients were found to be at significantly higher risk for developing T2DM than lean PCOS patients. Higher BMI, IFG at baseline, and non-use of oral contraceptive pills found to be independent predictors of T2DM in PCOS.
This is a preview of subscription content, log in to check access.
Access options
Buy single article
Instant unlimited access to the full article PDF.
US$ 39.95
Price includes VAT for USA
Subscribe to journal
Immediate online access to all issues from 2019. Subscription will auto renew annually.
US$ 199
This is the net price. Taxes to be calculated in checkout.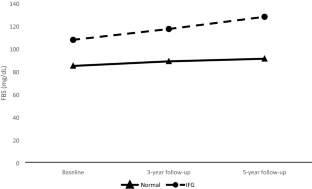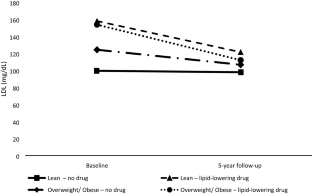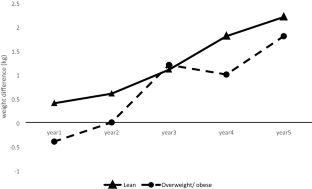 References
1.

Rotterdam EA-SPcwg (2004) Revised 2003 consensus on diagnostic criteria and long-term health risks related to polycystic ovary syndrome (PCOS). Hum Reprod 19(1):41–47

2.

de Groot PC, Dekkers OM, Romijn JA, Dieben SW, Helmerhorst FM (2011) PCOS, coronary heart disease, stroke and the influence of obesity: a systematic review and meta-analysis. Hum Reprod Update 17(4):495–500. https://doi.org/10.1093/humupd/dmr001

3.

Ollila MM, West S, Keinanen-Kiukaaniemi S, Jokelainen J, Auvinen J, Puukka K, Ruokonen A, Jarvelin MR, Tapanainen JS, Franks S, Piltonen TT, Morin-Papunen LC (2017) Overweight and obese but not normal weight women with PCOS are at increased risk of type 2 diabetes mellitus-a prospective population-based cohort study. Hum Reprod 32(4):968. https://doi.org/10.1093/humrep/dex030

4.

Pantasri T, Norman RJ (2014) The effects of being overweight and obese on female reproduction: a review. Gynecol Endocrinol 30(2):90–94. https://doi.org/10.3109/09513590.2013.850660

5.

Leerasiri P, Wongwananuruk T, Indhavivadhana S, Techatraisak K, Rattanachaiyanont M, Angsuwathana S (2016) Correlation of clinical and biochemical hyperandrogenism in Thai women with polycystic ovary syndrome. J Obstet Gynaecol Res 42(6):678–683. https://doi.org/10.1111/jog.12945

6.

Whitworth JA, World Health Organization ISoHWG (2003) 2003 World Health Organization (WHO)/International Society of Hypertension (ISH) statement on management of hypertension. J Hypertens 21(11):1983–1992. https://doi.org/10.1097/01.hjh.0000084751.37215.d2

7.

Genuth S, Alberti KG, Bennett P, Buse J, Defronzo R, Kahn R, Kitzmiller J, Knowler WC, Lebovitz H, Lernmark A, Nathan D, Palmer J, Rizza R, Saudek C, Shaw J, Steffes M, Stern M, Tuomilehto J, Zimmet P, Expert Committee on the D, Classification of Diabetes M (2003) Follow-up report on the diagnosis of diabetes mellitus. Diabetes Care 26(11):3160–3167

8.

Rossi G, American Diabetes A (2010) Diagnosis and classification of diabetes mellitus. Recenti Prog Med 101(7–8):274–276

9.

American Diabetes A (2014) Diagnosis and classification of diabetes mellitus. Diabetes Care 37(Suppl 1):S81–90. https://doi.org/10.2337/dc14-S081

10.

Who Expert Consultation (2004) Appropriate body-mass index for Asian populations and its implications for policy and intervention strategies. Lancet 363(9403):157–163

11.

Douketis JD, Feightner JW, Attia J, Feldman WF (1999) Periodic health examination, 1999 update: 1. Detection, prevention and treatment of obesity. Canadian Task Force on Preventive Health Care. CMAJ 160(4):513–525

12.

National Cholesterol Education Program Expert Panel on Detection E, Treatment of High Blood Cholesterol in A (2002) Third report of the National Cholesterol Education Program (NCEP) Expert panel on detection, evaluation, and treatment of high blood cholesterol in adults (adult treatment panel III) final report. Circulation 106(25):3143–3421

13.

Morales AJ, Laughlin GA, Butzow T, Maheshwari H, Baumann G, Yen SS (1996) Insulin, somatotropic, and luteinizing hormone axes in lean and obese women with polycystic ovary syndrome: common and distinct features. J Clin Endocrinol Metab 81(8):2854–2864. https://doi.org/10.1210/jcem.81.8.8768842

14.

Dunaif A, Finegood DT (1996) Beta-cell dysfunction independent of obesity and glucose intolerance in the polycystic ovary syndrome. J Clin Endocrinol Metab 81(3):942–947. https://doi.org/10.1210/jcem.81.3.8772555

15.

Gabir MM, Hanson RL, Dabelea D, Imperatore G, Roumain J, Bennett PH, Knowler WC (2000) The 1997 American Diabetes Association and 1999 World Health Organization criteria for hyperglycemia in the diagnosis and prediction of diabetes. Diabetes Care 23(8):1108–1112

16.

Shaw JE, Zimmet PZ, de Courten M, Dowse GK, Chitson P, Gareeboo H, Hemraj F, Fareed D, Tuomilehto J, Alberti KG (1999) Impaired fasting glucose or impaired glucose tolerance. What best predicts future diabetes in Mauritius? Diabetes Care 22(3):399–402

17.

Pasquali R, Gambineri A, Anconetani B, Vicennati V, Colitta D, Caramelli E, Casimirri F, Morselli-Labate AM (1999) The natural history of the metabolic syndrome in young women with the polycystic ovary syndrome and the effect of long-term oestrogen-progestagen treatment. Clin Endocrinol (Oxf) 50(4):517–527

18.

Kim C, Siscovick DS, Sidney S, Lewis CE, Kiefe CI, Koepsell TD, Study C (2002) Oral contraceptive use and association with glucose, insulin, and diabetes in young adult women: the CARDIA Study. Coronary artery risk development in young adults. Diabetes Care 25(6):1027–1032

19.

Kahn JA, Gordon CM (1999) Polycystic ovary syndrome. Adolesc Med 10(2):321–336

20.

Godsland IF (1996) The influence of female sex steroids on glucose metabolism and insulin action. J Intern Med Suppl 738:1–60

21.

Mokdad AH, Ford ES, Bowman BA, Dietz WH, Vinicor F, Bales VS, Marks JS (2003) Prevalence of obesity, diabetes, and obesity-related health risk factors, 2001. JAMA 289(1):76–79

22.

Kahn SE, Hull RL, Utzschneider KM (2006) Mechanisms linking obesity to insulin resistance and type 2 diabetes. Nature 444(7121):840–846. https://doi.org/10.1038/nature05482

23.

Aneja A, El-Atat F, McFarlane SI, Sowers JR (2004) Hypertension and obesity. Recent Prog Horm Res 59:169–205

24.

Joham AE, Boyle JA, Zoungas S, Teede HJ (2015) Hypertension in reproductive-aged women with polycystic ovary syndrome and association with obesity. Am J Hypertens 28(7):847–851. https://doi.org/10.1093/ajh/hpu251

25.

Chen MJ, Yang WS, Yang JH, Chen CL, Ho HN, Yang YS (2007) Relationship between androgen levels and blood pressure in young women with polycystic ovary syndrome. Hypertension 49(6):1442–1447. https://doi.org/10.1161/HYPERTENSIONAHA.106.083972

26.

Lotta LA, Sharp SJ, Burgess S, Perry JRB, Stewart ID, Willems SM, Luan J, Ardanaz E, Arriola L, Balkau B, Boeing H, Deloukas P, Forouhi NG, Franks PW, Grioni S, Kaaks R, Key TJ, Navarro C, Nilsson PM, Overvad K, Palli D, Panico S, Quirós JR, Riboli E, Rolandsson O, Sacerdote C, Salamanca EC, Slimani N, Spijkerman AM, Tjonneland A, Tumino R, van der A DL, van der Schouw YT, McCarthy MI, Barroso I, O'Rahilly S, Savage DB, Sattar N, Langenberg C, Scott RA, Wareham NJ (2016) Association between low-density lipoprotein cholesterol–lowering genetic variants and risk of type 2 diabetes: a meta-analysis. JAMA 316(13):1383–1391

27.

Athyros VG, Mikhailidis DP (2012) Pharmacotherapy: statins and new-onset diabetes mellitus—a matter for debate. Nat Rev Endocrinol 8(3):133–134

28.

Sitruk-Ware R, Nath A (2013) Characteristics and metabolic effects of estrogen and progestins contained in oral contraceptive pills. Best Pract Res Clin Endocrinol Metab 27(1):13–24. https://doi.org/10.1016/j.beem.2012.09.004
Acknowledgements
The authors gratefully acknowledge the staff of the Gynecologic Endocrinology Unit, Department of Obstetrics and Gynecology, Faculty of Medicine Siriraj Hospital, Mahidol University who participated in this study, and Mr. Kevin P. Jones of Khon Kaen University International College for assistance with English language editing.
Funding
This study was not supported by any funding.
Ethics declarations
Ethics approval
The protocol for this study was approved by the Siriraj Institutional Review Board (SIRB) (COA no. Si542/2017).
Conflict of interest
All authors declare no personal or professional conflicts of interest relating to any aspect of this study.
Additional information
Publisher's Note
Springer Nature remains neutral with regard to jurisdictional claims in published maps and institutional affiliations.
About this article
Cite this article
Chantrapanichkul, P., Indhavivadhana, S., Wongwananuruk, T. et al. Prevalence of type 2 diabetes mellitus compared between lean and overweight/obese patients with polycystic ovarian syndrome: a 5-year follow-up study. Arch Gynecol Obstet (2020). https://doi.org/10.1007/s00404-019-05423-2
Received:

Accepted:

Published:
Keywords
Type 2 diabetes mellitus

Lean PCOS patients

Overweight/obese PCOS patients

Polycystic ovarian syndrome

5-year follow-up

Reproductive-aged women