Abstract
Introduction
Radical resection of deep infiltrating endometriosis (DIE), including bladder and bowel resection, provides relief from pain in symptomatic patients. The laparoscopic approach to treatment is well established for bowel resection but normally requires additional abdominal incisions for specimen retrieval. Here we describe our technique of laparoscopically assisted rectal resection and transvaginal specimen retrieval (LARRT) and provide follow-up information on pain scores and complications.
Materials and methods
Retrospective observational monocentric study on all DIE patients with rectal infiltration treated between 2008 and 2010 with LATRR at our department. Follow-up was obtained for at least 3 years, including baseline 1-year and 3-year pain scores.
Results
We identified four patients undergoing LARRT available for follow-up. DIE was confirmed by histology in all cases. There were no intraoperative complications. Two patients had transient postoperative urinary retention, one patient developed recto-vaginal fistula and required transient colostomy. One patient suffered from persistent vaginal dryness. All patients, however, reported persistent pain relief, including at the end of follow-up period.
Conclusion
LARRT is a feasible variation of laparoscopic bowel resection for DIE with rectal infiltration. In our study it has promising results with respect to pain control. Larger studies will, however, be required to determine the safety of this procedure.
This is a preview of subscription content, log in to check access.
Access options
Buy single article
Instant unlimited access to the full article PDF.
US$ 39.95
Price includes VAT for USA
Subscribe to journal
Immediate online access to all issues from 2019. Subscription will auto renew annually.
US$ 199
This is the net price. Taxes to be calculated in checkout.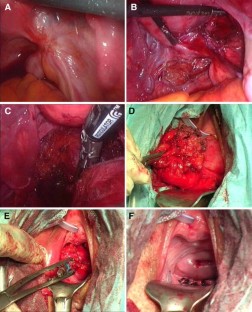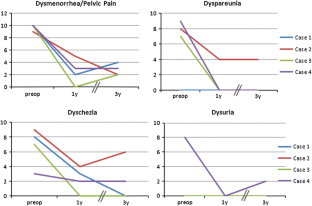 References
1.

Dubernard G, Piketty M, Rouzier R, Houry S, Bazot M, Darai E (2006) Quality of life after laparoscopic colorectal resection for endometriosis. Hum Reprod 21:1243–1247

2.

Darai E, Dubernard G, Coutant C, Frey C, Rouzier R, Ballester M (2010) Randomized trial of laparoscopically assisted versus open colorectal resection for endometriosis: morbidity, symptoms, quality of life, and fertility. Ann Surg 251:1018–1023

3.

Darai E, Carbonnel M, Dubernard G, Lavoue V, Coutant C, Bazot M, Ballester M (2010) Determinant factors of fertility outcomes after laparoscopic colorectal resection for endometriosis. Eur J Obstet Gynecol Reprod Biol 149:210–214

4.

Keckstein J, Wiesinger H (2005) Deep endometriosis, including intestinal involvement–the interdisciplinary approach. Minim Invasive Ther Allied Technol 14:160–166

5.

Possover M, Diebolder H, Plaul K, Schneider A (2000) Laparascopically assisted vaginal resection of rectovaginal endometriosis. Obstet Gynecol 96:304–307

6.

Chapron C, Jacob S, Dubuisson JB, Vieira M, Liaras E, Fauconnier A (2001) Laparoscopically assisted vaginal management of deep endometriosis infiltrating the rectovaginal septum. Acta Obstet Gynecol Scand 80:349–354

7.

Chapron C, Chopin N, Borghese B, Malartic C, Decuypere F, Foulot H (2004) Surgical management of deeply infiltrating endometriosis: an update. Ann NY Acad Sci 1034:326–337

8.

Darai E, Thomassin I, Barranger E, Detchev R, Cortez A, Houry S, Bazot M (2005) Feasibility and clinical outcome of laparoscopic colorectal resection for endometriosis. Am J Obstet Gynecol 192:394–400

9.

Fleisch MC, Xafis D, De Bruyne F, Hucke J, Bender HG, Dall P (2005) Radical resection of invasive endometriosis with bowel or bladder involvement—long-term results. Eur J Obstet Gynecol Reprod Biol 123:224–229

10.

Vercellini P, Pietropaolo G, De GO, Daguati R, Pasin R, Crosignani PG (2006) Reproductive performance in infertile women with rectovaginal endometriosis: is surgery worthwhile? Am J Obstet Gynecol 195:1303–1310

11.

Wood SG, Panait L, Duffy AJ, Bell RL, Roberts KE (2013) Complications of transvaginal natural orifice transluminal endoscopic surgery: a series of 102 patients. Ann Surg [Epub ahead of print]

12.

Nezhat C, Pennington E, Nezhat F, Silfen SL (1991) Laparoscopically assisted anterior rectal wall resection and reanastomosis for deeply infiltrating endometriosis. Surg Laparosc Endosc 1:106–108

13.

Nezhat F, Nezhat C, Pennington E (1992) Laparoscopic proctectomy for infiltrating endometriosis of the rectum. Fertil Steril 57:1129–1132

14.

Nezhat F (2001) Laparoscopic segmental resection for infiltrating endometriosis of rectosigmoid colon: a preliminary report. Surg Laparosc Endosc Percutan Tech 11:67–68

15.

Duepree HJ, Senagore AJ, Delaney CP, Marcello PW, Brady KM, Falcone T (2002) Laparoscopic resection of deep pelvic endometriosis with rectosigmoid involvement. J Am Coll Surg 195:754–758

16.

Abrao MS, Sagae UE, Gonzales M, Podgaec S, Dias JA Jr (2005) Treatment of rectosigmoid endometriosis by laparoscopically assisted vaginal rectosigmoidectomy. Int J Gynaecol Obstet 91:27–31

17.

Boni L, Tenconi S, Beretta P, Cromi A, Dionigi G, Rovera F, Dionigi R, Ghezzi F (2007) Laparoscopic colorectal resections with transvaginal specimen extraction for severe endometriosis. Surg Oncol 16(Suppl 1):S157–S160

18.

Camara O, Herrmann J, Egbe A, Kavallaris A, Diebolder H, Gajda M, Runnebaum IB (2009) Treatment of endometriosis of uterosacral ligament and rectum through the vagina: description of a modified technique. Hum Reprod 24:1407–1413

19.

Ebert AD, Burkhardt T, Parlayan S, Riediger H, Papadopoulos T (2009) Transvaginal-laparoscopic anterior rectum resection in a hysterectomized woman with deep-infiltrating endometriosis: description of a gynecologic natural orifice transendoluminal surgery approach. J Minim Invasive Gynecol 16:231–235

20.

Ghezzi F, Cromi A, Ciravolo G, Rampinelli F, Braga M, Boni L (2008) A new laparoscopic-transvaginal technique for rectosigmoid resection in patients with endometriosis. Fertil Steril 90:1964–1968

21.

Kavallaris A, Chalvatzas N, Hornemann A, Banz C, Diedrich K, Agic A (2011) 94 months follow-up after laparoscopic assisted vaginal resection of septum rectovaginale and rectosigmoid in women with deep infiltrating endometriosis. Arch Gynecol Obstet 283:1059–1064

22.

Tuttlies F, Keckstein J, Ulrich U, Possover M, Schweppe KW, Wustlich M, Buchweitz O, Greb R, Kandolf O, Mangold R, Masetti W, Neis K, Rauter G, Reeka N, Richter O, Schindler AE, Sillem M, Terruhn V, Tinneberg HR (2005) ENZIAN-score, a classification of deep infiltrating endometriosis. Zentralbl Gynakol 127:275–281

23.

Johnson NP, Hummelshoj L, World Endometriosis Society Montpellier Consortium (2013) Consensus on current management of endometriosis. Hum Reprod 28:1552–1568

24.

Ballester M, d'Argent EM, Morcel K, Belaisch-Allart J, Nisolle M, Darai E (2012) Cumulative pregnancy rate after ICSI-IVF in patients with colorectal endometriosis: results of a multicentre study. Hum Reprod 27:1043–1049

25.

Bailey HR, Ott MT, Hartendorp P (1994) Aggressive surgical management for advanced colorectal endometriosis. Dis Colon Rectum 37:747–753

26.

Darai E, Ackerman G, Bazot M, Rouzier R, Dubernard G (2007) Laparoscopic segmental colorectal resection for endometriosis: limits and complications. Surg Endosc 21:1572–1577

27.

Ford J, English J, Miles WA, Giannopoulos T (2004) Pain, quality of life and complications following the radical resection of rectovaginal endometriosis. BJOG 111:353–356

28.

Ruffo G, Scopelliti F, Scioscia M, Ceccaroni M, Mainardi P, Minelli L (2010) Laparoscopic colorectal resection for deep infiltrating endometriosis: analysis of 436 cases. Surg Endosc 24:63–67

29.

Seracchioli R, Poggioli G, Pierangeli F, Manuzzi L, Gualerzi B, Savelli L, Remorgida V, Mabrouk M, Venturoli S (2007) Surgical outcome and long-term follow up after laparoscopic rectosigmoid resection in women with deep infiltrating endometriosis. BJOG 114:889–895

30.

Urbach DR, Reedijk M, Richard CS, Lie KI, Ross TM (1998) Bowel resection for intestinal endometriosis. Dis Colon Rectum 41:1158–1164

31.

Nezhat C, Nezhat F, Pennington E, Nezhat CH, Ambroze W (1994) Laparoscopic disk excision and primary repair of the anterior rectal wall for the treatment of full-thickness bowel endometriosis. Surg Endosc 8:682–685

32.

Kondo W, Ribeiro R, Trippia C, Zomer MT (2013) Laparoscopic treatment of deep infiltrating endometriosis affecting the rectosigmoid colon: nodulectomy or segmental resection? Gynecol Obstet S3:001
Electronic supplementary material
Below is the link to the electronic supplementary material.
Supplementary material 1 (WMV 62,242 kb)
About this article
Cite this article
Fleisch, M.C., Hepp, P., Kaleta, T. et al. Feasibility and first long-term results after laparoscopic rectal segment resection and vaginal specimen retrieval for deep infiltrating endometriosis. Arch Gynecol Obstet 289, 1241–1247 (2014) doi:10.1007/s00404-014-3146-3
Received:

Accepted:

Published:

Issue Date:
Keywords
Deep infiltrating endometriosis

ENZIAN

Rectum

Laparoscopy