Abstract
Psoriasis is a multifactorial skin disease involving abnormal cell proliferation and inflammation; an efficacious topical treatment is yet to be identified. A formulation containing 1% Naltrexone HCl in XemaTop™ base was compounded, characterized and evaluated in vitro as a possible treatment for psoriasis. A three-dimensional psoriasis tissue model was exposed to the formulation for 2 or 5 days and analyzed for the level of markers of cellular proliferation, and inflammatory cytokine IL-6. Using immunohistochemical staining, the level of Ki67 protein significantly decreased in the drug-treated tissues. Western blot analysis showed 86% and 53% down-regulation of other proliferation markers PCNA and CYCLIN D1, respectively, after 5-day exposure. The pro-survival Wnt/β-catenin pathway was compromised as indicated by 57% decrease in the level of β-CATENIN and down-regulation of its down-stream targets including CYCLIN D1 (decreased by 53%), c-MYC (63%), c-JUN (92%) and MET (96%) proteins. Likewise, the PI3K/AKT/mTOR pathway was significantly inhibited by 1% Naltrexone HCl in XemaTop™, suggesting protein synthesis was affected. The production of IL-6 was inhibited by 70% in drug-treated tissues. These results suggest that the compounded drug is efficacious in down-regulating molecular markers associated with the pathogenesis of psoriasis. Low-dose Naltrexone in XemaTop™ was stable within 180 days when stored under refrigerated or ambient conditions. These results provide a basis for a clinical evaluation of 1% Naltrexone HCl in XemaTop™ in psoriasis patients.
This is a preview of subscription content, log in to check access.
Access options
Buy single article
Instant access to the full article PDF.
US$ 39.95
Price includes VAT for USA
Subscribe to journal
Immediate online access to all issues from 2019. Subscription will auto renew annually.
US$ 199
This is the net price. Taxes to be calculated in checkout.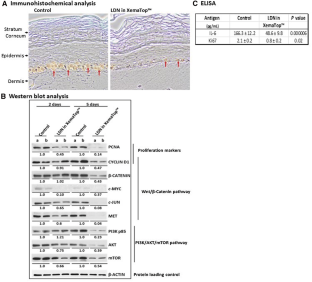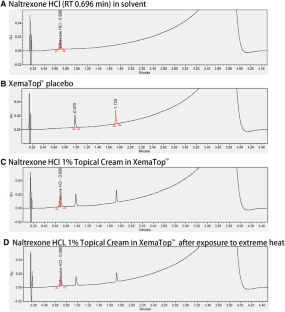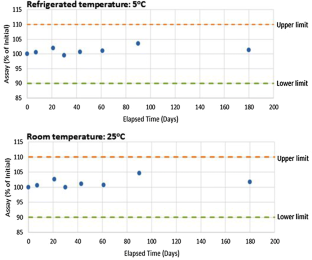 References
1.

Helmick CG, Lee-Han H, Hirsch SC, Baird TL, Bartlett CL (2014) Prevalence of psoriasis among adults in the U.S.: 2003–2006 and 2009–2010 National Health and Nutrition Examination Surveys. Am J Prev Med. 47:37–45

2.

Nestle FO, Kaplan DH, Barker J (2009) Psoriasis. N Engl J Med 361:496–509

3.

Weinstein GD, McCullough JL, Ross PA (1985) Cell kinetic basis for pathophysiology of psoriasis. J Invest Dermatol. 85:579–583

4.

Leigh IM, Pulford KA, Ramaekers FC, Lane EB (1985) Psoriasis: maintenance of an intact monolayer basal cell differentiation compartment in spite of hyperproliferation. Br J Dermatol 113:53–64

5.

Tonel G, Conrad C (2009) Interplay between keratinocytes and immune cells–recent insights into psoriasis pathogenesis. Int J Biochem Cell Biol 41:963–968

6.

Lowes MA, Suárez-Fariñas M, Krueger JG (2014) Immunology of psoriasis. Annu Rev Immunol 32:227–255

7.

Ogawa E, Sato Y, Minagawa A, Okuyama R (2018) Pathogenesis of psoriasis and development of treatment. J Dermatol 45:264–272

8.

Woo YR, Cho DH, Park HJ (2017) Molecular mechanisms and management of a cutaneous inflammatory disorder: psoriasis. Int J Mol Sci 18:12

9.

Conrad C, Gilliet M (2018) Psoriasis: from pathogenesis to targeted therapies. Clin Rev Allergy Immunol 54(1):102–113

10.

Sweetman SC (2007) Martindale: the complete drug reference, 35th edn. Pharmaceutical Press, New York

11.

Phan NQ, Bernhard JD, Luger TA, Stander S (2010) Antipruritic treatment with systemic mu-opioid receptor antagonists: a review. J Am Acad Dermatol 63:680–688

12.

Younger J, Parkitny L, McLain D (2014) The use of low-dose naltrexone [LDN] as a novel anti-inflammatory treatment for chronic pain'. Clin Rheum. 33:451–459

13.

Low Dose Naltrexone [LDN] and Autoimmune Disease. https://www.lowdosenaltrexone.org/ldn_and_ai.htm. Accessed 28 Dec 2018

14.

Strazzulla L, Avila L, Lo Sicco K, Shapiro J (2017) Novel treatment using low-dose naltrexone for lichen planopilaris. J Drugs Dermatol 16:1140–1142

15.

Bridgman AC, Kirchhof MG (2018) Treatment of psoriasis vulgaris using low-dose naltrexone. JAAD Case Rep. 4:827–829

16.

Professional Compounding Centers of America. XemaTop™. [PCCA Website]. http://www.pccarx.com/compounding-for-winter-conditions

17.

Jones N, Carvalho M, Branvold-Herr A (2017) Management of psoriasis with a XemaTop topical compounded formula: a case report. Int J Pharm Compd 21:205–211

18.

International Council for Harmonisation of Technical Requirements for Pharmaceuticals for Human Use (2005). 'Validation of Analytical Procedures: Text and Methodology Q2 [R1]'. Quality Guidelines. http://www.ich.org/fileadmin/Public_Web_Site/ICH_Products/Guidelines/Quality/Q2_R1/Step4/Q2_R1__Guideline.pdf

19.

The United States Pharmacopeial Convention (2018) 'General Chapters/<1225> Validation of Compendial Procedures'. USP 40—NF 35 S2. Rockville: USP, pp 8094–8099

20.

Donahue RN, McLaughlin PJ, Zagon IS (2011) Low-dose naltrexone targets the opioid growth factor-opioid growth factor receptor pathway to inhibit cell proliferation: mechanistic evidence from a tissue culture model. Exp Biol Med [Maywood]. 236:1036–1050

21.

McLaughlin PJ, McHugh DP, Magister MJ, Zagon IS (2015) Endogenous opioid inhibition of proliferation of T and B cell subpopulations in response to immunization for experimental autoimmune encephalomyelitis. BMC Immunol. 16:24

22.

Gerdes J (1990) Ki-67 and other proliferation markers useful for immunohistological diagnostic and prognostic evaluations in human malignancies. Semin Cancer Biol 1:199–206

23.

Wang W, Yu X, Wu C, Jin H (2018) Differential effects of Wnt5a on the proliferation, differentiation and inflammatory response of keratinocytes. Mol Med Rep. 17:4043–4048

24.

Zhang Y, Tu C, Zhang D, Zheng Y, Peng Z, Feng Y, Xiao S, Li Z (2015) Wnt/β-Catenin and Wnt5a/Ca pathways regulate proliferation and apoptosis of keratinocytes in psoriasis lesions. Cell Physiol Biochem 36:1890–1902

25.

Kawano Y, Kypta R (2003) Secreted antagonists of the Wnt signalling pathway. J Cell Sci 116:2627–2634

26.

Zhang M, Zhang X (2018) The role of PI3K/AKT/FOXO signaling in psoriasis. Arch Dermatol Res 5:16. https://doi.org/10.1007/s00403-018-1879-8(Epub ahead of print)

27.

Wu Y, Liu L, Bian C, Diao Q, Nisar MF, Jiang X, Bartsch JW, Zhong M, Hu X, Zhong JL (2018) MicroRNA let-7b inhibits keratinocyte differentiation by targeting IL-6 mediated ERK signaling in psoriasis. Cell Commun Signal. 16:58

28.

Younger J, Parkitny L, McLain D (2014) The use of low-dose naltrexone [LDN] as a novel anti-inflammatory treatment for chronic pain. Clin Rheumatol 33:451–459

29.

Leong C, Neumann C, Ramasamy S, Rout B, Yi Wee L, Bigliardi-Qi M, Bigliardi PL (2017) Investigating endogenous µ-opioid receptors in human keratinocytes as pharmacological targets using novel fluorescent ligand. PLoS One 12:e0188607

30.

Lennon FE, Mirzapolazova T, Mambetsariev B, Poroyko VA, Salgia R, Moss J, Singleton PA (2014) The Mu opioid receptor promotes opioid and growth factor-induced proliferation, migration and Epithelial Mesenchymal Transition [EMT] in human lung cancer. PLoS One 9:e91577

31.

Buerger C (2018) Epidermal mTORC1 signaling contributes to the pathogenesis of psoriasis and could serve as a therapeutic target. Front Immunol 9:2786

32.

Chamcheu JC, Adhami VM, Esnault S, Sechi M, Siddiqui IA, Satyshur KA, Syed DN, Dodwad SM, Chaves-Rodriquez MI, Longley BJ, Wood GS, Mukhtar H (2017) Dual inhibition of PI3 K/Akt and mTOR by the dietary antioxidant, delphinidin, ameliorates psoriatic features in vitro and in an imiquimod-induced psoriasis-like disease in mice. Antioxid Redox Signal 26:49–69

33.

Cui Y, Zhang XQ, Cui Y, Xin WJ, Jing J, Liu XG (2010) Activation of phosphatidylinositol 3-kinase/Akt-mammalian target of Rapamycin signaling pathway in the hippocampus is essential for the acquisition of morphine-induced place preference in rats. Neuroscience. 171:134–143

34.

Paquet P, Pierard GE (1996) Interleukin-6 and the skin. Intl Arch Allergy Immun. 109:308–317

35.

Feldman SR, Yentzer BA (2009) Topical clobetasol propionate in the treatment of psoriasis. Am J Clin Dermatol 10:397–406

36.

Torsekar R, Gautam MM (2017) Topical therapies in psoriasis. Indian Dermatol Online J. 8:235–245

37.

Conrad C, Gilliet M (2018) Psoriasis: from pathogenesis to targeted therapies. Clin Rev Allergy Immunol 54(1):102–113

38.

The United States Pharmacopeial Convention (2018) 'General Chapters/<1191> Stability Considerations in Dispensing Practice'. USP 40—NF 35 S2. Rockville: USP, pp 1662–1667
Ethics declarations
Conflict of interest
The authors Kendice Ip, Guiyun Song, Daniel Banov and August S. Bassani are full-time employees of PCCA, the manufacturer of the proprietary base XemaTop™.
Additional information
Publisher's Note
Springer Nature remains neutral with regard to jurisdictional claims in published maps and institutional affiliations.
About this article
Cite this article
Ip, K., Song, G., Banov, D. et al. In vitro evaluation of Naltrexone HCl 1% Topical Cream in XemaTop™ for psoriasis. Arch Dermatol Res 312, 145–154 (2020). https://doi.org/10.1007/s00403-019-01981-2
Received:

Revised:

Accepted:

Published:

Issue Date:
Keywords
Compounded medication

Psoriasis

Naltrexone

XemaTop™