The role of adipokines in systemic sclerosis: a missing link?
Abstract
Systemic sclerosis is a multiorgan autoimmune disease characterized by vasculopathy and tissue fibrosis of unknown etiology. Recently, adipokines (cell signaling proteins secreted by adipose tissue) have attracted much attention as a cytokine family contributing to the various pathological processes of systemic sclerosis. Adipokines, such as leptin, adiponectin, resistin, adipsin, visfatin or chemerin are a heterogenic group of molecules. Adiponectin exhibits anti-fibrotic features and affects inflammatory reactions. Leptin promotes fibrosis and inflammation. Resistin was linked to vascular involvement in systemic sclerosis. Visfatin was associated with regression of skin lesions in late-stage systemic sclerosis. Chemerin appears as a marker of increased risk of impaired renal function and development of skin sclerosis in the early stage of systemic sclerosis. Vaspin was indicated to have a protective role in digital ulcers development. Novel adipokines—adipsin, apelin, omentin and CTRP-3—are emerging as molecules potentially involved in SSc pathogenesis. Serum adipokine levels may be used as predictive and diagnostic factors in systemic sclerosis. However, further investigations are required to establish firm correlations between distinct adipokines and systemic sclerosis.
Keywords
Adipokines 
Adiponectin 
Resistin 
Leptin 
Visfatin 
Chemerin 
Pathogenesis 
Systemic sclerosis 
Vaspin 
Adipsin 
Apelin 
Omentin 
CTRP-3 
Introduction
Systemic sclerosis (SSc) is an autoimmune connective tissue disease. It is characterized by a chronic course, significantly affecting length and quality of life [55, 56]. The hallmarks of SSc are progressive skin thickening and visceral fibrosis associated with atrophy of subcutaneous tissue, vascular involvement as well as immune dysregulation [58]. The pathogenesis of SSc is still not clearly understood. Genetic, vascular, autoimmune and environmental factors are postulated to have an impact on SSc development [115].
Adipose tissue is believed to be one of the largest endocrine organs in humans [53]. Adipocytes are metabolically active cells and their products are called adipokines. Adipokines are a non-homogenous group of proteins, which can be subdivided, according to their mechanism of action, into auto-, para- and endocrine hormones [52]. The group of adipokines includes: adiponectin, resistin, leptin, visfatin, chemerin, vaspin and many more, including cytokines (IL-6, TNF-α), coagulation factors (PAI-1), growth factors (VEGF, TGF-β) or complement system proteins (adipsin) [4]. Adipokines play a vital role in homeostasis and every disharmony in this precise system may contribute to the development of various diseases such as hypertension or type 2 diabetes [30]. However, the link between adipokines and SSc is still discussed. The aim of this review is to analyze and summarize current data related to the role of adipokines in the pathogenesis of SSc, future perspectives and potential directions for investigations.
Adipose tissue in systemic sclerosis
Adipose tissue seems to play a crucial role in skin homeostasis and remodeling [101]. Furthermore, degradation of intradermal adipose tissue precedes the onset of dermal fibrosis [74]. Positive feedback loop is suspected wherein adipose tissue is a source of factors exacerbating fibrosis and its replacement by fibroblasts enhances collagen fibers production.
Adipose tissue and immune system
Adipose tissue stays in a close relationship with the immune system. Adipokines are considered to modulate immune response and interdependence between both systems has been reported to date [34]. Adipokines affect activation and attraction of many immune cells which results in accumulation and differentiation of CD4+, CD8+ lymphocytes T as well as Th17 cells [108]. It appears that both Th1 and Th2 are involved in SSc pathogenesis, although each population dominates in a different stage of the disease: Th2 cells in early stage and Th1 cells later in the course of SSc [43]. Both Th1 and Th2 induce inflammatory reaction, but exacerbated fibrosis occurs when prevalence of Th2 cells and production of IL-4, IL-5 and IL-13 occurs (as a direct mechanism of collagen synthesis augmentation). Th1 lymphocytes attenuate collagen production and cause collagen degradation [123].
The number of Th17 cells and their most prominent product IL-17 are elevated in patients with SSc [130]. IL-17 retains pro-fibrotic state of various cells, impacts differentiation of fibroblasts, inhibits autophagy and exacerbates overall inflammatory status, implicating its role in the pathogenesis of SSc [54, 64, 114, 121]. Adipokines are strongly linked with Th17 cells differentiation. Adiponectin, which is protective in SSc, suppresses Th17 cells differentiation [133]. On the contrary, leptin and resistin-like molecule α (RELM-α) have the ability to promote pathogenic Th17 cell response [90, 100].
Macrophages can be divided into M1 and M2 subtypes. M1 macrophages stimulate inflammatory processes mostly by IL-1, IL-6, IL-12 and TNF-α, while M2 macrophages after stimulation via IL-4, IL-10, IL-13 decrease inflammation and promote tissue repair [78]. Adipokines have an impact on the proliferation of both M1 and M2 population, thus contributing in the course of the disease.
Adipocyte–myofibroblast transition and epithelial–mesenchymal transition
Fibrous tissue in SSc is a product of myofibroblasts. However, the source of myofibroblasts in the skin of patients with SSc is still discussed. One theory suggests that myofibroblasts are derived from pericytes released from damaged vessels [99]. Another, that myofibroblasts originate from adipocytes which undergo adipocyte–myofibroblast transition (AMT) [74]. The reason of adipose tissue loss is not only apoptosis, thus AMT process may be an explanation for adipocytes depletion in SSc [122]. This thesis stays in conformity with histological images of skin lesions in SSc, in which increase of myofibroblasts amount is at the expense of adipose tissue loss [29]. There are many similarities between AMT and epithelial–mesenchymal transition (EMT), which is a process whereby cells acquire mesenchymal features, loose intercellular contact and gain ability to migrate [135]. Partial EMT-like changes may contribute to fibrosis in the skin of patients with SSc [86]. Interestingly, differentiation of fibroblasts into myofibroblasts is a reversible process, giving a potential possibility to invert it and find new drugs attenuating fibrosis [129]. It was proved that many adipokines, especially visfatin and progranuline are involved in the process of EMT, which is a transition akin to AMT process [21, 128].
PPARs and TLRs—main receptors involved in regulation of adipokines synthesis
Peroxisome proliferator-activated receptors (PPARs) are nuclear receptors which regulate gene expression by binding to DNA structure. A pleiotropic effect of their activation involves whole body homeostasis and metabolism [60]. The family of these consists of three subtypes, PPAR-α, PPAR-β and PPAR-γ. All subtypes of PPAR receptors are expressed in adipocytes, but PPAR-γ is believed to be crucial in inducing adipocyte differentiation and synthesis of adipokines [109]. PPARs agonists increase anti-inflammatory and lower pro-inflammatory levels of adipokines; in adipocytes, ligand activation of PPAR-γ was associated with increased production of adiponectin and decreased production of resistin and leptin [65]. It was indicated that PPAR-γ stimulation in non-adipocyte cells leads to an increased concentration of adiponectin and visfatin, while synthesis of resistin is decreased [82, 93, 122]. Adipokines also affect PPARs backward, what might be considered as a feedback loop mechanism—leptin has been proved to lower expression of PPAR-γ receptors in macrophages [16]. An experimental therapy with PPARs agonist was shown to attenuate fibrosis and this fact makes PPARs a promising therapeutic target in SSc [9].
Toll-like receptors (TLRs) recognize both exogenous (fragments of pathogens) and endogenous (products derived from injured tissues) ligands [19]. Ten members of TLR family TLR 1–10 can be distinguished. TLR4 expression is dominating in adipose tissue, however, the presence of TLR1, TLR4, TLR7 and TLR8 was also reported. TLRs localized on adipocytes are capable of influencing the course of SSc due to stimulation of inflammation via molecular pathways activating NF-κB transcription factor and modulation of immune response [117]. TLRs agonists may induce endotheline 1 (ET-1) upregulation [27], which was reported to implicate in the vascular complications and fibrosis in SSc. TLR4 activation in particular is postulated to result in persistent fibrosis [13]. That fact may open new possibilities of targeted therapy in SSc (Fig. 1).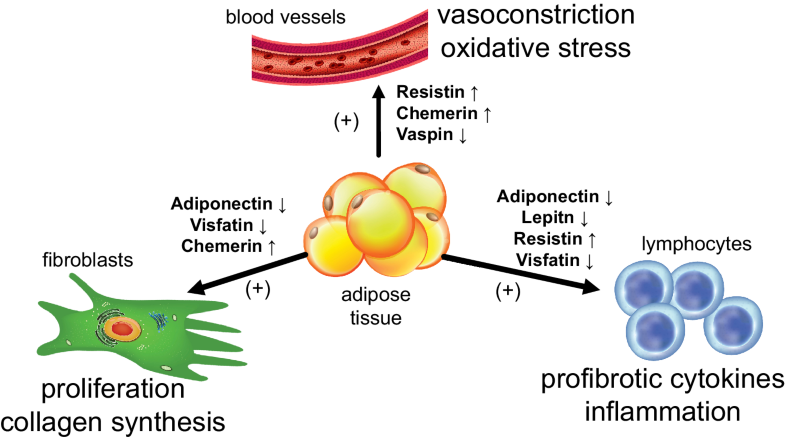 It was indicated that low adiponectin level in SSc patients resulted in raised macrophage M1 activity via TLR [127]. In addition, leptin upregulates TLR2 in monocytes and potentiates inflammation, while chemerin induces TLR4 in synovial fibroblasts [25, 48]. Some adipokines, like resistin, may also act as TLR agonist [12].
Adipokines in systemic sclerosis
Conclusions
Adipose tissue is associated with SSc both in anatomic and functional manner. Although adipokines have been profoundly studied in many disorders, such as diabetes, metabolic syndrome and psoriasis, further investigations are required to establish their link with SSc. Adipokines may be linked with the course of SSc and its possible complications. Moreover, adipokines seem to influence the TLRs and PPARs signaling and expression. This suggests a pivotal role of both receptors in SSc pathogenesis. This review gives an insight into the complex role of adipokines in SSs which are involved in many processes such as immunomodulation and fibrosis. Adipokines are a heterogenic group of molecules; leptin, resistin and chemerin present a potential for triggering inflammation, while adiponectin, visfatin and vaspin exhibit mostly contradictory anti-inflammatory features. Novel adipokines such as adipsin, apelin, omentin and CTRP-3 appear also as molecules involved in SSc pathogenesis. In the future, adipokines may be useful as predictive and diagnostic factors in SSc. However, further researches are vital to establish the firm correlation between adipokines and SSc.
Notes
Funding
There is no funding source.
Compliance with ethical standards
Conflict of interest
The authors declare that they have no conflict of interest.
Ethical approval
This article does not contain any studies with human participants or animals performed by any of the authors.
Copyright information
© The Author(s) 2019
OpenAccessThis article is distributed under the terms of the Creative Commons Attribution 4.0 International License (http://creativecommons.org/licenses/by/4.0/), which permits unrestricted use, distribution, and reproduction in any medium, provided you give appropriate credit to the original author(s) and the source, provide a link to the Creative Commons license, and indicate if changes were made.