Abstract
We elaborately describe our novel arthroscopic technique of the symphysis pubis in athletes with osteitis pubis and concomitant adductor enthesopathy who fail to conservative treatment modalities. The symphysis pubis is debrided arthroscopically and the degenerated origin of adductor tendon (enthesis) is excised and reattached. With our surgical procedure the stability of the symphysis pubis is successfully preserved and the adductor longus enthesopathy simultaneously addressed in the same setting.
This is a preview of subscription content, log in to check access.
Access options
Buy single article
Instant unlimited access to the full article PDF.
US$ 39.95
Price includes VAT for USA
Subscribe to journal
Immediate online access to all issues from 2019. Subscription will auto renew annually.
US$ 199
This is the net price. Taxes to be calculated in checkout.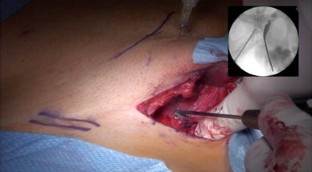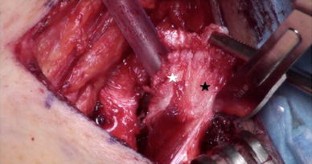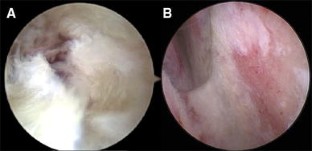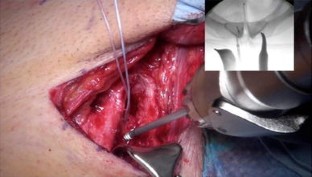 References
1.

Batt ME, McShane JM, Dillingham MF (1995) Osteitis pubis in collegiate football players. Med Sci Sports Exerc 27:629–633

2.

Hiti CJ, Stevens KJ, Jamati MK, Garza D, Matheson GO (2011) Athletic Osteitis Pubis. Sports Med 41(5):361–376

3.

Radic R, Annear P (2008) Use of pubic symphysis curettage for treatment-resistant osteitis pubis in athletes. Am J Sports Med 36:122–128

4.

Brennan D, O´Connell MJ, Ryan M, Cunningham P, Taylor D, Cronin C, O´Neill P, Eustace S (2005) Secondary cleft sign as a marker on injury in athletes with groin pain: MR image appearance and interpretation. Radiology 235:162–167

5.

Cunningham PM, Brennan D, O´Connell M, MacMahon P, O´Neill P, Eustace S (2007) Patterns of bone and soft-tissue injury at the symphysis pubis in soccer players: observations at MRI. AJR 188:291–296

6.

Grace JN, Sim FH, Shives TC, Coventry MB (1989) Wedge resection of the symphysis pubis for the treatment of osteitis pubis. J Bone Jt Surg Am 71:358–364

7.

Moore RS Jr, Stover MD, Matta JM (1998) Late posterior instability of the pelvis after resection of the symphysis pubis for the treatment of osteitis pubis. A report of two cases. J Bone Jt Surg Am 80:1043–1048

8.

Williams PR, Thomas DP, Downes EM (2000) Osteitis pubis and instability of the pubic symphysis. When nonoperative measures fail. Am J Sports Med 28:350–355

9.

Hechtman KS, Zvijac JE, Popkin CA, Zych GA, Botto-van Bemden A (2010) A minimally disruptive surgical technique for the treatment of osteitis pubis in athletes. Orthopedics 2:210–215

10.

Mehin R, Meek R, O´Brien P, Blachut P (2006) 17. Can J Surg 49(3):170

11.

Robinson P, Salehi F, Grainger A, Clemence M, Schilders E, O´Connor P, Agut A (2007) Cadaveric and MRI Study of the musculotendinous contributions to the capsule of the symphysis pubis. Am J Rad 188:440–445

12.

Becker I, Woodley SJ, Stringer MD (2010) The adult human pubic symphysis: a systematic review. J Anat 217:475–487

13.

Hopp S, Culemann U, Kelm J, Pohlemann T, Pizanis A (2013) Osteitis pubis and adductor tendinopathy in athletes—a novel arthroscopic pubic symphysis curettage and adductor reattachment. Arch Orthop Trauma Surg 133(7):1003–1009
Conflict of interest
No conflicts of interest at all.
Electronic supplementary material
Below is the link to the electronic supplementary material.
Video 1 The video demonstrates the complete surgical procedure from cut to stitch. It is illustrated on the basis of a case of a young 24 year old competitive football player diagnosed with a degenerative osteitis pubis and a chronic proximal adductor longus enthesopathy on the right side. Soft tissue preparation in the groin as a precondition for the installation of the portals was emphasized in the video (WMV 256650 kb)
About this article
Cite this article
Hopp, S., Tumin, M., Wilhelm, P. et al. Arthroscopic pubic symphysis debridement and adductor enthesis repair in athletes with athletic pubalgia: technical note and video illustration. Arch Orthop Trauma Surg 134, 1595–1599 (2014) doi:10.1007/s00402-014-2065-x
Received:

Published:

Issue Date:
Keywords
Arthroscopy

Pubic symphysis

Osteitis pubis

Debridement

Adductor enthesopathy

Athletes