ETMR-like infantile cerebellar embryonal tumors in the extended morphologic spectrum of DICER1-related tumors
We report for the first time
DICER1
mutations in two infantile cerebellar embryonal tumors not otherwise specified (NOS). Two girls, aged 11 months (case 1) and 8 months (case 2) presented with psychomotor delay. Both MRIs showed a midline posterior fossa tumor (Fig.
1
a, b). After gross total resection of the tumor, case 1 was treated with two cycles of etoposide/carboplatin. The controlled MRI showed spinal and leptomeningeal metastasis. After a subtotal resection, case 2 was treated according to institutional protocol for infant with high-risk CNS PNET. MRI showed an increase of the residual mass during maintenance chemotherapy.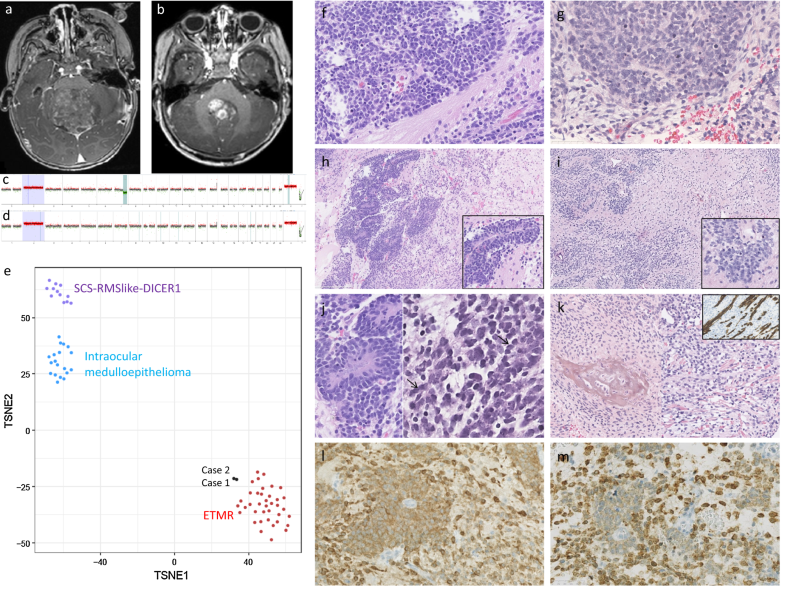 Notes
Acknowledgements
We thank the "Société Française des Cancers de l'Enfant" and «Enfants et Santé» for their support. We are grateful to the neuropathologists from the French rare tumor network (RENOCLIP) and to Sylvie Duclos and Karen Silva for their help. Samples were retrieved from the CHU de Montpellier tumor bank BB-0033-00031 and from the CHU de Toulouse tumor bank BB-0033-00014. We thank Josh Waterfall and Sarah Lesagere for their help to edit the manuscript.
Copyright information
© Springer-Verlag GmbH Germany, part of Springer Nature 2018