Abstract
Ventricular arrhythmia arising from the outflow tracts can manifest itself as frequent premature ventricular complexes (PVCs), salvos of ventricular tachycardia (VT), and/or sustained VT. It is amenable to management with medication and catheter ablation without need for an intracardiac defibrillator. The electrocardiogram (ECG) is a crucial tool in the management of these patients as it is can help localize the site of origin, thereby helping guide the electrophysiologist. An appreciation of the unique anatomy of the outflow tracts as well as their relationships with the surrounding structures is essential in interpreting the ECG. In this review, we examine the ECG features of the various outflow tract arrhythmia morphologies with a focus on anatomy and provide an approach to the ablation of these abnormal rhythms.
Zusammenfassung
Die ventrikuläre Arrhythmie aus einem Ausflusstrakt kann sich als häufige vorzeitige ventrikuläre Komplexe (PVC), Salven von ventrikulären Tachykardien (VT) und/oder anhaltende VT manifestieren. Sie ist mittels medikamentöser Therapie und Katheterablation behandelbar, ohne dass ein intrakardialer Defibrillator notwendig ist. Das Elektrokardiogramm (EKG) ist ein wichtiges Instrument bei der Behandlung dieser Patienten, da es bei der Lokalisierung des Ursprungsorts helfen kann und damit dem Elektrophysiologen leitende Hilfestellung bietet. Die Beachtung der einzigartigen Anatomie der Ausflusstrakte sowie ihrer Beziehung zu den umliegenden Strukturen ist für die Interpretation des EKG essenziell. In diesem Review untersuchen wir die EKG-Charakteristika der unterschiedlichen Ausflusstraktarrhythmie-Morphologien mit dem Fokus auf die Anatomie und stellen ein Verfahren für die Ablation dieser Arrhythmien vor.
This is a preview of subscription content, log in to check access.
Access options
Buy single article
Instant unlimited access to the full article PDF.
US$ 39.95
Price includes VAT for USA
Subscribe to journal
Immediate online access to all issues from 2019. Subscription will auto renew annually.
US$ 99
This is the net price. Taxes to be calculated in checkout.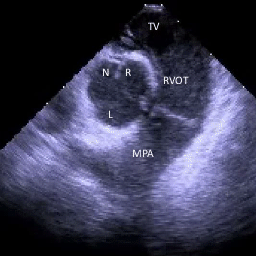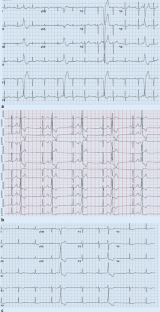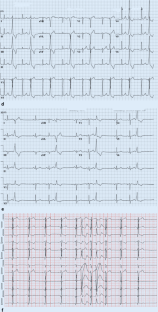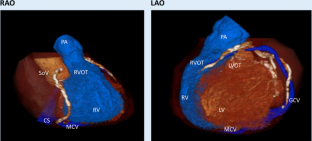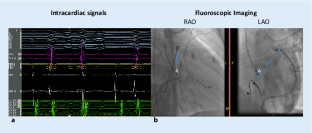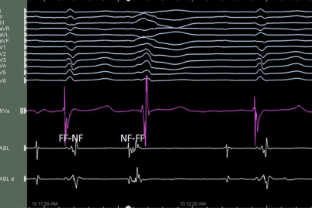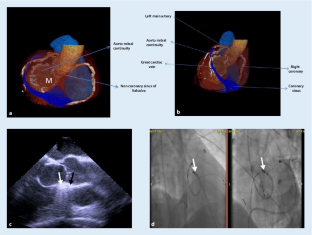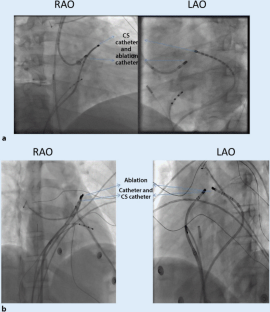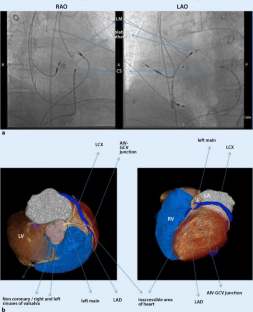 References
1.

Nakagawa M et al (2002) Gender differences in various types of idiopathic ventricular tachycardia. J Cardiovasc Electrophysiol 13(7):633–638

2.

Kim RJ et al (2007) Clinical and electrophysiological spectrum of idiopathic ventricular outflow tract arrhythmias. J Am Coll Cardiol 49(20):2035–2043

3.

Mulpuru SK et al (2014) Atypical variants of right ventricular outflow arrhythmias. J Cardiovasc Electrophysiol 25(12):1321–1327

4.

Kanagaratnam L et al (2001) Ventricular tachycardias arising from the aortic sinus of valsalva: an under-recognized variant of left outflow tract ventricular tachycardia. J Am Coll Cardiol 37(5):1408–1414

5.

Ouyang F et al (2002) Repetitive monomorphic ventricular tachycardia originating from the aortic sinus cusp: electrocardiographic characterization for guiding catheter ablation. J Am Coll Cardiol 39(3):500–508

6.

Yamauchi Y et al (2005) Electrocardiographic characteristics of repetitive monomorphic right ventricular tachycardia originating near the His-bundle. J Cardiovasc Electrophysiol 16(10):1041–1048

7.

Chun KR et al (2007) Left ventricular outflow tract tachycardia including ventricular tachycardia from the aortic cusps and epicardial ventricular tachycardia. Herz 32(3):226–232

8.

Asirvatham SJ (2009) Correlative anatomy for the invasive electrophysiologist: outflow tract and supravalvar arrhythmia. J Cardiovasc Electrophysiol 20(8):955–968

9.

Walmsley R (1979) Anatomy of left ventricular outflow tract. Br Heart J 41(3):263–267

10.

Boukens BJ, Coronel R, Christoffels VM (2016) Embryonic development of the right ventricular outflow tract and arrhythmias. Heart Rhythm 13(2):616–622

11.

Gami AS et al (2011) Anatomical correlates relevant to ablation above the semilunar valves for the cardiac electrophysiologist: a study of 603 hearts. J Interv Card Electrophysiol 30(1):5–15

12.

Liu CF et al (2014) Ubiquitous myocardial extensions into the pulmonary artery demonstrated by integrated intracardiac echocardiography and electroanatomic mapping: changing the paradigm of idiopathic right ventricular outflow tract arrhythmias. Circ Arrhythm Electrophysiol 7(4):691–700

13.

Sutton JP 3rd, Ho SY, Anderson RH (1995) The forgotten interleaflet triangles: a review of the surgical anatomy of the aortic valve. Ann Thorac Surg 59(2):419–427

14.

Walsh KA, Fahy GJ (2014) Anatomy of the left main coronary artery of particular relevance to ablation of left atrial and outflow tract arrhythmias. Heart Rhythm 11(12):2231–2238

15.

Halm MA (2016) Specific needs, concerns, strategies and advice of caregivers after coronary artery bypass surgery. Heart Lung 45(5):416–422

16.

Asirvatham SJ, Cha Y‑M, Friedman PA (2013) Mayo Clinic electrophysiology manual. Mayo Clinic Scientific Press/Oxford University Press, New York

17.

Cheng Z et al (2013) The R‑wave deflection interval in lead V3 combining with R‑wave amplitude index in lead V1: a new surface ECG algorithm for distinguishing left from right ventricular outflow tract tachycardia origin in patients with transitional lead at V3. Int J Cardiol 168(2):1342–1348

18.

Ebrille E et al (2014) Distinguishing ventricular arrhythmia originating from the right coronary cusp, peripulmonic valve area, and the right ventricular outflow tract: utility of lead I. J Cardiovasc Electrophysiol 25(4):404–410

19.

Enriquez A et al (2017) How to map and ablate left ventricular summit arrhythmias. Heart Rhythm 14(1):141–148

20.

Nagashima K et al (2014) Ventricular arrhythmias near the distal great cardiac vein: challenging arrhythmia for ablation. Circ Arrhythm Electrophysiol 7(5):906–912

21.

Komatsu Y et al (2012) Two distinct electrocardiographic forms of idiopathic ventricular arrhythmia originating in the vicinity of the His bundle. Europace 14(12):1778–1785

22.

Hai JJ et al (2014) Endocavitary structures in the outflow tract: anatomy and electrophysiology of the conus papillary muscles. J Cardiovasc Electrophysiol 25(1):94–98

23.

Callans DJ et al (1997) Repetitive monomorphic tachycardia from the left ventricular outflow tract: electrocardiographic patterns consistent with a left ventricular site of origin. J Am Coll Cardiol 29(5):1023–1027

24.

Bala R et al (2010) Electrocardiographic and electrophysiologic features of ventricular arrhythmias originating from the right/left coronary cusp commissure. Heart Rhythm 7(3):312–322

25.

Lin D et al (2008) Twelve-lead electrocardiographic characteristics of the aortic cusp region guided by intracardiac echocardiography and electroanatomic mapping. Heart Rhythm 5(5):663–669

26.

Hai JJ et al (2015) Electrophysiologic characteristics of ventricular arrhythmias arising from the aortic mitral continuity-potential role of the conduction system. J Cardiovasc Electrophysiol 26(2):158–163

27.

Ouyang F et al (2014) Ventricular arrhythmias arising from the left ventricular outflow tract below the aortic sinus cusps: mapping and catheter ablation via transseptal approach and electrocardiographic characteristics. Circ Arrhythm Electrophysiol 7(3):445–455

28.

Tada H et al (2005) Idiopathic ventricular arrhythmia arising from the mitral annulus: a distinct subgroup of idiopathic ventricular arrhythmias. J Am Coll Cardiol 45(6):877–886

29.

Nagashima K et al (2014) Reentrant ventricular tachycardia originating from the periaortic region in the absence of overt structural heart disease. Circ Arrhythm Electrophysiol 7(1):99–106

30.

Hamzeh N et al (2015) Pathophysiology and clinical management of cardiac sarcoidosis. Nat Rev Cardiol 12(5):278–288

31.

Yamada T, Litovsky SH, Kay GN (2008) The left ventricular ostium: an anatomic concept relevant to idiopathic ventricular arrhythmias. Circ Arrhythm Electrophysiol 1(5):396–404

32.

Bradfield JS et al (2014) Coupling interval variability differentiates ventricular ectopic complexes arising in the aortic sinus of valsalva and great cardiac vein from other sources: mechanistic and arrhythmic risk implications. J Am Coll Cardiol 63(20):2151–2158

33.

Benhayon D et al (2017) Catheter Ablation in the Right Ventricular Outflow Tract Associated With Occlusion of Left Anterior Descending Coronary Artery. Journal of cardiovascular electrophysiology 28(3):347–350

34.

Yamada T et al (2015) Radiofrequency catheter ablation of idiopathic ventricular arrhythmias originating from intramural foci in the left ventricular outflow tract: efficacy of sequential versus simultaneous unipolar catheter ablation. Circ Arrhythm Electrophysiol 8(2):344–352

35.

Yamada T et al (2012) Idiopathic premature ventricular contractions arising from the intraventricular septum adjacent to the his bundle. Pacing Clin Electrophysiol 35(5):e108–11

36.

Di Biase L et al (2011) Safety and outcomes of cryoablation for ventricular tachyarrhythmias: results from a multicenter experience. Heart Rhythm 8(7):968–974

37.

Zera E, Rydlewska-Sadowska W, Kompiel J (1970) Evaluation of the performance of a cardiological intensive care unit on the basis of our own observations. Pol Tyg Lek 25(22):812–814
Acknowledgements
The authors acknowledge the efforts of Margot Potts and Jennifer Mears in formatting and creating this manuscript with its figures.
Ethics declarations
Conflict of interest
D. Padmanabhan, A. Sugrue, P. Gaba and S.J. Asirvatham declare that they have no competing interests.
This article does not contain any studies with human participants or animals performed by any of the authors.
Caption Electronic Supplementary Material
Video 1 Reconstructed computed tomographic image showing the anatomy of the outflow tracts
About this article
Cite this article
Padmanabhan, D., Sugrue, A., Gaba, P. et al. Outflow tract ventricular arrhythmias. Herzschr Elektrophys 28, 177–186 (2017) doi:10.1007/s00399-017-0507-1
Received:

Accepted:

Published:

Issue Date:
Keywords
Outflow tract arrhythmia

Sinuses of Valsalva

Anterior interventricular vein

Pulmonary artery

Aorta
Schlüsselwörter
Ausflusstraktarrhythmie

Sinus Valsalvae

Anteriore interventrikuläre Vene

Pulmonalarterie

Aorta