Zusammenfassung
Ventrikelseptumdefekte (VSD) sind die häufigsten angeborenen Fehlbildungen, die chirurgisch korrigiert werden müssen. Ihre Korrektur ist im Vergleich zum Atriumseptumdefekt deutlich anspruchsvoller. Häufig lässt sich der Defekt zunächst nur unvollständig einsehen und auch die chirurgischen Nahttechniken sind diffiziler. In diesem Beitrag und im Operationsvideo, das online zur Verfügung steht, wird der operative Verschluss eines VSD anschaulich dargestellt.
Abstract
Ventricular septal defects (VSD) are the most common congenital heart malformation, which must be surgically corrected. In comparison with an atrial septal defect, the operation is much more sophisticated. At first sight it may be difficult to sense the whole size of the defect and the surgical suturing skills need to be advanced. This article and the accompanying video clip of the operation (available online) illustrate the surgical closure of a VSD.
This is a preview of subscription content, log in to check access.
Access options
Buy single article
Instant unlimited access to the full article PDF.
US$ 39.95
Price includes VAT for USA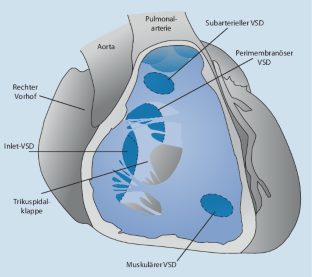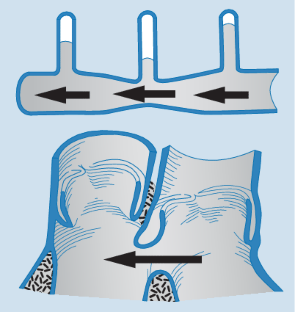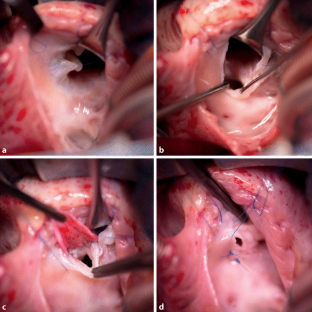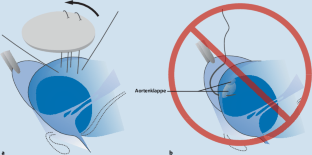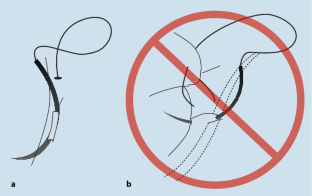 Literatur
1.

Müller M (2016) Chirurgie, 13. Aufl. Medizinische Verlags- und Informationsdienste, Breisach, S 125

2.

Gardner T, Spray T (2004) Operative cardiac surgery, 5. Aufl. Hodder Education, London, S 673–687

3.

Heinemann M (2010) Ventrikelseptumdefekte (VSD). In: Ziemer C, Haverich A (Hrsg) Herzchirurgie. Die Eingriffe am Herzen und an den herznahen Gefäßen, 3. Aufl. Springer, Berlin, S 365–378

4.

Jacobs J, Quintessenza J, Burke R, Mavroudis C (2000) Congenital heart surgery nomenclature and database project: ventricular septal defect. Ann Thorac Surg 69(4 Suppl):25–35

5.

Zhang J, Ko J, Guileyardo J, Roberts W (2015) A review of spontaneous closure of ventriuclar septal defect. Proc (bayl Univ Med Cent) 28(4):516–520

6.

Khonsari S, Sintek C (2007) Cardiac surgery – safeguards and pitfalls in operative technique, 4. Aufl. Lippincott Williams & Wilkins, Philadelphia, S 253–262

7.

Jaschinski C (2012) Entwicklung von Pleuraperikardhöhle, Herz und Lunge. In: Rengier F, Jaschinski C, Holtmann H (Hrsg) last minute Anatomie. Elsevier, München, S 112

8.

Berg D, Brown D (2011) Congenital heart disease. In: Lilly L (Hrsg) Pathophysiology of HEART DISEASE, 5. Aufl. Lippincott Williams & Wilkins, Philadelphia, S 373
Danksagung
Wir danken Jörg Rodrian für die exzellente Videoaufnahme und -bearbeitung.
Ethics declarations
Interessenkonflikt
C. Jaschinski und T. Loukanov geben an, dass kein Interessenkonflikt besteht.
Dieser Beitrag beinhaltet keine von den Autoren durchgeführten Studien an Menschen oder Tieren.
Caption Electronic Supplementary Material
Chirurgische Korrektur des Ventrikelseptumdefekts. (© Mit freundl. Genehmigung von Dr. C. Jaschinski, Prof. Dr. T. Loukanov und J. Rodrian, Universitätsklinikum Heidelberg 2017, all rights reserved)
About this article
Cite this article
Jaschinski, C., Loukanov, T. Ventrikelseptumdefekt. Z Herz- Thorax- Gefäßchir 32, 2–6 (2018) doi:10.1007/s00398-017-0202-x
Received:

Revised:

Accepted:

Published:

Issue Date:
Schlüsselwörter
Herzchirurgische Prozeduren

Patch

Embryologie

Anatomie

Nahttechniken
Keywords
Heart surgical procedures

Patch

Embryology

Anatomy

Suture techniques