Luminescent lanthanide metallogels: situ fabrication, self-healing and rheological properties
Abstract
We have presented a simple method for situ fabrication of photoluminescent lanthanide metallogels. A series of lanthanide metallogels could be rapidly formed through mixing the aqueous solution of Tb3+ or Eu3+ and organic solution of synthesized aromatic carboxylic ligands (DCn, n = 14, 16,18) at room temperature. The gelation tests revealed that the ligand with longer alkyl chain (DC18) showed stronger gelling abilities, indicating that the structure of non-coordinated groups in ligand molecules could affect self-assembly processes and, hence, the microstructures and properties of lanthanide metallogels. FT-IR measurements demonstrated that the driving force of formation of the metallogels was the coordination interaction between DCn and Tb3+ or Eu3+. XRD analysis revealed that DC14 metallogels took a mixture of hexagonal and tetragonal packing modes. All obtained metallogels have shown typical luminescent emissions of the lanthanide complex. In particular, DC18/Tb(NO3)3 metallogel in DMF/H2O (v:v = 1:1) has shown excellent self-supporting, self-healing, film-forming, and rheological properties.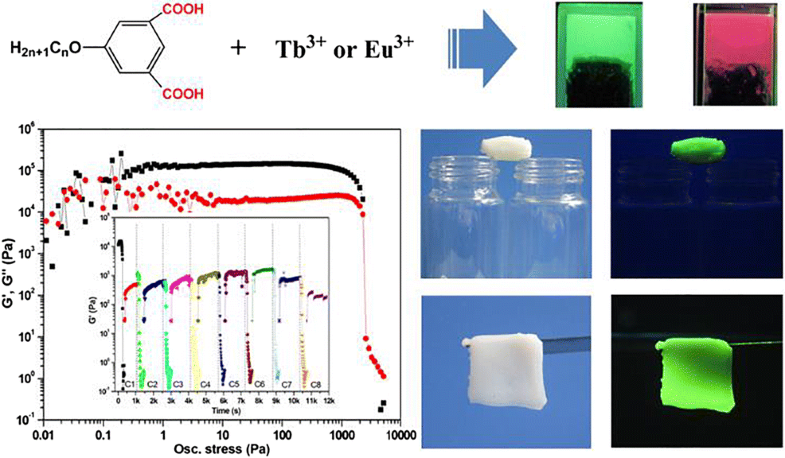 Keywords
Metallogel 
Aromatic carboxylic acids 
Self-assembly 
Thixotropic property 
Self-healing property 
Notes
Funding information
The authors gratefully acknowledge the financial support from the Natural Science Foundation of China (NSFC) (21403166, 21706209), the Natural Science Foundation of Shaanxi Province (2016JQ2005, 2017JQ2028), and the Science and Technology Program of Xi'an (2017CGWL01), College Students' innovation and entrepreneurship training program (201711080004, S201911080057).
Compliance with ethical standards
Conflict of interest
The authors declare that they have no conflict of interest.
Copyright information
© Springer-Verlag GmbH Germany, part of Springer Nature 2020