The immobilization of lanthanide (III) cations on a polymer containing quaternary ammonium nitrogen: influence of the temperature and pH, process kinetics
Abstract
The immobilization of lanthanide (III) cations on the Purolite A-400, a cross-linked polymer containing –R4N+ groups, was investigated. This type of polymers theoretically cannot retain metal cations from solutions. We assume that cations sorption on this polymer takes place due to the formation of jarosite mineral–type compounds. By increasing the temperature in the range of 0–60 °C, the cations sorption increases slightly but in the pH range of 2–6, it increases more considerable in the following order: La3+˂ Nd3+ ˂ Eu3+ ≈ Er3+. The sorption at 21 and 50 °C is adequately described by the pseudo-first-order (PFO) kinetic model, and the limiting step of the rate which decreases in order Er3+ ˃ Eu3+ ˃ Nd3+ ˃ La3+ is internal diffusion.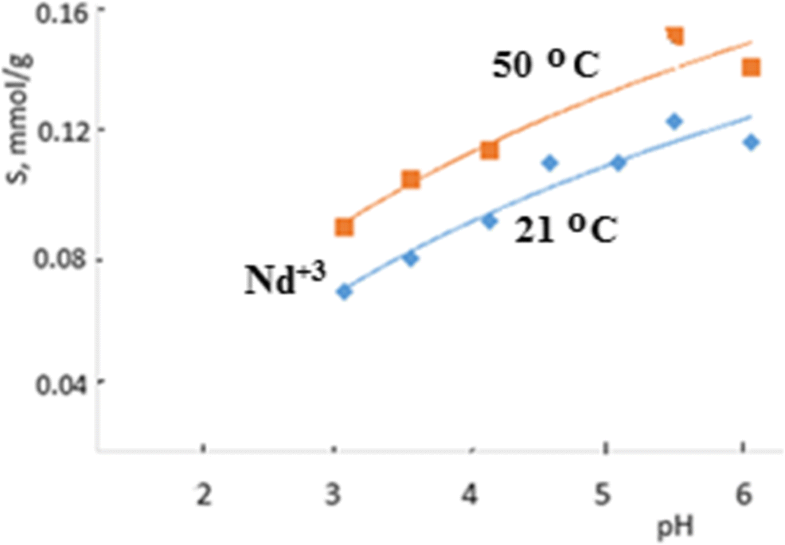 Keywords
Lanthanide (III) cations 
Immobilization 
Sorption 
Cross-linked polymer 
Sorption kinetics 
Notes
Acknowledgements
The author thanks Ph. D Lilia Anghel for providing language help.
Compliance with ethical standards
Conflict of interest
The authors declare that they have no conflict of interest.
Copyright information
© Springer-Verlag GmbH Germany, part of Springer Nature 2019