Preparation and characterization of dithiocarbazate Schiff base–loaded poly(lactic acid) nanoparticles and analytical validation for drug quantification
Abstract
Dithiocarbazate Schiff bases have been reported as a class of compounds that exhibit a wide range of pharmacological activities against neglected diseases such as malaria, trypanosomiasis, and tuberculosis. This work reports the encapsulation of the 1-(S-benzyldithiocarbazate)-3-methyl-5-phenyl-pyrazole (DTC) into biodegradable polymeric nanoparticles (NPs) of poly(lactic acid) (PLA) aiming potential drug delivery application. The DTC-loaded PLA-NPs were prepared by the single-nanoemulsification method using the poly(vinyl alcohol) (PVA) as a surfactant. The nanostructured system was characterized mainly by dynamic light scattering (DLS), electrophoretic light scattering (ELS), and transmission electron microscopy (TEM). The NPs show good colloidal stability exhibiting mean hydrodynamic diameter 157 ± 5 nm and zeta potential − 36 ± 3 mV. The encapsulation efficiency and drug loading were 52 ± 14% and 4.8 ± 1.5%, respectively. The quantifications of DTC and residual PVA in the NPs were performed by UV-Vis absorption spectroscopy. The analytical methods were validated according to regulatory agencies. Both quantification analytical curves showed good precision, in repeatability (intra-day) and intermediate (inter-day), and also good accuracy with low values of detection and quantification. The new nanostructured system, DTC-loaded PLA-NPs, shows advantages to improve stability and to overcome water solubility problems of the dithiocarbazate Schiff bases aiming potential drug delivery applications.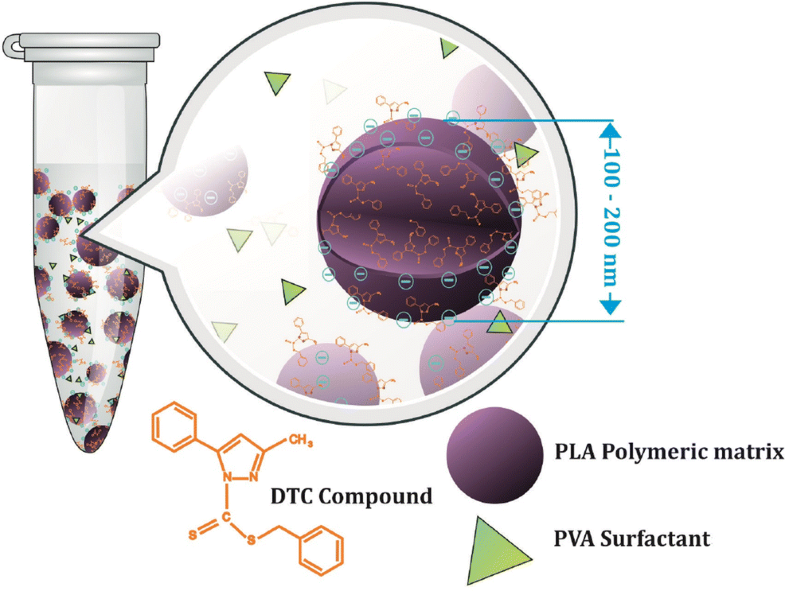 Keywords
Azomethine 
Pyrazole 
Emulsion polymerization 
Nanostructured system 
Colloidal system 
Notes
Acknowledgments
T. I. Menezes and R. O. Costa acknowledge the FAPESB (Fundação de Amparo à Pesquisa do Estado da Bahia) and CAPES (Coordenação de Aperfeiçoamento de Pessoal de Nível Superior) for the Master degree scholarships. The authors are also sincerely thankful to Prof. Dr. André Gustavo A. Fernandes (UESC) for donating the DTC compound. We also thank Prof. Dr. Luiz Carlos Salay (UESC) for providing laboratory facilities to perform the experiments, and Prof. Dra. Luana Novaes (UESC) for careful reading and suggestions on the validation methods. We are also grateful to the Electron Microscopy Center (UESC) and Alfredo Duarte (IQ-USP) for the technical assistance on the MET analyses.
Funding information
Author D. de Oliveira Silva received financial support from from FAPESP (Fundação de Amparo à Pesquisa do Estado de São Paulo) [2018/00297-4] and CNPq (Conselho Nacional de Desenvolvimento Científico e Tecnológico) [303103/2018-3].
Compliance with ethical standards
Conflict of interest
The authors declare that they have no conflict of interest.
Copyright information
© Springer-Verlag GmbH Germany, part of Springer Nature 2019