Controlled synthesis and self-assembly of amphiphilic copolymers based on 2,2,3,3,4,4,5,5-octafluoropentyl acrylate and acrylic acid
Abstract
The reversible addition–fragmentation chain transfer (RAFT) polymerization of 2,2,3,3,4,4,5,5-octafluoropentyl acrylate (OFPA) in the presence of different concentrations of S,S-dibenzyl carbonotrithioate as chain transfer agent (CTA) was investigated. The estimate of Ctr was defined using the size-exclusion chromatography measurements. Copolymers of acrylic acid and OFPA with different microstructure were synthesized by three methods: block copolymerization, copolymerization of acrylic acid and OFPA, and chemical modification of copolymer of tert-butyl acrylate and OFPA. Copolymerization of abovementioned monomer pairs was studied. The reactivity ratios were calculated by using the Fineman–Ross and Kelen–Tudos models, as well as the method of least squares. Aggregation behavior of the obtained amphiphilic copolymers at the air/water interface was defined by the Langmuir monolayer technique. Monomolecular films of amphiphilic copolymers were studied using atomic force microscopy. The effect of the chain microstructure, the acrylic acid content in the copolymer, and subphase pH on the isotherm curves were shown.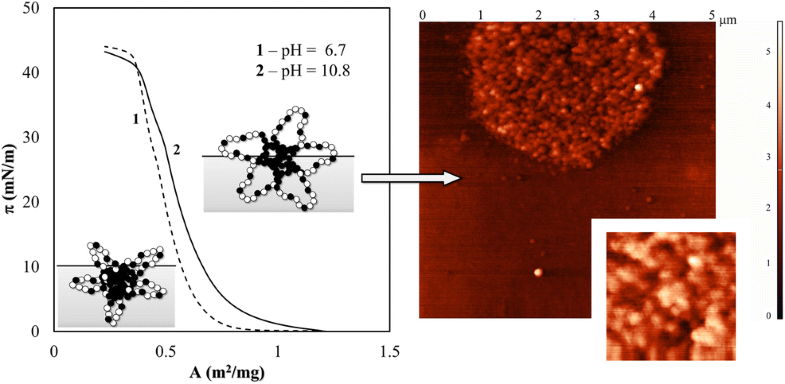 Keywords
RAFT polymerization 
Fluorinated poly(meth)acrylate 
Amphiphiles 
Copolymers 
Self-assembly 
Notes
Acknowledgments
We are grateful to Maksim A. Baten'kin (G. A. Razuvaev Institute of Organometallic Chemistry, Russian Academy of Sciences) for help in performing studies by the AFM method.
Funding information
This work was supported by the Russian Foundation for Basic Research (Project No. 19-03-00843 and No. 17-03-00131a).
Compliance with ethical standards
Conflict of interest
The authors declare that they have no competing interests.
Copyright information
© Springer-Verlag GmbH Germany, part of Springer Nature 2019