Molecular brushes with poly-2-ethyl-2-oxazoline side chains and aromatic polyester backbone manifesting double stimuli responsiveness
Abstract
Behavior of grafted copolymers composed of aromatic polyester (PAPE) backbone and poly-2-ethyl-2-oxazoline (PEOZ) side chains differing in grafting density in aqueous solutions was studied when heated at various concentrations and pH using static and dynamic light scattering and turbidimetry. Aggregates and individual macromolecules were registered in solutions at all times. It was shown that the aggregates of the brush with higher PEOZ side chains' grafting density undergo compaction on heating below phase separation, whereas the size of the loose polymer brush aggregates continuously increases with the increase of temperature. Phase separation temperatures of both copolymers decreased with dilution. Strong influence of pH on the thermosensitivity of both samples was shown, the copolymer solubility being decreased with the acidity decrease. The nature of the pH effect is under discussion.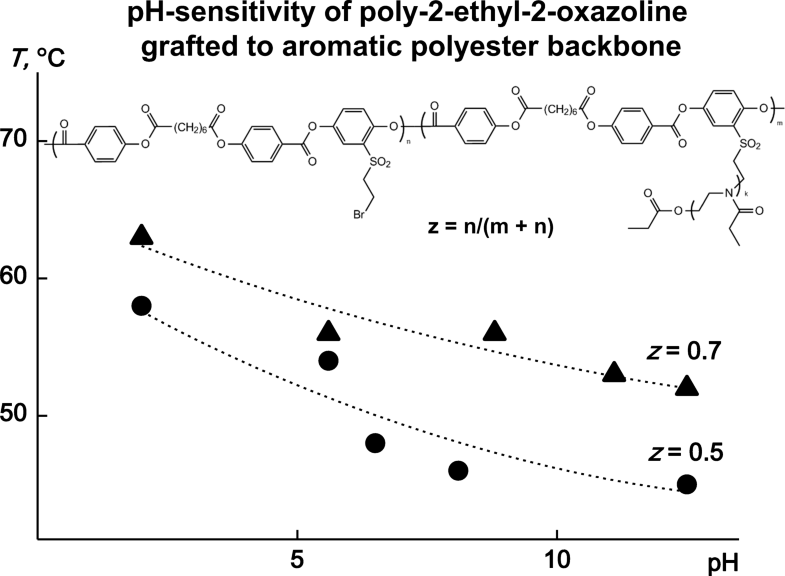 Keywords
Poly-2-ethyl-2-oxazoline 
Grafted polymers 
Thermoresponsive polymer brushes 
pH sensitivity 
Static light scattering 
Dynamic light scattering 
Notes
Funding information
The study was carried out with the financial support of the Russian Foundation for Basic Research in the framework of Research Project No. 18-03-00356_a.
Compliance with ethical standards
Conflict of interest
The authors declare that they have no conflict of interest.
Copyright information
© Springer-Verlag GmbH Germany, part of Springer Nature 2019