Polyacrylamide-polyaniline composites: the effect of crosslinking on thermal, swelling, porosity, crystallinity, and conductivity properties
Abstract
When the synthesis of hydrogels, which are a hydrophilic group of polymers, occurs below the freezing point of water, the hydrogels gain a perfect property: porosity. Hydrogels with this property and resulting sponge-like structure are called cryogels (CRYs). The porosity of cryogels is affected by the amount of crosslinker used. In this study, how the amount of crosslinker affected the porosity initially was investigated, along with thermal, swelling, and crystallinity properties of polyacrylamide (PAAM) cryogels. Additionally, a series of composites (COMs) were synthesized with polyaniline (PAN) in the pore spaces of CRYs and again the effect of varying pore size on the electrical conductivity of COMs was researched. In the cryogel series, as the amount of N,N′-methylenbisacrylamide (MBA) increased, the pore size increased. The S, P, Ps, and Vp parameters increased in general with the MBA increase. The conductivity values of composites were determined in the interval of 1.6 × 10−3-4.5 × 10−3 S cm−1.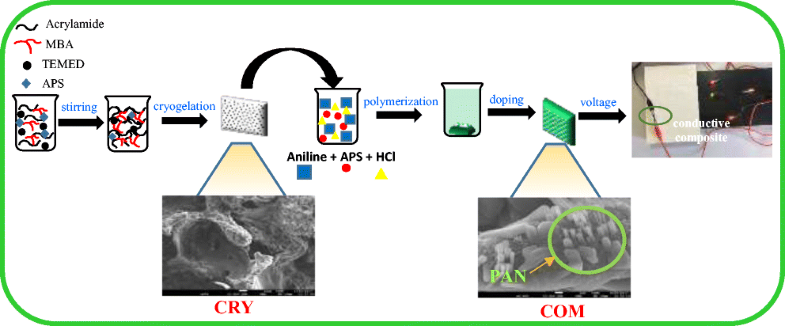 Keywords
Cryogel 
Porosity 
Crosslinking 
Conductive cryogels 
Polyaniline 
Notes
Acknowledgments
The authors would like to express their thanks to Assoc. Prof. Dr. Barbaros Demirselcuk (Canakkale Onsekiz Mart University, Technical Sciences Vocational School, Department of Energy and Electric) for conductivity measurements.
Funding information
This research was supported by the Scientific Projects Commission of Canakkale Onsekiz Mart University, 2017/1341.
Compliance with ethical standards
Conflict of interest
The authors declare that they have no competing interests.
Copyright information
© Springer-Verlag GmbH Germany, part of Springer Nature 2019