Preparation and characterization of dimer fatty acid epoxy-acrylate resin hybrid emulsion for photocurable coatings
Abstract
UV-curable epoxy acrylate oligomer was synthesized via one-pot and two-step method by the ring-opening reaction of bisphenol-A epoxy resin (DGEBA) with dimer acid (DA) and acrylic acid (AA) in this paper. The molecular chain was firstly extended with DA. Then, AA, as a blocking agent, played the role in introducing unsaturated bonds to the chain. The water-based dispersion of epoxy acrylate was fabricated by subsequent phase-inversion emulsification in the presence of methacryloxypropyl silsesquioxane (MASQ). Compared with the traditional UV-curable epoxy acrylate, emulsions contain much less volatile organic compounds (VOC), which are more widely used in the coating industry. Because of the introduction of unsaturated bonds, MASQ participated in free-radical polymerization when incurred by UV, resulting in a better compatibility with epoxy acrylate. The cured samples were characterized with dynamic thermomechanical analysis (DMA), differential scanning calorimetry (DSC), thermogravimetric analysis (TGA), and contact angle measurement (CA). The results indicated that the thermal property, flexibility, and water resistance all improved with the increasing proportion of DA, which may contribute to the long hydrophobic chain. Besides, the organic-inorganic and cage-like structure of MASQ also contributed to the enhancement of thermal property, water resistance, glass transition temperature, and storage modulus. With the above favorable properties and performances, the dimer fatty acid epoxy-acrylate resins will demonstrate promising applications in waterborne coatings.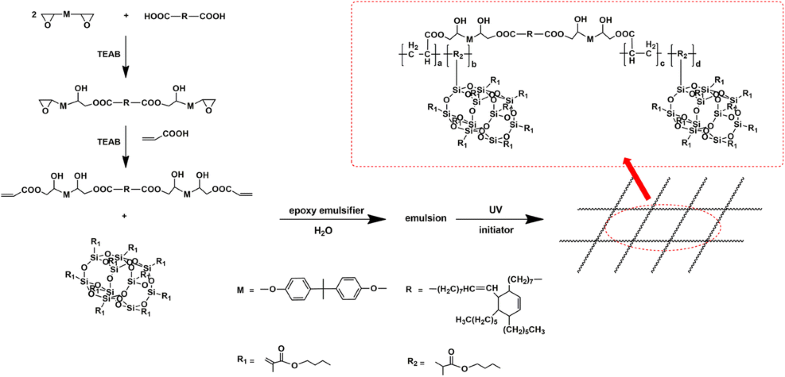 Keywords
Photo-curing 
Waterborne coatings 
Epoxy acrylate 
Dimer fatty acids 
Notes
Funding information
The National Nature Science Foundation of China (no. 21174162) and the Province Natural Science Fund of Guangdong (no. 2016A030313162) provided financial support. This work was also supported by Guangzhou Science and Technology Plan projects (no. 201505051006333) and Shenzhen Basic Research Project (no. JCYJ20170818114324998).
Compliance with ethical standards
Conflict of interest
The authors declare that they have no conflict of interest.
Copyright information
© Springer-Verlag GmbH Germany, part of Springer Nature 2019