An insight into the catalytic hydrogenation mechanism of modified dendrimer-loaded rhodium ionic catalyst for unsaturated copolymer
Abstract
A catalytic mechanism of ionic rhodium catalyst stabilized by macrcycles-modified dendrimer (G2-M(Rh3+)) for the hydrogenation of unsaturated copolymer was proposed. It was found that the co-catalyst of triphenylphosphine (PPh3) possessed significant influence on the catalytic hydrogenation activity of G2-M(Rh3+). An active specie of [Rh(PPh3)3]+ could be generated from a ligand exchange between G2-M(Rh3+) and PPh3 during the hydrogenation process, which could outstandingly improve the selective hydrogenation activity for unsaturated co-polymers. Totally different from other catalyst for hydrogenation, the active [Rh(PPh3)3]+ was reduced to Rh0 nanoparticles which could be further recaptured by the non-coordinated macrocycles in G2-M after hydrogenation. The Rh0 recapture could significantly reduce Rh residues in the hydrogenated co-polymers. This research can give an insight into the interaction of dendrimer-loaded Rh and the co-catalyst of PPh3 during hydrogenation processs.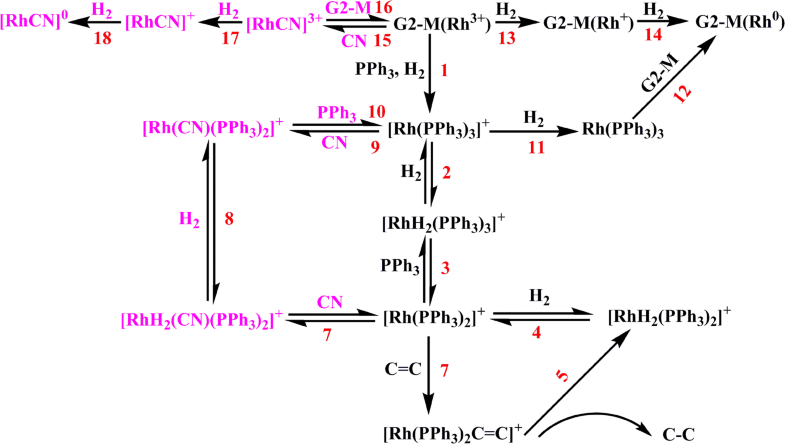 Keywords
Catalytic hydrogenation; mechanism 
Rhodium catalyst 
Unsaturated co-polymer 
Notes
Funding information
This work was supported financially by the National Natural Science Foundation of China (Project No. 51273071).
Compliance with ethical standards
Conflict of interest
The authors declare that they have no conflict of interest.
Copyright information
© Springer-Verlag GmbH Germany, part of Springer Nature 2019