Size, orientation, and strength of Na-montmorillonite flocs flowing in a laminar shear flow
Abstract
The flowing behavior of montmorillonite flocs coagulated in NaCl solution was visualized using a device called Couette chamber which was designed to analyze the strength of floc against breakup in a laminar shear flow generated in the gap between two concentric cylinders. The rotation ax of cylinders was oriented horizontally to avoid the effect of sedimentation during measurement. Observation of the morphology of flowing flocs was performed with a high-speed camera under sufficiently high salt concentration to induce rapid coagulation of montmorillonite as a function of shear rate. The recorded image of flocs demonstrated that the average flowing flocs is approximated by an ellipsoid of equivalent inertial moment with a length ratio of two principal axes being around 2. The most probable orientation of the major axis was found to be the flow direction. Assuming flocs are ellipsoids and will be disrupted by the effect of extensional component of the flow field, the cohesive strength supporting the disintegrating clusters was calculated on the basis of the simple model of floc strength proposed previously for the breakup of a floc under turbulent flow. The tendency of structural enforcement by the rearrangement of internal clusters was recorded with an increase in size of floc irrespective of ionic strength. In addition, the enforcement of cohesive strength by the effect of dehydration of proximately adsorbed sodium ions at extremely high ionic strength was confirmed.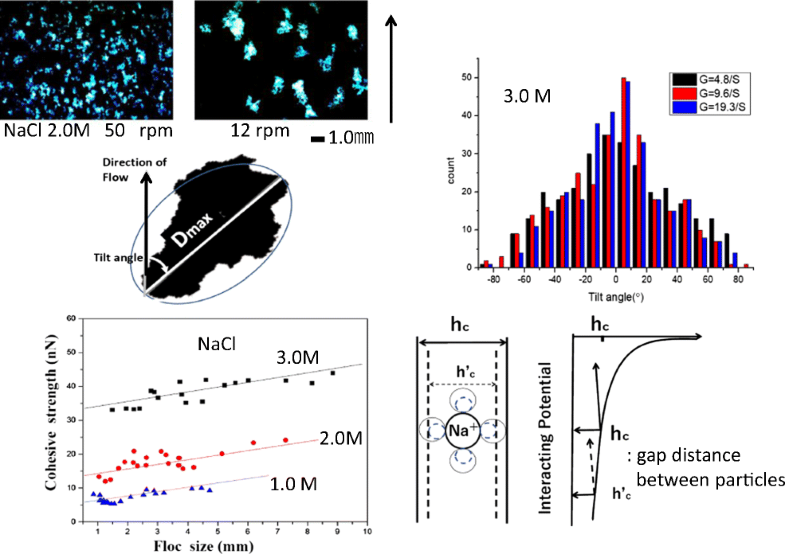 Keywords
Morphology of flocs 
Orientation 
Floc strength 
Na-montmorillonite 
Laminar shear flow 
Hydration force 
Notes
Acknowledgments
We thank the Research Facility Center for Science and Technology of the University of Tsukuba for manufacturing the Couette chamber.
Funding information
This research was supported by JSPS Kakenhi 16H06382.
Compliance with ethical standards
Conflict of interest
The authors declare that they have no conflict of interest.
Copyright information
© Springer-Verlag GmbH Germany, part of Springer Nature 2019