Polyelectrolyte-colloid complex formation via polymerization: reaction kinetics in direct micelles, inverted micelles, and homogeneous solution studied by NMR and conductometry
Abstract
Formation of polyelectrolyte-surfactant complexes (PESCs) in polymerization process of corresponding amphiphilic monomer is a promising way of pure stoichiometric PESC obtained in salt-free systems. Polymerization of micelle-forming monomer dodecylammonium 2-acrylamido-2-methylpropanesulfonate (DDA-AMPS) in different media was studied by means of 1H-NMR and conductance measurements. Kinetics of polymerization in direct micelles, inverted micelles, and homogeneous solution was considered in terms of classical solution polymerization and microemulsion polymerization. Reaction orders on monomer and initiator were measured in water and dioxane. The rate of polymerization is strongly dependent on monomer micelle existence, being considerably higher in micellar solution than in homogeneous one.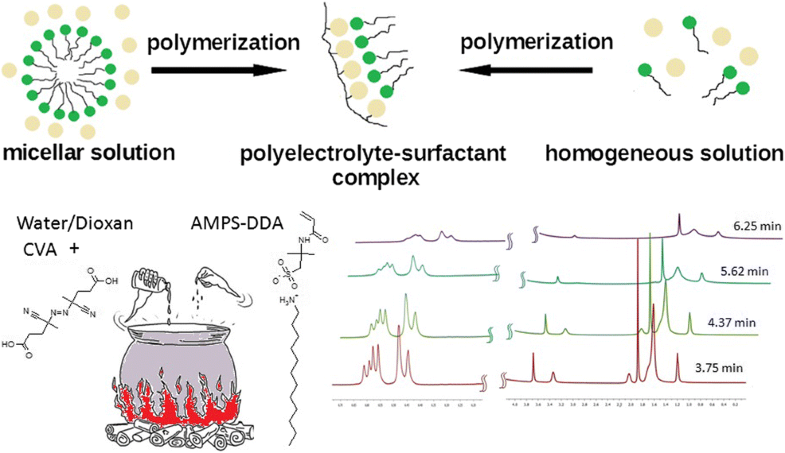 Keywords
Micellar polymerization 
Microemulsion polymerization 
Kinetics 
Surfmer 
Polyelectrolyte-surfactant complex 
Notes
Acknowledgments
The work was performed on the equipment of the Research park of St. Petersburg State University: Center of Magnetic resonance and the Chemistry educational center.
Funding information
The work was supported by RFBR (grant #18-33-00618-mol_a) in the part of PESC synthesis and SEC studies performed by P.A. Fetin.
Compliance with ethical standards
Conflict of interest
The authors declare that they have no conflict of interest.
Copyright information
© Springer-Verlag GmbH Germany, part of Springer Nature 2019