Preparation of spindle-shaped polyaniline supported Au catalysts with enhanced catalytic reduction of 4-nitrophenol
Abstract
Herein, several spindle-shaped polyaniline (PANI)/Au catalysts were prepared and evaluated in the reduction of 4-nitrophenol (4-NP) to 4-aminophenol (4-AP) with NaBH4 as the reducing agent. The spindle-shaped PANI support was directly synthesized via a facile interfacial polymerization method without using any templates. Au colloid nanoparticles (NPs) with a narrow size distribution (2~6 nm) were prepared via an Au sol method using polyvinyl alcohol (PVA) as a protecting agent and NaBH4 as a reducing agent. The Au colloid NPs were deposited on the PANI support through an adsorption effect. These as-prepared PANI/Au catalysts were thoroughly characterized by TEM, FT-IR, XPS, and EDX. The reduction of 4-NP by NaBH4 was used as a model reaction to evaluate the catalytic properties of the catalysts. Results showed that the as-prepared catalysts presented enhanced catalytic properties for the reduction of 4-NP to 4-AP.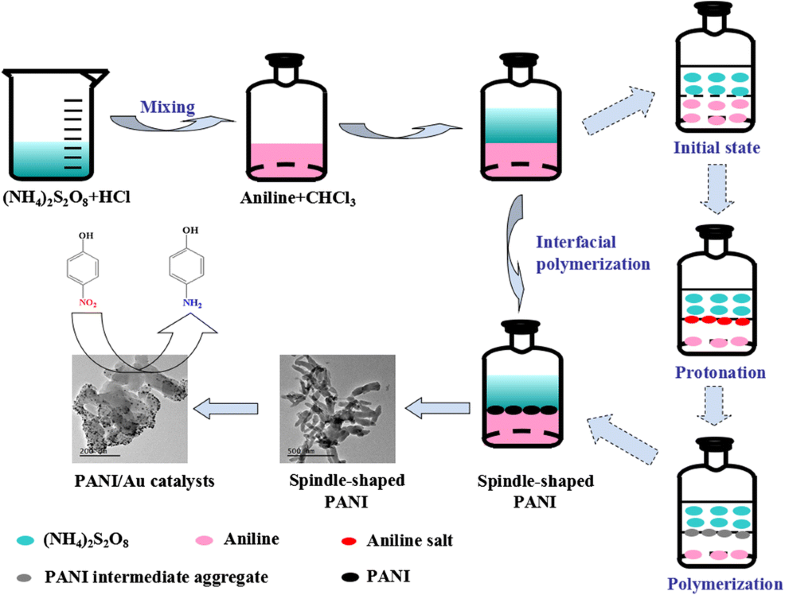 Keywords
Spindle-shaped PANI 
PANI/Au catalysts 
Catalytic reduction of 4-nitrophenol 
Interfacial polymerization 
Au colloid adsorption 
Notes
Acknowledgements
This work was financially supported by the Key Research and Development Plan of Shandong Province (nos. 2018CXGC1108) and the Natural Science Foundation of China (nos. 21802117 and 21773202). We also acknowledged the financial supports from the Collaborative Innovation Center of Light Hydrocarbon Transformation and Utilization.
.
Compliance with ethical standards
The authors declare that they have no conflict of interest.
Copyright information
© Springer-Verlag GmbH Germany, part of Springer Nature 2019