On the features of cooperative mobility in the amorphous phase of ferroelectric polymers
Abstract
Ferroelectric poly(vinylidene fluoride–hexafluoropropylene) films were prepared by low-temperature crystallization from the acetone and ethyl acetate solutions. Crystalline modifications of the obtained films were different (mixture of β- and γ-phases in case of acetone and predominantly α-phase in case of ethyl acetate). The dielectric spectroscopy studies showed that the relaxation strength of the main relaxation above the glass transition temperature (associated with the cooperative mobility in the amorphous phase) unusually increases with increasing temperature. Thermodynamic relationships suggest that this effect may be explained by assuming that there is a certain long-range order in the amorphous phase. This order may be due to the presence of the local field near the polar planes of the crystals, which form ferroelectric domains.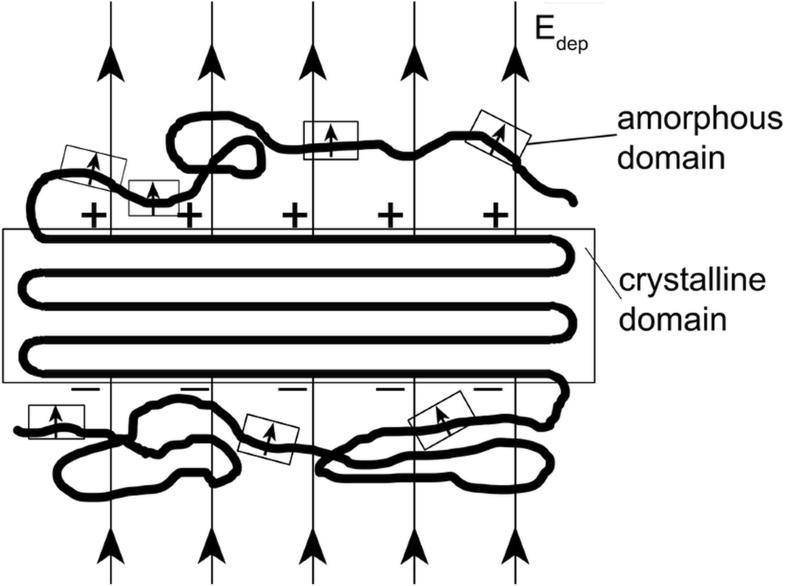 Keywords
Ferroelectric polymers 
Crystalline polymers 
PVDF 
Crystallization 
Dielectric relaxation 
Notes
Acknowledgments
The authors would like to thank V.S. Khurdin for the help in the measurements and data analysis.
Funding information
The work was supported by the Russian Foundation for Basic Research (RFBR 18-03-00493).
Compliance with ethical standards
Conflicts of interest
The authors declare that they have no conflict of interest.
Copyright information
© Springer-Verlag GmbH Germany, part of Springer Nature 2019