Polymer-particulate composites with differential interfaces: synthesis, characterization, and mathematical modeling to evaluate interface-yield strength correlations
Abstract
Polymer particulate composites (PPC) are extensively used in numerous mechanical and aviation applications, which take advantage of their synergistic properties such as superior yield strength. This work combines experimental and theoretical approaches to evaluate yield strength of thermosetting PPC made of pristine p-TiO2 or surface-grafted g-TiO2 nanoparticles and an epoxy thermoset. Accordingly, p-PPC and g-PPC sheets containing different volume fraction (ϕf = 0.0234–0.0936) of p-TiO2 or g-TiO2 nanoparticles exhibit variable yield strength. A mathematical model is used to evaluate the effects of nanoparticles aggregation on the relative yield strength of PPC. The interfacial parameters "B" and "Bagg" give a quantitative measure of the ability of stress dispersion by the agglomerated nanoparticles. The higher "B" and "Bagg" values for g-PPC reveal its greater interfacial strength. The experimental data show good correlation with the theoretical predictions. However, these models truly predict PPC's yield strength only at low volume fraction (ϕf ≤ 0.09) of filler nanoparticles.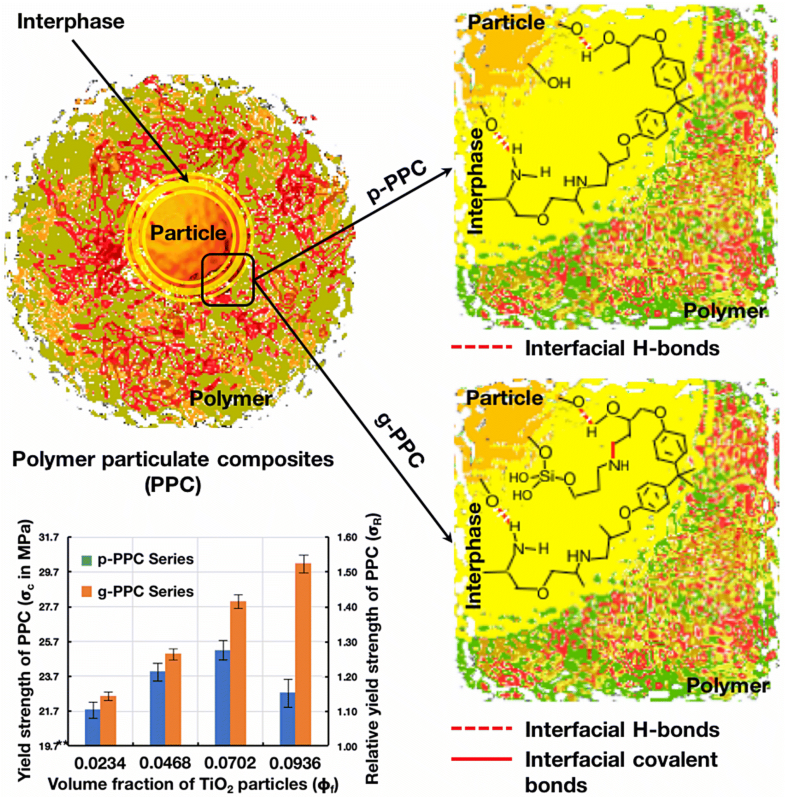 Keywords
Aggregation 
Composites 
Interfaces 
Mathematical models 
Mechanical properties 
Nanoparticles 
Notes
Author contributions
AA & HMS conceived the idea of fabricating thermosetting polymer particulate composites (PPC). HMS supervised synthesis and characterization of PPC, while AA and ZR synthesized TiO2 nanoparticles and PPC. AA and AM performed AFM and SEM characterizations. SS carried out numerical modeling of PPC and compiled theoretical data. The manuscript is written by AA. All authors have given approval to the final version of this manuscript.
Funding
This study was supported by the Higher Education Commission of Pakistan under the National Research Program for Universities (project grant no. NRPU-1308).
Compliance with ethical standards
Conflict of interest
AA and HMS have received research grant from the Higher Education Commission of Pakistan. The authors declare that they have no conflict of interest.
Copyright information
© Springer-Verlag GmbH Germany, part of Springer Nature 2019