Adsorption kinetics of tannic acid onto an albumin-terminated multilayer thin films
Abstract
The protein-polyphenol multilayer film is a promising material for protection functional food ingredients from gastric digestion and their targeted delivery to small intestine. Here, we study the process of layer-by-layer assembly of bovine serum albumin—tannic acid (BSA-TA) multilayer films by precision ellipsometry. We demonstrate that TA adsorption has both irreversible and reversible components which contribute to 43% and 57% of bound TA molecules, respectively. The kinetic of TA adsorption/desorption process is analyzed using a phenomenological function approach. The rate-limiting stage of the process is the kinetics of molecules adsorption (desorption) to (from) a planar surface and not diffusion of TA molecules from (to) a solution bulk. For irreversible adsorption, the rate constant is 3.9 × 103 M−1 s−1. For the reversible process, the adsorption rate constant, Kads is 5.14 × 103 M−1 s−1; desorption rate constant, Kdes is 79.4 s−1; and equilibrium constant, K is 64.7 M−1.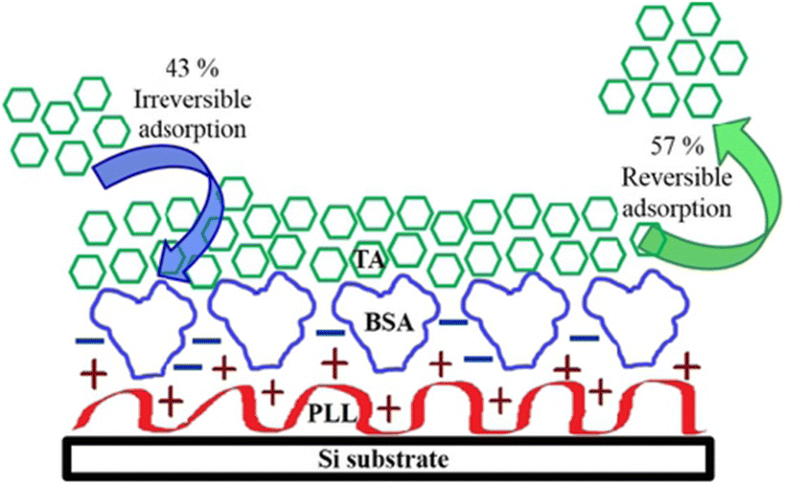 Keywords
Adsorption 
Tannic acid 
Serum albumin 
Multilayers 
Precision ellipsometry 
Notes
Funding
This study was funded by Agency for Science, Technology and Research (A*STAR), Singapore and Ministry of Business, Innovation and Employment, New Zealand, SG-NZ Foods for Health Grant (Project 1414024010).
Compliance with ethical standards
Conflict of interest
The authors declare that they have no conflict of interest.
Copyright information
© Springer-Verlag GmbH Germany, part of Springer Nature 2018