Precision polymer network science with tetra-PEG gels—a decade history and future
Abstract
Tetra-PEG gels, near-ideal polymer networks prepared by cross-end-coupling of A and B tetra-functional poly(ethylene glycol) (PEG) prepolymers having complementary end groups, were first fabricated in 2008. Comparisons of the mechanical properties with those of theoretical predictions indicate negligible fractions of defects and/or entanglements. Small-angle neutron scattering profiles of Tetra-PEG gels are very similar to those of the corresponding polymer solutions, suggesting negligible inhomogeneities originated from cross-linking. Due to the remarkable mechanical properties, extremely low structural inhomogeneities, and biocompatibility, tetra-PEG gels have gathered much attention since its discovery. The number of citation of Tetra-PEG gels is now over 2700 and is still growing rapidly. Chemical reaction kinetic studies also show a high degree of cross-linking reaction and its tunability, which leads to an idea of cross-linking probability tuned (p-tuned) networks. Versatility of the cross-coupling reactions allows us to prepare not only hydrogels but also organogels and ion gels, copolymer gels, non-stoichiometric gels, and so on. A decade history of the Tetra-PEG gels is reviewed with a variety of potential applications encompassing multiresponsive systems.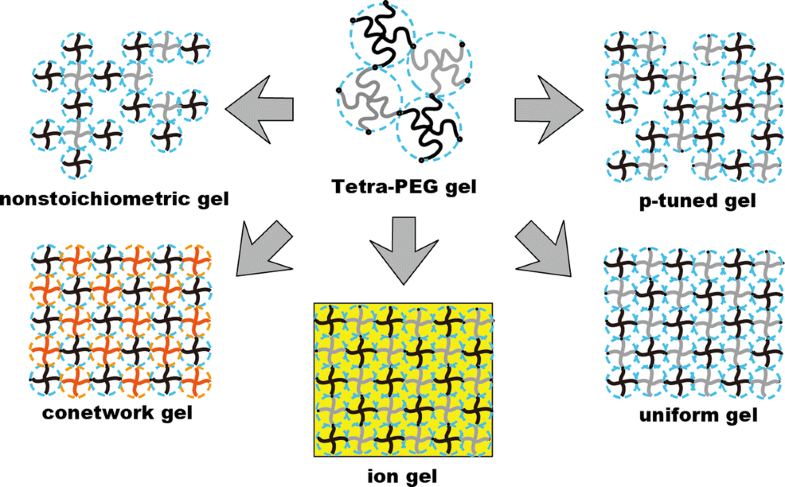 Keywords
Tetra-PEG gel 
Polymer gels 
Cross-end-coupling 
Inhomogeneities 
Small-angle neutron scattering 
Notes
Acknowledgements
This work was partially supported by the Ministry of Education, Science, Sports and Culture, Japan (Grants-in-Aid for Scientific Research (A), Nos. 18205025 (2006-2008), 22245018 (2010-2012), 25248027 (2013-2015), and 16H02277 (2016-2019), and for Scientific Research on Priority Areas, No. 18068004 (2006-2010). The SANS experiments were performed with the approval of Institute for Solid State Physics, The University of Tokyo, at Japan Atomic Energy Agency, Tokai, Japan, 40m-SANS, HANARO, Korea, and QUOKKA, ANSTO, Australia. The authors acknowledge stimulating discussions with Prof. Ung-il Chung, The University of Tokyo.
Compliance with ethical standards
Conflict of interest
The authors declare that they have no competing interest.
Copyright information
© Springer-Verlag GmbH Germany, part of Springer Nature 2018