Sulfonated fluorinated block copolymer containing naphthalene unit/sulfonated polyvinylidene-co-hexafluoropropylene/functionalized silicon dioxide ternary composite membrane for low-humidity fuel cell applications
Abstract
A ternary composite membrane, composed of a sulfonated fluorinated block copolymer containing naphthalene unit (SFBCN), sulfonated polyvinylidene fluoride-co-hexafluoropropylene (SPVdF-HFP), and functionalized silicon dioxide (FSiO2), was fabricated via a simple solution casting method for use as a suitable proton exchange membrane in low-humidity fuel cells. The morphological and structural characterizations verify the successful formation of the ternary composite membrane. TGA and DSC analyses revealed the suitability of the materials for fuel cell applications. The increased water uptake, IEC, and proton conductivity values with increasing hydrophilicity of membranes were obtained by thorough measurements. The fabricated ternary composite membrane containing 10 wt% FSiO2 exhibited a superior proton conductivity (12.3 mS/cm) under dehydrated conditions (90 °C at 40% RH) over the Nafion 117 (7.8 mS/cm) membrane, while at 90 °C at 100% RH, it exhibited a comparable H+ conductivity (93.1 mS/cm) to Nafion 117 (112 mS/cm) membrane.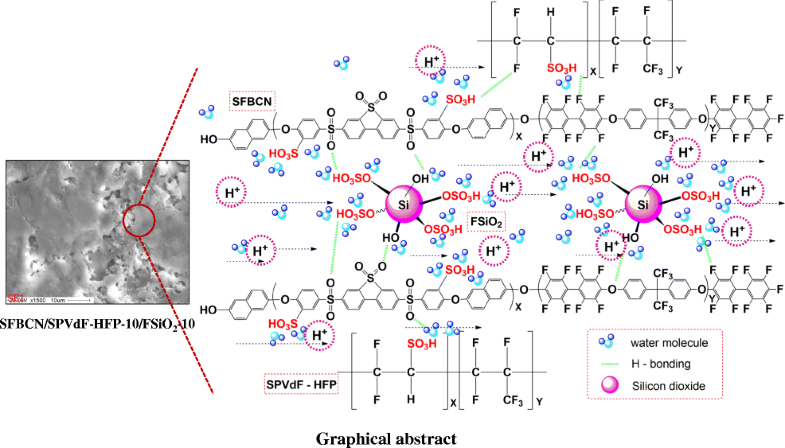 Keywords
Composite membrane 
Low humidity 
Hygroscopic filler 
Microphase separation 
Conducting pathways 
Notes
Funding
This work was supported by the Korea Institute of Energy Technology Evaluation and Planning (KETEP) and the Ministry of Trade, Industry & Energy (MOTIE) of the Republic of Korea (No. 20184030202210). The Basic Science Research Program supported this research through the National Research Foundation of Korea (NRF) funded by the Ministry of Science, ICT, and Future Planning (No. 2017R1A2B4005230).
Compliance with ethical standards
Conflict of interest
The authors declare that they have no conflict of interest.
Copyright information
© Springer-Verlag GmbH Germany, part of Springer Nature 2018