A sensitive nano-sensor based on synthetic ligand-coated CdTe quantum dots for rapid detection of Cr(III) ions in water and wastewater samples
Abstract
In this study, a facile method was introduced for preparation of a ligand-coated CdTe QDs (CdTe-L QDs) for applying as a new optical nano-sensor in determination of Cr3+ ions in aqueous solutions. The prepared CdTe-L QDs were characterized using different analytical techniques including transmission electron microscopy (TEM), UV-Vis, thermogravimetric (TG) analysis, Fourier-transform infrared (FTIR), and fluorescence spectroscopies. It was found that the fluorescence intensity of the CdTe-L QDs at 540 nm (excitation at 380 nm) was selectively quenched in the presence of trace amounts of Cr3+ ions in comparison to different metal ions. In other word, a simple, highly sensitive, selective, and rapid analytical approach was used for the determination of Cr3+ ions in the concentration range of 6.78 ± 0.05 × 10−8–3.70 ± 0.02 × 10−6 mol L−1 with a detection limit of 20.30 ± 0.03 × 10−9 mol L−1. Furthermore, the designed nano-sensor was well used for the quantification of Cr3+ ions in real samples with satisfactory analytical results, and the results were compared with the standard methods (inductively coupled plasma emission spectroscopy (ICP-OES)).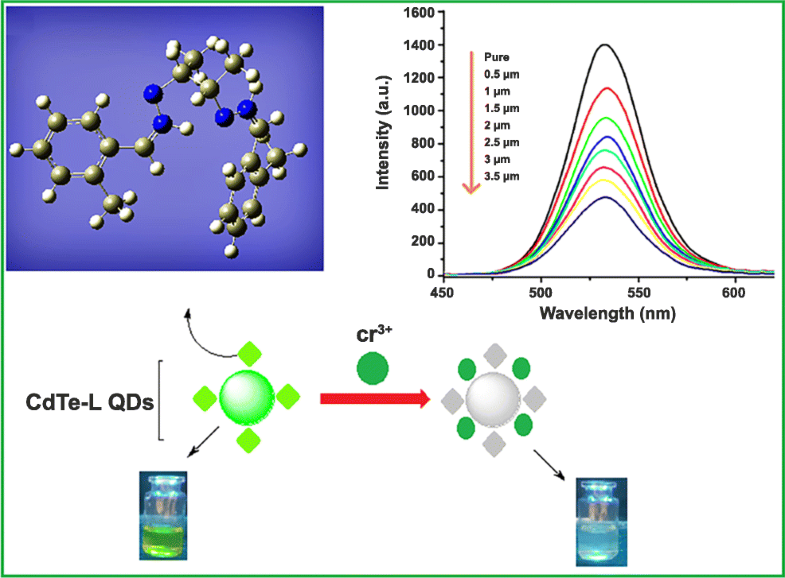 Keywords
Fluorescence nano-sensor 
CdTe quantum dots 
Heavy metal ions 
Cr(III) 
Notes
Acknowledgements
The authors are grateful to the Research Council of Imam Khomeini International University (IKIU), University of Tehran and Payame Noor University. We thank Professor Masoud Salavati-Niasari (Kashan University, Inorganic Chemistry) for the synthesis of the ligand.
Funding information
This study was funded by the Imam Khomeini International University (IKIU) (grant number 4-30456).
Compliance with ethical standards
Conflict of interest
The authors declare that they have no conflict of interest.
Copyright information
© Springer-Verlag GmbH Germany, part of Springer Nature 2018