Preparation of multifunctional poly(acrylic acid)-poly(ethylene oxide) nanogels from their interpolymer complexes by radiation-induced intramolecular crosslinking
Abstract
Poly(acrylic acid)-poly(ethylene oxide) (PAA-PEO) interpolymer complexes (IPC)s were prepared with equimolar stoichiometric ratio of repeating units and converted to crosslinked nanogels via γ-ray irradiation of aqueous acetone solutions. The effect of acetone concentration on the coil size of nanogels was investigated by dynamic light scattering (DLS). pH and temperature effects on the size and surface charge of nanogels were studied by using DLS. Zeta potentials of the PAA-PEO nanogels were between − 5.31 mV (pH = 2) and − 45.00 mV (pH = 11) depending on dissociation of PAA. Atomic force microscopy (AFM) and transmission electron microscopy (TEM) pictures showed that dry PAA-PEO nanogels are spherical with diameters of ~ 100 and ~ 240 nm in the swollen state as determined by DLS. PAA-PEO nanogels synthesized in 25% (v/v) acetone/water mixture exhibited size stability over a period of 2 months. This simple method of preparing nanogels from polymer pairs avoids tiresome synthesis of corresponding block copolymers as precursors of functional nanogels.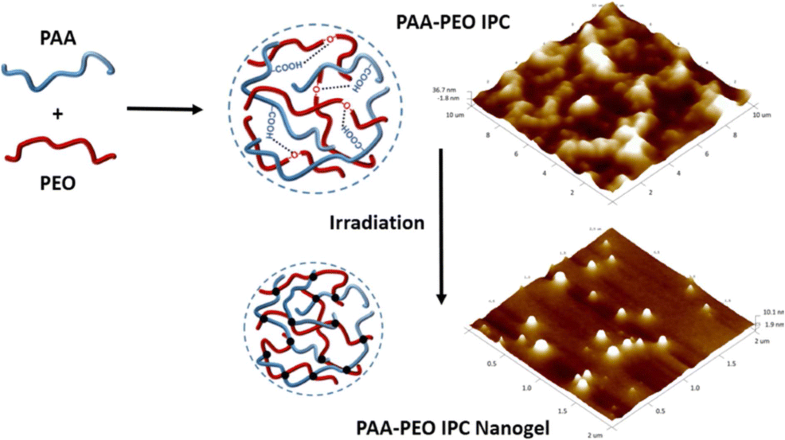 Keywords
Poly(acrylic acid) 
Poly(ethylene oxide) 
Nanogels 
Interpolymer complexes 
Radiation-induced crosslinking 
Notes
Funding information
This study is financially supported by the Bilateral Research Cooperation (BRC), Faculty of Science, Kasetsart University, the Synchrotron Light Research Institute (Public Organization), Thailand and Kasetsart University Research and Development Institute (KURDI 26.59). The authors also acknowledge the research funds and technical activities provided via Coordinated Research project (CRP No. 18316) and Technical Cooperation project (THA1010) of the International Atomic Energy Agency (IAEA), Vienna, Austria.
Compliance with ethical standards
Conflict of interest
The authors declare that they have no conflict of interest.
Copyright information
© Springer-Verlag GmbH Germany, part of Springer Nature 2018