Hybrid collagen/pNIPAAM hydrogel nanocomposites for tissue engineering application
Abstract
The present work explores new hybrid bioactive, enzymatically degradable hydrogel nanocomposites. They are composed by stimuli-sensitive semi-interpenetrating collagen/poly(N-isopropyl acrylamide) polymeric matrix, Dellite® 67G and Cloisite® 93A nanoclays, and hydroxyapatite particles. Morphology of the hybrid hydrogel nanocomposites was examined by near infrared chemical imaging, X-ray diffraction, scanning electron microscopy, and transmission electron microscopy techniques. It has been found that the porous hydrogel nanocomposites showed a mix between intercalated and exfoliated structure, with interconnected pores and the inorganic material was evenly distributed in the polymeric matrix because of specific interactions between components. The collagen resistance against enzymatic degradation and the thermal stability were improved due to the protein encapsulation in the synthetic polymer matrix. The hydrogel nanocomposites showed suitable swelling characteristics for tissue engineering. In vitro cytocompatibility and cell viability revealed that the hybrid nanocomposites were non-cytotoxic for rat osteoblasts. These hybrid nanocomposites were designed as potential synthetic bone tissue engineering.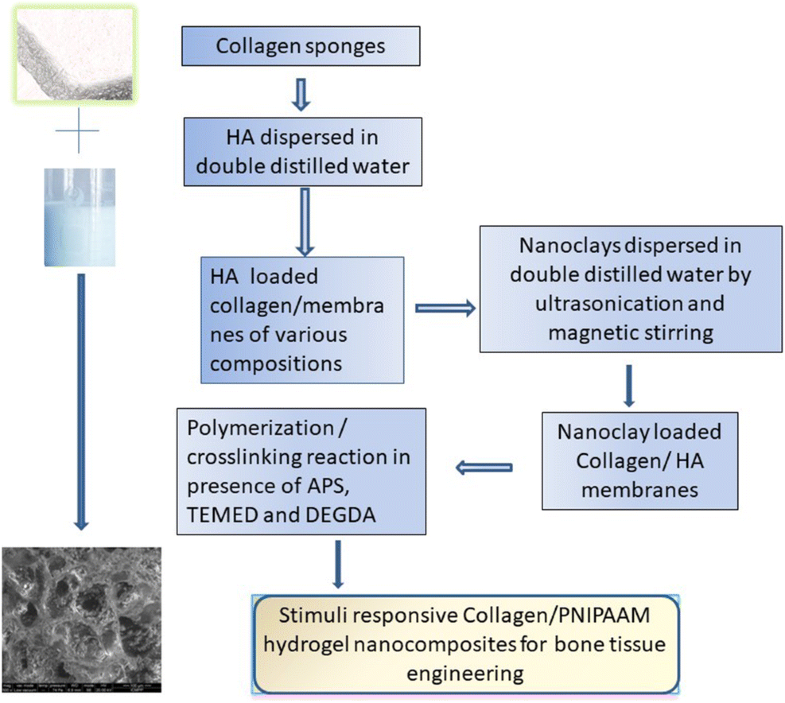 Keywords
Hydrogels 
Nanocomposites 
Tissue engineering 
Reinforcement 
Enzymatic degradation 
Swelling 
Notes
Acknowledgments
The research leading to these results has received funding from the Romanian National Authority for Scientific Research, CNCS-UEFISCDI, project BIONANOMED 164/2012.
Compliance with ethical standards
Conflict of interest
The authors declare that they have no conflict of interest.
Copyright information
© Springer-Verlag GmbH Germany, part of Springer Nature 2018