A reverse lyotropic liquid crystal formed by cetylpyridiniumchloride in cyclohexane with the assistance of aromatic counterions
Abstract
The self-assembly of the cationic surfactant cetylpyridiniumchloride (CPC) in cyclohexane was studied using polarizing-microscopy (POM), small angle X-ray scattering (SAXS), and rheology measurements. Homogeneous solutions of CPC/aromatic salts were produced using aromatic salts, specifically, NaBzs, NaNphs, or NaSal. The majority of the samples showed highly viscous gel-like appearances. SAXS measurements together with POM observations indicate hexagonal liquid crystals in both the CPC/NaNphs and CPC/NaSal, while multiple types of aggregates were shown to co-exist in the CPC/NaBzs. These were attributed to the interactions of aromatic counterions with the pyridinium head-group of CPC, resulting in increased size of the CPC head to different extents depending on the aromatic counterions. The formation of core-shell aggregates consequently caused further packing into liquid crystals. The specific role of NaSal that carried an ortho-hydroxyl in its benzene ring is discussed, and the mechanism of trace water molecules bridging neighboring NaSal molecules was revealed according to Fourier transform infrared (FT-IR) measurements. The samples had high viscoelasticity, for example, the steady-state low-shear viscosity at a shear rate of 0.001, ηL, of the samples at W0 = 32 was 3.3 × 105, 2.0 × 104, and 6.8 × 102 Pa·s for CPC/NaBzs, CPC/NaNphs, and CPC/NaSal, respectively, at 25 °C. The corresponding elastic plateau moduli, G′P, were 1.9 × 103, 1.1 × 103, and 1.1 × 102 Pa, respectively. The temperature effect was examined for samples at W0 = 32, which were found to retain high viscosity at higher temperatures, for example, the relative viscosity to solvent cyclohexane, ηr, reached 107 and 105 for CPC/NaBzs and CPC/NaNphs, respectively, at 70 °C.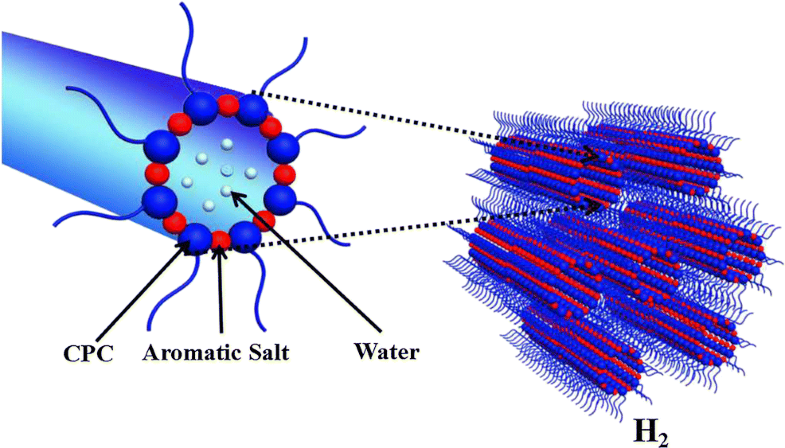 Keywords
Ionic surfactant 
Aromatic counterions 
Homogeneous cyclohexane solutions 
Inverted liquid crystallines 
Notes
Funding information
Financial support was from the National Natural Science Foundation of China (Grant no. 21473032).
Compliance with ethical standards
Conflict of interest
The authors declare that they have no conflict of interest.
Copyright information
© Springer-Verlag GmbH Germany, part of Springer Nature 2019